---
'It's Like Hiroshima': Terrifying Seismic Shock From Blast Devastates Beirut
summary:
BREAKING: Lebanese Prime Minister says Beirut explosions caused by an estimated 2,750 tons of ammonium nitrate left unsecured for 6 years in a warehouse
Same chemical compound in Oklahoma City bombing
at least 70 people killed, over 3,000 injured; death toll rising by the hour
ten firefighters still missing
sprawling port area utterly destroyed
widespread damage observed across city
exact cause of explosion still officially unknown
Lebanon's interior minister links blast to ammonium nitrate improperly stored in a warehouse at the port
Shockwave and explosion so large that terrified residents thought they were under nuclear attack
Countries sending international emergency aid
Large parts of city plunged into darkness this evening
Overwhelmed hospitals are treating patients in parking lots
Head of Lebanon's Red Cross George Kettani told broadcaster Mayadeen: "There are victims and casualties everywhere - in all the streets and areas near and far from the explosion."
Beirut City Governor Marwan Aboud said: "Beirut is a disaster city and the scale of the damage is enormous" and called the blast a "national disaster akin to Hiroshima."
BREAKING: Lebanese Prime Minister says #Beirut explosions caused by an estimated 2,750 tons of ammonium nitrate left unsecured for 6 years in a warehouse. He vows to punish officials responsible. 50+ dead, 3,000 injured, hospitals overwhelmed.

— Bill Neely (@BillNeelyNBC) August 4, 2020
Massive Explosion Lebanon c #Beirut #Lebanon pic.twitter.com/jcYSftmJd4

— Business2News (@Business2N) August 4, 2020
Unbelievable new footage of moment powerful shockwave unleashed continuing to emerge:
"ما بدي موت"... كلمات كل اللبنانيين...
pic.twitter.com/nmeCsTQCws

— Lay (@layymoune) August 4, 2020
View the devastated docks from the south west: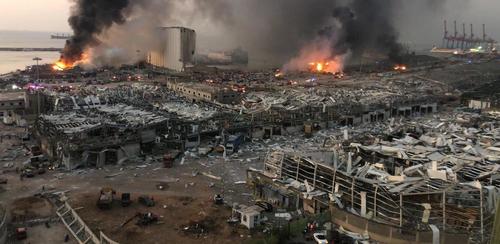 And more:
This guy was easily 1.5 to 2 miles away!!#Beirut pic.twitter.com/MKtp32nvqx

— Its_skagg (@ItsSkagg) August 4, 2020
I have never seen such a horrible scene#PrayForLebanon #Beirut pic.twitter.com/bgstSX80xt

— Moin Lone (@MoinLone6) August 4, 2020
update-3: Beirut's economically vital port appears to be utterly destroyed. Early reports cited at least 400 wounded and dozens killed, with local hospitals overwhelmed. While Lebanese government officials initially identified a fireworks depot at the site of the largest explosion in Lebanon's history (even over years and decades of prior wars), it's now being widely reported that Ammonium Nitrate, a very explosive compound and commonly used as a high-nitrogen fertilizer, was being stored at the location.
BEIRUT BLAST CAUSED BY AMMONIUM NITRATE: INTERIOR MINISTER
LEBANON HEALTH MINISTER SAYS AT LEAST 27 KILLED IN BLAST
LEBANON HEALTH MINISTER SAYS `THOUSANDS' INJURED FROM BLAST
Beirut port after explosion.

Fully destroyed. Too much bodies to count. #beirutexplosion @akhbar pic.twitter.com/TYMVx0WZVo

— Jenan Moussa (@jenanmoussa) August 4, 2020
Already officials are lashing out, accusing Beirut port and government authorities of negligence:
Moeen Hamza, who heads Lebanon's Council for Scientific Research, blames pure "negligence" for the Beirut port explosion in an interview aired on Al-Jadeed.

The confiscated store of what is believed to have been ammonium nitrate should have been monitored around the clock.

— Alison Meuse (@AliTahmizian) August 4, 2020
The disaster is expected to further plunge Lebanon deeper into economic crisis, which it's been suffering for much of the past year.
The grain silo just west of warehouse 12 appears to be at risk of imminent structural collapse. I'm honestly surprised it is still standing. pic.twitter.com/PiKqkP0ANv

— The Intel Crab (@IntelCrab) August 4, 2020
Videos continue to emerge showing the surreal scale and impact of the blast.
Dash cam footage of #Beirut explosion pic.twitter.com/Ctsg7aHDG7

— Beastbahi (@beastbahi) August 4, 2020
Widespread speculation continues, given the explosion was so large it appears to have taken out a whole district of the city. 
That is not what a "fireworks explosion" looks like. https://t.co/nAFQnidza0

— Alison Meuse (@AliTahmizian) August 4, 2020
My city Beirut after the explosion. What a tragedy. It's too much to bear 💔😢@akhbar pic.twitter.com/2GVePyZMOT

— Jenan Moussa (@jenanmoussa) August 4, 2020
* * *
update-2: Amid widespread speculation and multiple theories over what could have produced late afternoon blast of such magnitude, both Hezbollah and Israel have formally denied that it was the result of a missile or military attack.
Russian media reports have cited Israeli broadcasters to say:
Israel has nothing to do with the massive explosion that rocked Beirut on 4 August, the country's parliamentary TV channel has announced.
Lebanese state sources have pointed to a large fireworks depot going up in flames, then detonating. However, there remain competing claims and speculation.
This is horrific, and the clearest video I've seen so far of what seems to have happened in Beirut. There's a smaller fire involving what seems to be fireworks first, and then everything goes up. pic.twitter.com/qsEmH1IbUi

— Rachael Venables (@rachaelvenables) August 4, 2020
Local authorities have yet to assess and produce a death toll, which is tragically expected to be high.
I'm in tears 😓Mom is at the hospital with her friend because she injured her eye and lost a finger or two 😓😓😓 Hope everyone is okay 💙 pic.twitter.com/iHLhprGZ06

— PJ (@PyjamaBoii) August 4, 2020
Iconic parts of the city appear to be devastated. 
Import to note amidst confusion, chaos & conspiracy theories.

So far:
• #Israel has denied involvement
• #Lebanon General Intel Director stated chemicals where stored in the port after seizure from ship

Only thing confirmed thus far is the tragic magnitude of destruction pic.twitter.com/gXIiPwRi69

— Firas Maksad (@FirasMaksad) August 4, 2020
The Lebanese Red Cross has issued an urgent appeal for blood donations inside Lebanon.
* * *
update: It appears confirmed that the source of the massive blast that rocked Beirut and grabbed the world's attention was centered on a fireworks depot. Mideast war correspondent Jenan Moussa reports:
Beirut governor Marwan Aboud calls the explosion a 'national disaster akin to Hiroshima.'
The explosion could be seen and felt for dozens of miles around the Lebanese capital, leaving onlookers in shock. It was so massive a small mushroom cloud could be seen over the city, and it was felt in Cyprus.
Just received from a colleague in Lebanon. #Beirut pic.twitter.com/k3oAzGWMwv

— Charles Lawley تشارلز لأولي (@CharlesLawley) August 4, 2020
However, some Lebanese broadcasters in the early mayhem and confusion cited possible "missile" impact, though this increasingly doesn't appear to be the case. There appear to be multiple, possibly scores, of dead and wounded.
HEALTH MIN SAYS BEIRUT BLAST DUE TO FIREWORKS DEPOT: JAZEERA
DOZENS INJURED IN BEIRUT EXPLOSION: LEBANESE RED CROSS TO LBCI
Hospitals are reportedly already overwhelmed:
Hospitals in #Beirut turning away injured people with blood streaming down their faces because they're too full or damaged to take them in pic.twitter.com/HSXzwCBICP

— Maya Gebeily (@GebeilyM) August 4, 2020
Beirut is like war zone at the moment. The number of people died is unknown. There is a massive destruction in the city.

Our prayers are with Lebanese brothers and sisters. #Beirut #Lebanon pic.twitter.com/sVNlWVSxc2

— Selami Haktan (Eng) (@slmhktn_eng) August 4, 2020
CNN is reporting that homes up to ten kilometres away were damaged, with windows shattered and widespread destruction across large swathes of Beirut.
These explosions in #Beirut a few minutes back are not nuclear for sure - but the force is almost kiloton level. Look at the shockwaves. Thoughts with my friends in Beirut and their families pic.twitter.com/OMi0yQwNx7

— Abhijit Iyer-Mitra (@Iyervval) August 4, 2020
A number of local residents on social media were worried they had just been hit by a mini-nuke, though it's increasingly being verified that the source was a fireworks depot on the port.
Some are still suggesting a bomb may have hit the area:
Lebanon bombed. My House bombed . I am bleeding

— Anchal Vohra (@anchalvohra) August 4, 2020
The blast was felt as far away as Cyprus.
A devastating pic taken by @FaresHalabi showing the Mar Mkhayel neighborhood in Beirut after the explosion.

يا حبيبتي يا بيروت 😢@akhbar pic.twitter.com/taxStRAPhL

— Jenan Moussa (@jenanmoussa) August 4, 2020
* * *
A powerful blast has just rocked the Lebanese capital of Beirut. The cause of the massive explosion is as yet unknown.
But multiple social media videos from various angles shows it happened during daylight hours Tuesday, in the late afternoon or early evening local time.
Images show that a massive shockwave flashed over the city, followed by an immense fireball that appeared several stories high.
ولع لبنان 😡😡😡#انفجار pic.twitter.com/neicDdmwCJ

— Edwin Azzi (@Edwinazzi) August 4, 2020
It happened near Beirut's port and there are unverified reports of a secondary explosion as well.
Stunning video shows explosions just minutes ago at Beirut port pic.twitter.com/ZjltF0VcTr

— Borzou Daragahi 🖊🗒 (@borzou) August 4, 2020
Lebanese media is currently speculating that a large fireworks depot exploded, given it's in the vicinity of an area where firecrackers are known to be stored.
Huge explosion in Beirut. Cause unknown. Secondary blast too. https://t.co/e4r2iZOSzK

— Bill Neely (@BillNeelyNBC) August 4, 2020
It's as yet unknown how many casualties have resulted as no doubt a massive emergency response is underway.
Indeed close-up images just before the larger blast shows a large complex on fire, with either ammunition or fireworks going off, followed by the intense shockwave.
The AP describes the aftermath:
The explosion appeared to be centered around Beirut's port and caused wide scale destruction and shattered windows miles away.

An Associated Press photographer near Beirut's port witnessed people wounded on the ground and widespread destruction in central Beirut.

Some local TV stations reported the blast was at Beirut's port inside an area where firecrackers were stored.
It's reported caused widespread damage in all surrounding neighborhoods.
From a friend in #beirut pic.twitter.com/XAKSmUOau5

— Alia Malek عليا مالك (@AliaMalek) August 4, 2020
Lately the southern Lebanese border has been scene of brief fighting between the Israeli Defense Forces (IDF) and Hezbollah.
Friend just forwarded me this video of the explosion, not sure who is filming but this this is awful #Beirut pic.twitter.com/jMgDc8qBIZ

— Jasmine El-Gamal (@jasmineelgamal) August 4, 2020
Tel Aviv has recently warned Lebanon that it will be held responsible for any Hezbollah aggression.
developing...