---
Texas Sees Record Jump In COVID-19 Deaths 2 Weeks Into Reopening: Live Update
Summary:
Texas cases see record spike 2 weeks into reopening
CDC issues re-opening guidelines to help schools and workplaces determine whether they are ready to open for business.
NY investigating 110 cases of mysterious pediatric respiratory illness
NIH launches study of hydroxychloroquine and Z-Pak
New study sheds light on how loud talks can spread virus
UK & Italian numbers are out
German new infections hit 5-day high
Trump praises Wisconsin Supreme Court decision
Trump sits for interview with Maria Bartiromo
Trump: 'I wonder what would happen if we cut ties with China?'
Wisconsin Supreme Court strikes down stay at home order
Maryland to start reopening Friday
French government 'incensed' by Sanofi offer to give vaccine to US first
Singapore reports another 750+ cases
Japan starts using remdesivir on COVID-19 patients
Burundi latest African country to boot WHO
UK minister defends timing of nursing home lockdown
Spain sees 'center' of outbreak shift from area surrounding Madrid to Catalonia
*   *   *
Update (1750ET): Two weeks into Texas's reopening - its the largest state that's allowed restaurants, retailers, movie theaters, malls and most other businesses to reopen (so long as they comply with certain heavily encouraged social distancing guidelines) - public health officials just reported the largest single-day jump in deaths yet.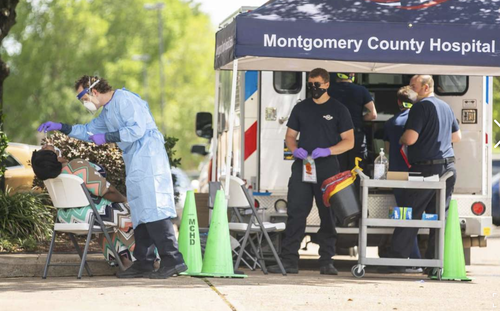 Source: Houston Chronicle
The Houston Chronicle reports that the state recorded 58 deaths yesterday, breaking the record of 50 deaths set late last month.
Texas reported its highest number of deaths in one day since the coronavirus pandemic began.

New official state data released on Thursday showed Texas is now reporting 1,216 deaths — an increase of 58 from yesterday's tally.

Previously, Texas had reported as many as 50 deaths once before, on April 30.

The spike in deaths comes as Texas Gov. Greg Abbott has been trying to re-open the state's economy. Last week he allowed hair salons and barbershops to reopen and was planning to allow gyms to open next week. Before that he allowed restaurants, malls, retail stores and movie theaters to reopen at 25 percent capacity.

On Monday, Abbott was scheduled to announce whether the state had made enough progress to reopen restaurants, retail stores, theaters, and malls to re-open at 50 percent capacity.
While we're certain proponents of the "stay home, save lives" mantra will frame this as a disaster, it's hardly indicative of a major resurgence.
*   *   *
Update (1705ET): The U.S. Centers for Disease Control and Prevention on Thursday issued guidelines to help schools and workplaces determine whether they are ready to open for business.
The six so-called "decision trees" cover yes or no scenarios that are aimed to help assess readiness for opening workplaces, restaurants and bars, mass transit, childcare, camps and schools.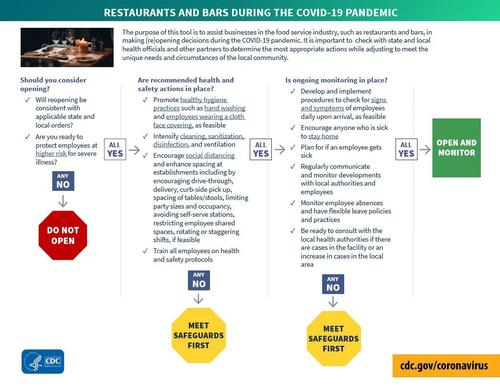 Bars and restaurants, for example, shouldn't reopen until they can follow applicable state and local orders, and until they're ready to protect people who are at higher risk for severe illness, the guidelines say.
Then they should encourage social distancing -- add spacing of tables and stools; encourage drive-through, delivery and curb-side pick up; limit party sizes and occupancy; avoid self-serve stations; and restrict employee shared spaces.
Employers should check staff for signs and symptoms of illness as they arrive, "as feasible."
Mass-transit operators should limit routes to and from high-transmission areas before increasing to full service, as well as space out passengers by closing every other row of seats, according to the guidelines.
Youth programs, camps, and childcare programs should change activities and procedures to limit shared toys and supplies, according to the guidelines.
An earlier version of the guidance was reportedly held back by the Trump administration as being too prescriptive, especially for states that have had lesser outbreaks.
*   *   *
Update (1424ET): Cuomo just announced that the NY DoH is now investigating 110 cases of the mysterious inflammatory and respiratory syndrome affecting children, only some of whom have tested positive for COVID-19 or viral antibodies.
*   *   *
Update (1400ET): There have been two notable coronavirus-related developments so far this afternoon:
A new study by the National Institute of Diabetes and Digestive and Kidney Diseases and the University of Pennsylvania found that ordinary speech can emit small respiratory droplets that linger in the air for at least eight minutes and potentially much longer. These droplets are likely infectious, and help explain why the virus is so infectious in enclosed spaces like cruise ships and airplanes.
The virus's ability to linger in the air has long been one of the most critical areas of study.
The report was published Thursday by the  Proceedings of the National Academy of Sciences, a peer-reviewed journal. It is based on an experiment that used laser light to study the number of small respiratory droplets emitted through human speech.
The NIH has begun a trial for hydroxychloroquine and azythromycin (commonly known as a Z-Pak) that will test 2,000 adults with mild to moderate COVID-19 symptoms. A handful of prior studies have shown hydroxychloroquine alone isn't very effect, but anecdotal reports that the drug, if taken with zinc or a Z Pak, can stop moderate symptoms from progressing to sever.
Cuomo on Thursday said once again that hospitalizations declined further and Central New York is getting ready to start reopening tomorrow.
NY's death toll climbed to 22,157, up from 22,000, an increase of 0.7% or 157, slightly slower than the pace from a day earlier.
Holding a briefing with updates on #Coronavirus. Watch Live: https://t.co/b31FR7AeAQ

— Andrew Cuomo (@NYGovCuomo) May 14, 2020
The latest numbers from Florida and Cali are also out:
CALIFORNIA VIRUS CASES CLIMB 2.8% TO 73,164; DEATHS RISE 3.3%
CALIFORNIA SAYS 3,032 PEOPLE HAVE DIED FROM CORONAVIRUS
FLORIDA COVID-19 CASES RISE 1.9% VS. PREVIOUS 7-DAY AVG. 1.6%
Cuomo added that 5 regions including central NY are ready to reopen tomorrow.
Meanwhile, protesters returned to Lansing and mobbed the Michigan capital, once again insisting that Democratic Gov. Whitmer must move more quickly to reopen the state. the day's legislative session was cancelled, according to Bloomberg.
The gathering, which was called to demand the state reopen for business and end to the lockdown, followed a similar rally on April 30 that resulted in pictures of protesters clad in military-style gear and carrying long guns crowding the statehouse. Demonstrators were accused of taunting the police and were widely panned on CNN and MSNBC.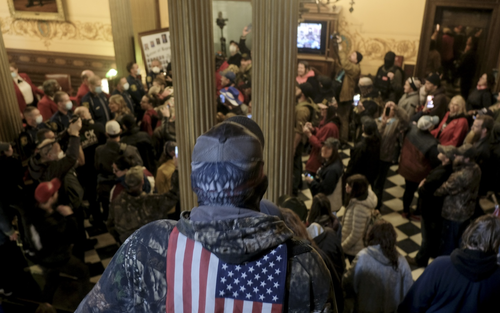 The shutdown was done with little fanfare at the end of Wednesday's State Senate session. At around 4:30, lawmakers in the Republican-majority chamber simply adjourned until Tuesday rather than call the next previously scheduled meeting. The governor has ecen claimed to have received multiple death threats over her decision to stand by the lockdown and reopen cautiously as the state struggles with one of the worst outbreaks in the country.
*        *         *
Update (1230ET): The latest numbers from Italy and the UK are out.
For the UK, not major deviations from the recent trend.
As of 9am 14 May, there have been 2,219,281 tests, with 126,064 tests on 13 May.

1,593,902 people have been tested of which 233,151 tested positive.

As of 5pm on 13 May, of those tested positive for coronavirus, across all settings, 33,614 have sadly died. pic.twitter.com/VrfhlNVWar

— Department of Health and Social Care (@DHSCgovuk) May 14, 2020
And Italy continued to see a decline in the average of new cases and deaths.
JUST IN: Italy reports 992 new cases of coronavirus and 262 new deaths.

Total of 223,096 cases and 31,368 deaths.

— Norbert Elekes (@NorbertElekes) May 14, 2020
Italy's update:

- Number of new cases up
- Number of new tests up
- Number of new deaths up
- Number of hospitalized down
- Number of ICU patients down

— Norbert Elekes (@NorbertElekes) May 14, 2020
Meanwhile, President Trump just reiterated that he believes the US will have a vaccine ready to go by the end of the year. To be sure, some professionals in the UK have anecdotally said a vaccine for health-care workers only might be ready by year's end. But the most optimistic projections call for a mass produced vaccine some time during the late summer or fall of 2021.
*        *         *
Update (1000ET): Earlier, Germany reported the largest number of new coronavirus cases in five days as the government continues to gradually lifts restrictions on daily life. Of course, the government has repeatedly warned that it expected cases to climb and the spread rate to increase somewhat after reopening, but public health officials say they're carefully monitoring the data.
Fortunately, even as the number of new cases climbed day over day, snapping a streak of declines, the rate of spread has actually declined, meaning Germany will continue with its gradual reopening as planned, Bloomberg reports.
*        *         *
Update (0940ET): President Trump just tweeted that America's reopening effort is going great and the effort to develop a vaccine remains "very promising."
Good numbers coming out of States that are opening. America is getting its life back! Vaccine work is looking VERY promising, before end of year. Likewise, other solutions!

— Donald J. Trump (@realDonaldTrump) May 14, 2020
*        *         *
Update (0840ET): While we continue to wait from Wisconsin Gov. Tony Evers, President Trump is congratulating Wisconsin's GOP-controlled state assembly over their latest win in a special election, as well as the state supreme court's decision to strike down the lockdown - a landmark, precedent-setting decision that marks the first time a court in the US has struck down a lockdown order.
The Great State of Wisconsin, home to Tom Tiffany's big Congressional Victory on Tuesday, was just given another win. Its Democrat Governor was forced by the courts to let the State Open. The people want to get on with their lives. The place is bustling!

— Donald J. Trump (@realDonaldTrump) May 14, 2020
Trump also took a moment to gloat about his 'record' of endorsement victories (a figure we're sure will be subjected to some pretty intense-fact checking).
22-O in my endorsements of Congressional Candidates this season. California & Wisconsin won big on Tuesday. Thank you to all of those very brilliant Voters. You will not be disappointed!

— Donald J. Trump (@realDonaldTrump) May 14, 2020
The president also reiterated during an interview that he stands with Elon Musk in trying to push his workers back into the factory.
*        *         *
Update (0800ET): Adding to the anti-China rhetoric this morning, President Trump allegedly mused to Bartiromo hat he "wonders what would happen if the US cut ties with China."
Adding about his "good friend" President Xi: "Right now, I don't want to speak to him...We could cut off the whole relationship, if we did, what would happen?" Trump says of China. "You'd save $500 billion". In addition to once again hinting at cancelling Treasury debt held by China, Trump also said he would prefer "a stronger dollar" - sending the greenback higher, as it marked an unusual u-turn from Trump's typical insistence that rates are too high and the dollar is too strong.
*        *         *
As health authorities in Wuhan scramble to test as many of the city's 11 million residents as possible after discovering a handful of new cases, in the US, more states are scaling back their 'stay at home' orders while President Trump tells Maria Bartiromo that he 'disagrees' with Dr. Fauci and believes the US should reopen schools sooner rather than later.
Prodded by Bartiromo, Trump said the US should "take a look" at Chinese companies listed on the NYSE and Nasdaq (maybe he can hire Carson Block to lead the investigation). Trump has threatened to push for the de-listing of Chinese companies from US exchanges in the past (most notably back in September).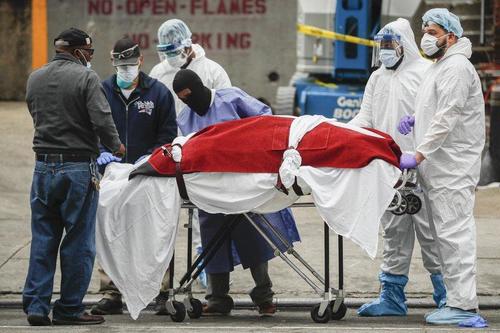 Last night, we reported some late-breaking developments in the US: The Wisconsin Supreme Court struck down the governor's stay at home order, and Maryland Gov. Larry Hogan announced that the first big step toward reopening would begin Friday at 5pmET.
Liberals are about to lose their minds on Thursday as fired government scientist, bureaucrat and now "whistleblower" Rick Bright, who ran a tiny federal agency responsible for doling out testing grants to private drug companies, pivots from accusing Trump of unfairly funneling money into hydroxychloroquine research to warning that the US isn't doing enough to suppress a "second wave" of the virus that isn't expected until later this year.
The US faces the "darkest winter in modern history", with "unprecedented illness and fatalities", unless federal officials develop a more "coordinated" virus response.
Around the world, the number of confirmed coronavirus cases has passed 4,444,444 as it closes in on 4.5 million. The number of new cases confirmed on Wednesday was down slightly from the prior day.
As it struggles to manage its gradual reopening, the French government was incensed earlier this week by pharmaceutical giant Sanofi's promise to supply early vaccine samples to the US. On Thursday, the government declared it was "unacceptable" for a French multinational to give the US copies of the vaccine before it had been distributed in France. Imagine the fuss Trump's political opponents would probably make if he issued an order like this (though it would certainly play extremely well with the president's base).
Here's some more background on that from WaPo:
The government pushback came after comments that Sanofi CEO Paul Hudson made Wednesday.

"The U.S. government has the right to the largest pre-order because it's invested in taking the risk," Hudson told Bloomberg News. The United States, Hudson said, expanded its investment in the company's vaccine research in February and thus expects that "if we've helped you manufacture the doses at risk, we expect to get the doses first."
With the British economy just beginning to reopen, the FT reports that almost half of active UK businesses expect their cash flow to dry up within the next six months, according to a survey from the ONS. Meanwhile, British Health Minister Edward Argar (note to Americans: this is a different governmental role from the one held by Health Secretary Matt Hancock) defended the conservative government's decision to lock down care homes, saying it couldn't have acted sooner because there wasn't yet "evidence of community transmission."
In Spain, the number of coronavirus-linked deaths climbed on Thursday, even as the overall trend pointed to a slide, as the epicenter of the country's outbreak moved to the northeastern region of Catalonia.
Spain's health ministry reported 217 coronavirus deaths (data is reported with a 24-hour lag), the highest number in six days, and up from 184 the day before. That brought Spain's official death toll to 27,321, although this excludes cases where people were not tested for coronavirus, likely leaving out many deaths in Spanish long-term care homes. During the last week, the number of deaths reported was down nearly 20% from the prior week, while the number of new cases reported fell 30% to 4,064. However, the distribution of new cases suggests the center of the outbreak is moving away from Madrid and toward Catalonia and its capital, Barcelona.
As the virus spreads unimpeded in Brazil, the country's president, Jair Bolsonaro, who has dismissed the virus as a "little flu" has repeatedly tested negative, according to official sources.
Back in Asia, Singapore on Thursday counted 752 new infections as the outbreak among mostly migrant workers living in packed dorms continues to spread. Only 2 of those cases were Singaporean citizens, which is about on par with previous releases.
As the number of new cases slows in Japan, PM Shinzo Abe's government revealed Thursday that it had begun treating patients with remdesivir, the experimental antiviral produced by Gilead that has been heralded by Dr. Fauci as the most promising treatment available right now - though he and even Gilead itself warned that much more research is needed to determine the drug's actual efficacy in treating the virus.
Finally, in Burundi, government officials followed the Tanzania and kicked out a WHO official who had warned about the risks stemming from crowded political rallies, the Washington Post reported.
Get ready for something similar to transpire later this year when Trump pushes to re-start his famous campaign rallies.