---
Major Disruption Hits Top South African Container Port As Economic Crisis Worsens
The economic crisis in South Africa worsened this year, with rolling power blackouts contributing to much of the problem. This week, the situation was exacerbated when organized crime gangs targeted the rail infrastructure connecting the nation's wealthiest province with a top container port, causing widespread disruptions in trade. Taking all these factors into account, the African National Congress, a social-democratic political party in the country, warned that the country could become a "failed state." 
The ongoing power blackout story in South Africa is nothing new for readers (read: South Africans Without Electricity For Nine Hours A Day Amid "Ginormous" Blackouts). But the economic crisis worsened again this week for another reason: "theft, vandalism, and rail damage" by gangs that left a 428-mile rail line from the Port of Durban to Gauteng province operating at just 25% capacity, according to Bloomberg. 
"For the past week, there have been a total of 39 security-related incidents targeting critical areas on the mainline resulting in the closure of the line," Transnet SOC Ltd., the state-owned entity that runs the line, said in a letter to customers seen by Bloomberg. 
Armed gangs are attacking South Africa's state-owned infrastructure, disrupting electricity-generating plants to freight-rail lines. If the container-rail line between Durban and Gauteng isn't resolved promptly, this might dent trade with other nations. The security incidents might force some companies to do business elsewhere.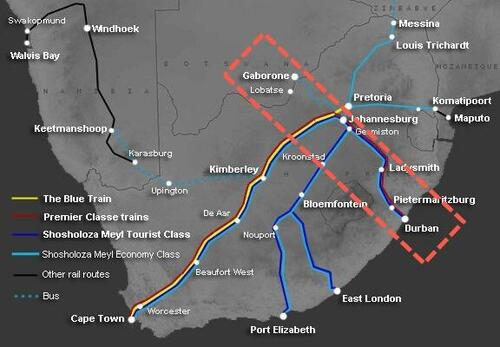 Transnet said at least 58 trains are stuck on the rail line or in staging yards due to disruptions. The rail company said some vandalized equipment had been repaired or replaced, but reopening the line fully appears to be a monumental task. 
That may be why African National Congress secretary general Fikile Mbalula warned power cuts and chaos are contributing to a major crisis. 
"If certain things are not resolved, we will become a failed state, but we are not journeying towards that direction," Mbalula warned in an interview with BBC HARDtalk's Stephen Sackur.
The economic crisis has sent the official unemployment rate in the country to 33%, the highest in the world. A resolution to the chaos is nowhere in sight. 
Loading...