---
Russian Opposition Leader Flown To German Hospital After Alleged "Poisoning"
Update (1330ET): Doctors at the Siberian hospital where Navalny was being treated have reportedly allowed the opposition leader to be flown to a top German medical facility, the head doctor said.
"We...took the decision that we don't oppose his transfer to another hospital, the one that his relatives indicate to us," Anatoly Kalinichenko, deputy chief doctor at Omsk hospital, told journalists late on Friday.
The flight out of Omsk is set to leave Saturday morning, but German doctors have already examined Navalny and said he is fit to be flown aboard for medical treatment.
It was previously reported that permission for Navalny to fly to Germany had been denied, but the authorities involved have apparently changed their minds.
* * *
After a spokeswoman claimed that Russian opposition leader Alexei Navalny had been 'poisoned' by Russian security services who likely slipped the poison into Navalny's tea - the only thing he consumed before taking off on a flight from Siberia to Moscow, he claims - doctors at the Siberian hospital where Navalny was treated have instead blamed his condition on another medical malady: an unnamed metabolic disease.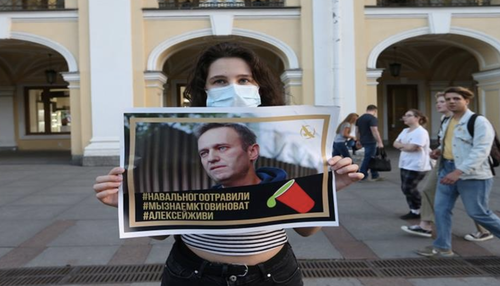 According to Al Jazeera, the head doctor at the Siberian hospital where Navalny was treated said on Friday he had been diagnosed with a metabolic disease caused by low blood sugar.
Head doctor Alexander Murakhovsky, who runs the hospital in the city of Omsk, also said that police had found traces of industrial chemical substances on the 44-year-old Navalny's clothes and fingers.
Last night, allies of Navalny blamed the Kremlin for "thwarting" a medical evacuation to Germany, which they claimed placed Navalny's life in jeopardy.
Navalny, a fierce critic of President Vladimir Putin and his lieutenants, remains in a serious condition after his flight was forced to land in Siberia, where he was rushed to the hospital after collapsing in the bathroom.
Last night, allies of Navalny accused the Kremlin of thwarting his medical evacuation to Germany, saying the decision places his life in mortal danger.
With so many eyes on the Russian opposition leader, the notion that the Kremlin would target such a high-profile figure with one of its infamous "wet jobs" sounds faintly unrealistic, especially considering the next election isn't until 2024. Several journalists focusing on Russia warned against jumping to conclusions yesterday, arguing that Navalny's investigative journalism has earned him many enemies among Russia's moneyed, Kremlin-connected elite.
Navalny insisted he had been poisoned during a stay in a Moscow prison during the summer of 2019. But doctors contradicted his claims then, too - and sent him back to prison to finish his sentence, despite his claims that doing so would put his life in 'serious jeopardy'.