---
DoD Invokes Defense Production Act To Boost Metals Mining After China Export Controls
According to a Pentagon spokesperson cited by Reuters, the US Defense Department announced on Friday it is invoking the Defense Production Act to boost the domestic mining and processing capacity of two rare earth metals, gallium and germanium, critical for high-tech chip-making for the US defense industry. 
Reuters said the Pentagon has a strategic germanium stockpile but no gallium stockpiles. The move to invoke the Defense Production Act comes after China announced Monday that it will impose export controls on the two metals, citing "safeguard national security and interests." 
"The (Defense) Department is proactively taking steps using Defense Production Act Title III authorities to increase domestic mining and processing of critical materials for the microelectronics and space supply chain, including gallium and germanium," the DoD spokesperson said.
As a refresher to our early reporting, gallium is most common in semiconductors, transistors, and small electronic devices. It's also used to make LEDs. As for military-grade Gallium Nitride, it's found in cutting-edge weapon technology that US defense companies produce. Three of the most common uses for germanium are rectifiers, transistors, and weapons-sighting systems.
What's most alarming is China controls the world's processing and refining of rare earth metals.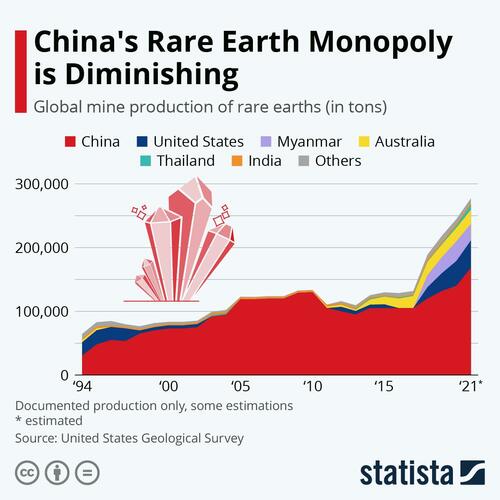 These metals aren't just critical to the military-industrial complex but also the 'green' energy transition.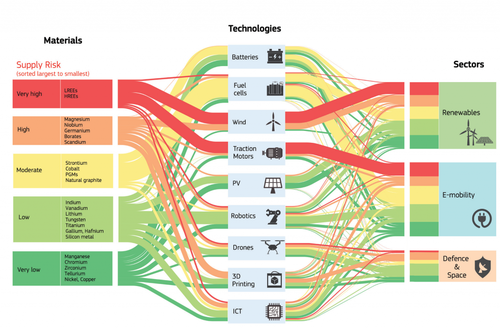 Here's a breakdown of rare earth metals used in US defense weapons. 

On Wednesday, former vice-minister of commerce Wei Jianguo spoke to state media China Daily and said Beijing has plenty of tools for countermeasures if the Biden administration continues to ramp up technology restrictions. He said the decision to restrict the export of gallium and germanium would "cause panic in certain countries, but also exert heavy pain in them." 
Wei said: "This is just the beginning of China's countermeasures, and China's toolbox has many more types of measures available. If the high-tech restrictions on China become tougher in the future, China's countermeasures will also escalate."
The Pentagon and the military-industrial complex should secure rare earth metal supply chains before trying to start the next world war. 
Loading...