---
US Total Passes 350k As Tri-State Area Cases, Deaths Surge: Live Updates
Summary:
First 'confrontation' reported at White House task force
'Peak week' begins in the US
Experts question drop in NYC hospitalizations, deaths
Situation in Italy, Spain continues to improve as UK reports biggest jump in fatalities
Belgium cases break above 20k
Russia reports biggest jump in new cases
CT, NJ, NY report jump in cases, deaths
Iranian official death toll nears 4k
Tokyo reports another 50+ cases
UK death toll tops 50k
NY reports disappointing jump in deaths
Italy reports drop in cases, jump in deaths
Global death passes 70k
NYC expected to see 876 deaths during Thursday's "peak"
White House appears to strike truce with 3M
Number of 'recovered' coronavirus patients hits 275k
UAE reports slight uptick in new cases after curfew extension
Portugal latest European country to report drop in cases
India reports 488 new cases
Chairman of House Armed Services committee says Acting Navy Sec. Modly should be fired.
More experts warn deaths being undercounted in NYC
Germany releases plan to get "back to normal" by April 19
ACLU pushing for release of more 'high risk' prisoners at Oakdale prison
Worker at Georgia nuclear power plant tests positive
Cuomo doubles fine for breaking 'social distancing' rules
Spain sees drop in deaths
SK reports fewest new cases in weeks
3rd passenger dies aboard "Coral Princess"
Abe rolls out state of emergency to begin Tuesday
Trump "optimistic" about Sunday's data
Hospital operator Quorum facing bankruptcy amidst global health crisis
*    *    *
Update (2020ET): Just a few hours after Chuck Schumer slammed Acting Navy Secretary Tom Modly for a speech he delivered aboard the USS Teddy Roosevelt where he insinuated that departing commander Capt. Brett Crozier was "an idiot" if he thought his letter wouldn't leak to the press, House Armed Services Chairman Adam Smith has taken things up a notch. 
Smith, one of the key Democratic leaders on National Security-related issues, called for Modly to be fired for his address, accusing Modly of damaging moral by mocking a commander who sacrificed his career to try and keep his sailors safe. "I no longer have confidence in Acting Secretary Modly's leadership of the Navy and believe he should be removed"
We suspect the battle over Modly's future (he's only an "acting", so it would be fairly easy for the administration to simply appoint a candidate, finally, to fill the job) is only just beginning.
*    *    *
Update (1850ET): President Trump just went on another tirade about China during tonight's press briefing, slamming Beijing for disrupting the flow of critical medical supplies to the US. "It's time for China to start helping the US," Trump declared,
Meanwhile, as one Twitter use pointed out (h/t @NorbertElekes), across the Atlantic, France's latest batch of cases, reported earlier, actually established France as the country with the largest number of new cases in Europe for the first time since the outbreak began. It's just another piece of analysis suggesting that Germany is relatively stable, Italy and Spain are peaking, and France isn't far behind.
Speaking of the Germans, the Koch Institute just reported 3,018 new cases in Deutscheland, bringing its total to 57,298, with only 455 deaths, a mortality rate of 0.7%, up ever-so-slightly from last week, after Germany's Interior Ministry leaked a plan earlier to begin reopening the German economy in a couple of weeks.
As the UAE continues with its relatively strict social distancing measures, including closing down much of its vaunted hospitality industry, health officials have reported 277 new cases, and 1 new death. That's up slightly from Saturday, despite the government's decision to extend a curfew initially imposed last night. Among the GCC countries, Saudi Arabia and the UAE are some of the worst-hit, while Oman and Kuwait - which just reported its first death from COVID-19 on Saturday - have been the least affected.
Here's a rundown on the state of things in Europe:
Coronavirus update, Europe:

- France: 5,171 new cases
- UK: 3,802 new cases
- Italy: 3,599 new cases
- Spain: 3,386 new cases
- Germany: 3,228 new cases
- Turkey: 3,148 new cases
- Belgium: 1,123 new cases
- Russia: 954 new cases
- Netherlands: 952 new cases

— Norbert Elekes (@NorbertElekes) April 6, 2020
*    *    *
Update (1738ET): In more good news out of Europe, Portugal just reported 452 new cases, its lowest daily increase since March, bringing its total to 11,730 cases in total.
Turkey also just reported 3,148 new cases and 75 new deaths, bringing its total to30,217 cases and 649 deaths.
Meanwhile, JHU reports that the number of recovered coronavirus patients has reached 275,000 worldwide.
In other news, the White House task force is beginning its briefing.
And as the White House press briefing begins, WSJ reports that the White House has apparently reached a truce with 3M: Though Trump doesn't seem to have backed away from the DPA, the White House agreed to buy $55.5 million in masks from 3M Co. monthly for three months,  a White House official said. The masks include N95, KN95 and N90 style face masks.
Following the deaths of a few inmates at a maximum facility in Georgia, the ACLU is petition for the humane release of hundreds of "high risk" inmates, the AP reports. They're arguing that AG Barr did not go far enough last week when he issued a directive to begin releasing vulnerable prisoners at the FCC Oakdale to home confinement.
*    *    *
Update (1615ET): After all of its individual states reported their numbers, India has confirmed a total of 488 new cases, with 15 new deaths, bringing its total to 4,778 new cases and 136 deaths.
*    *    *
Update (1530ET): During what was a moderately hectic day of coronavirus news, No. 10 Downing Street upstaged everybody Monday evening when it revealed that Boris Johnson had been moved to the ICU, before cautioning that he was conscious, and that had been moved "just in case" so that he could be close to a ventilator if he should require intubation.
In other news, France, Pakistan, Ireland and a host of other countries have reported new cases and deaths since our last update.
Pakistan reports 609 new cases of coronavirus and 5 new deaths for a total of 3,766 cases and 52 deaths. Michigan's governor says her state is dangerously low on PPE, and that 2 hospitals in her state will be entirely out of stock for N95 masks, forcing nurses to either use old masks, or improvise.
The number of confirmed cases in New Jersey, the state with the second highest death toll after New York, broke above 40k on Monday as Gov. Phil Murphy reported another 3,663 cases (the total is now 41,090, to be exact) and 86 deaths, bringing the state's death toll to 1,003, the second-highest in the US.
By comparison, the number of cases in NY has reached 130,000, and the number of deaths more than 4k (4,159). In Connecticut, the number of cases has risen to 6,906, Gov. Ned Lamont said Monday, with 17 additional deaths and 79 new hospital admissions. The state saw 1,231 new confirmed cases on 3,416 tests, a positive-test rate of roughly 36%, the Hartford Courant reports. Fortunately for the Nutmeg State, Lamont said Monday that hospitalizations - at 1,221 - and deaths - at 206 - have shown a linear, rather than exponential, rate of increase, though it;'s still much faster than many other parts of the country.
*    *    *
Update (1240ET): Building on a jump in deaths reported yesterday, the UK reported another 439 deaths, bringing its death toll north of 5k for the first time to 5,373. Meanwhile, its case total passed 50k (51,608 to be exact) as the Health Ministry reported 3,802 new cases.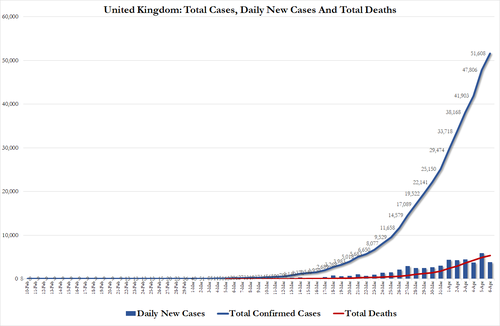 *    *    *
Update (1210ET): Just as we anticipated, the hoped for slowdown in New York City that helped send US markets roaring into the green on Monday didn't materialize, with Gov. Cuomo just reporting 599 deaths for Monday, higher than yesterday's number by a modest margin.
Meanwhile, the numbers were enough to push the US death toll over 10k, making it the country with the third-highest death toll in the world behind only Italy and Spain.
A New York State health official said the jump in deaths could suggest that NY has arrived at its peak a few days early...which is not good for any hospitals that are still short on ventilators.
".. this could suggest we are, indeed, potentially at the apex .. at this moment." https://t.co/BtFQ20xEup

— Carl Quintanilla (@carlquintanilla) April 6, 2020
Cuomo said that the death rate has been "effectively flat" for two days, but ~600 deaths a day is still alarmingly high, even for a state with 20 million residents. But if there's a silver lining to NY's still-relatively-high mortality rate, it's that at least the state's hospital occupancy has tumbled as peak week begins.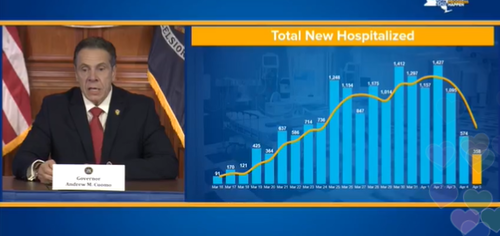 Though there isn't really all that much here to be excited about, Cuomo nevertheless warned that New Yorkers shouldn't get too "cocky".
New York Gov. Andrew Cuomo warns against "getting overconfident too quickly."

"This is an enemy that we have underestimated since day one, and we have paid the price dearly." https://t.co/GJWrww7W8b pic.twitter.com/vozfBRqbYB

— ABC News (@ABC) April 6, 2020
The governor also doubled the max fine for violating social distancing rules to $1k. And as ventilators remain in short supply, hospitals in the state have begun to use BPAP machines, and splitting ventilators to accommodate all the patients.
Italy, meanwhile, reported 3,599 new cases - the lowest number in three weeks - and 636 new deaths, modestly higher than yesterday.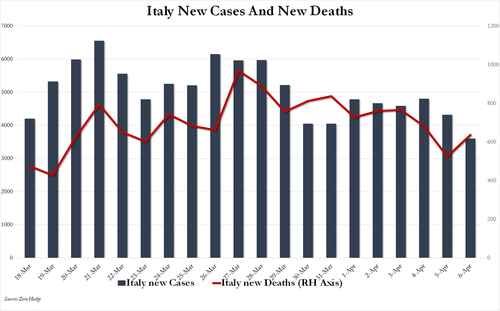 The new confirmations brought Italy's total to 132,547, and its death toll to 16,523.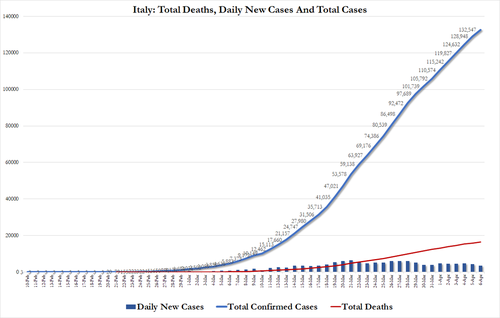 Put another way:
New coronavirus cases reported in Italy:

4/6: 3599
4/5: 4316
4/4: 4805
4/3: 4585
4/2: 4668
4/1: 4782
3/31: 4053
3/30: 4050
3/29: 5217
3/28: 5974
3/27: 5959
3/26: 6153
3/25: 5210
3/24: 5249
3/23: 4790
3/22: 5560
3/21: 6557
3/20: 5986
3/19: 5322
3/18: 4207
3/17: 3526

— Norbert Elekes (@NorbertElekes) April 6, 2020
*    *    *
Update (1120ET): At least five major countries have reported new COVID-19 figures over the last 90 minutes are so. They include Belgium, which reported 1,123 new cases and 185 new deaths, becoming the latest European state to pass 20k cases (exact: 20,814). It has reported a total of 1,632 deaths.
That said, the Netherlands is on track to join it as soon as Wednesday. The country reported 952 new cases on Monday and 101 new deaths, bringing its total to 18,803 cases and 1,867 deaths. Russia reported 954 new cases of coronavirus, bringing its case total to 6,343, the largest single increase so far. The Philippines reported 414 new cases of coronavirus and 11 new deaths bringing its total of 3,660 cases and 163 deaths.
Iran reported 2,274 new cases on Monday, bringing its total to 60,500, breaking above 60k, while 136 new deaths brought Iran's total to 3,7,39. Russia reported its largest jump yet shortly after extending what is now a nationwide crackdown, with 954 new cases and 2 new deaths, bringing its total to 6,343. with 954 deaths.
*    *    *
Update (1010ET): Before we jump into an explanation of the projections suggesting that the "peak" in the US will occur over the next 7-10 days, we'd like to draw some more attention to reports that many COVID-19 deaths are being undercounted, both in NYC and around the US.
Those dying at home aren't being counted in NYC https://t.co/aeKKhRLvjb

— ForexLive (@ForexLive) April 6, 2020
In recent days, both the administration and NY Gov. Cuomo appear to have settled on projections shared by the University of Washington's Institute for Health Metrics, which took these 'official' projections and created graphs and helped explain the it to the press and the general public. 
outline predicted death tolls for each state, along with warnings about potential shortages of much-needed hospital beds.
Of course, the peak isn't going to happen simultaneously across the country; rather, it'll likely unfurl over the course of a few weeks, with most of the east-coast hot spots and their outlying areas expects to pass the peak over the next week or so. But as the city scrambles to assemble the necessary supplies of equipment and personnel, the projections warned that Thursday will likely be the 'peak' for the city, with roughly 900 deaths expected.
NJ comes next on the timeline, with a peak expected in 10 days, with just under 600 deaths expected to be reported that day. Connecticut will also follow next week, as will the Philly area.
In other news, a worker at a Georgia nuclear power plant has tested positive.
We neglected to mention this earlier, but a third passenger has died aboard the "Coral Princess" as the ship, now docked at the Port of Miami. Yesterday, Australia became the first country to launch a criminal probe of Carnival, the ship's owner (via its Princess Cruises subsidiary) related to its actions during the outbreak.
*    *    *
Update (0933ET): As Germany's DAX surges 5%, bringing its post-selloff rebound to 20% off the lows, health authorities across the continent are reporting optimistic cornavirus news, starting with Germany, of course, which rolled out a plan for re-starting the economy by April 19, becoming the first major European economy to plot a course toward re-opening.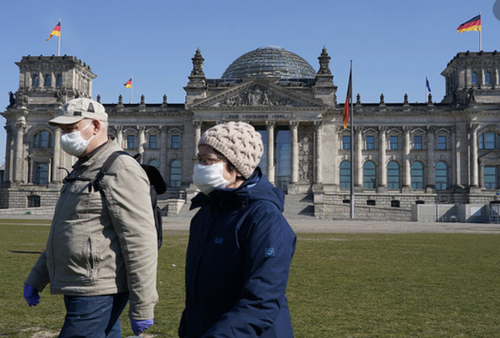 According to Reuters, the Interior Ministry (led by Interior Minister and Merkel antagonist Horst Seehofer) has drawn up a list of measures, including an obligation to wear masks in public, limits on public gatherings and the rapid tracing of infection chains, that should allow the country to get "back to normal life" when the current lockdown ends on April 19.
Elsewhere, health officials in Spain reported another notable drop in deaths.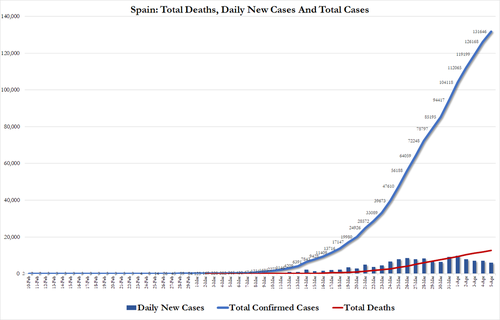 But the biggest (and grimmest) news over the last hour or so: The global death toll has surpassed 70k:
The latest update from JHU put the total at 70,482...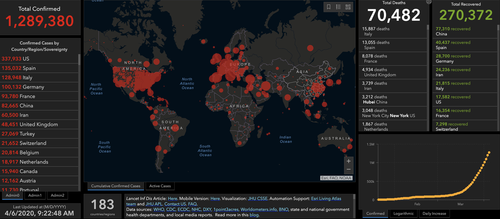 And of course, as we noted last night, many believe deaths are being undercounted both across the US, and around the world.
*    *    *
Update (0811ET): Like a jockey whipping his horse in the home stretch, President Trump is firing off tweets celebrating this morning's surge in S&P futures.
USA STRONG!

— Donald J. Trump (@realDonaldTrump) April 6, 2020
LIGHT AT THE END OF THE TUNNEL!

— Donald J. Trump (@realDonaldTrump) April 6, 2020
We expect he will keep these tweets coming into the open. Meanwhile, Downing Street says Boris Johnson said he's in "good spirits" after spending a "comfortable" night in St. Thomas's hospital in central London, his spokesman, James Slack, told reporters during a Monday morning conference call.
Johnson was hospitalized on Sunday as a "precaution" and the premier "remains in the hospital under observation."
*    *    *
During an appearance on "Fox News Sunday" yesterday morning, Surgeon General Jerome Adams told Chris Wallace that the upcoming week will be "the hardest and saddest week of most Americans' lives," calling it our "our Pearl Harbor, our 9/11 moment," except that, unlike those attacks, this one won't be "localized" - it will be unfurling across the US, almost simultaneously.
Nearly 12 hours later, President Trump and VP Pence said during the evening's task force press briefing that the numbers reported out of Continental Europe and New York earlier that day were "very optimistic," sending futures on what looks like their most bullish trading to kick off a new week since the end of the 'rona rout (or at least, the first installment of it).
To be sure, some experts have raised doubts about the optimistic numbers reported out of New York State and New York City last night. Notably, the state reported its first decline in daily coronavirus deaths.
The second day of declining hospitalizations state-wide was one of the most optimistic numbers reported yesterday by Cuomo.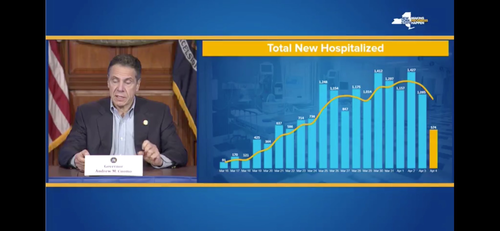 Numbers showing deaths in NYC declined yesterday for the second day in a row, when they were reported by NYC Mayor Bill de Blasio. De Blasio also revealed last night that the feds had sent NYC 174 nurses, 104 doctors and 13 respiratory therapists, not enough to completely make up the shortfall, but "a start", the mayor said.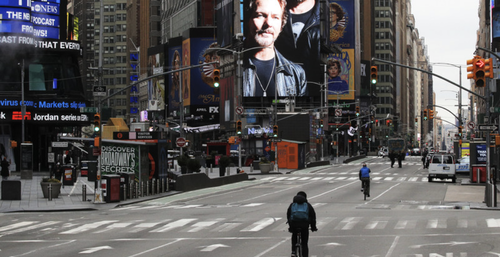 Before people get too excited about these latest numbers out of New York, we noticed several epidemiologists and other 'data people' found flaws in the numbers that they highlighted on Twitter. One expert who reviewed the data said she found a pattern that suggests the city might have underreported deaths yesterday, meaning these encouraging numbers don't reflect reality, and that more deaths would be reported later on Monday to compensate.
Here's Dr. Andrea Feigl, a Harvard-trained medical writer:
1/ @nycgov #Covid_19 dths supposedly ⬇️ 2day

I don't believe these #s ...

Why?

Yesterday's 630 toll reported just before 9pm; hourly, ~50 dths + in NYC the last few days; the 594 # reported in AM ... no increase since

My estimate: We underreported ~300 - 400 dths in NYC 2day

— Dr. Andrea Feigl (@andreafeigl1) April 6, 2020
2/ --> will they be added & 2morrow's tally is close to **1k***????

Same conjecture on my end 4 new admissions & ICU unit usage

pls tell me i am wrong ..

Sources: https://t.co/5ohk1YFPbc@JohnsHopkinsSPH

— Dr. Andrea Feigl (@andreafeigl1) April 6, 2020
3/ Also, looking at Italy 🇮🇹: each Sat & Sunday, dth reporting Downwards arrow, then Up-pointing triangle on Mondays .... https://t.co/9bYyUm5RlT

My speculation: @NYGovCuomo
jumped the gun 2day

— Dr. Andrea Feigl (@andreafeigl1) April 6, 2020
She also highlighted the NYT report we mentioned last night showing widespread underreporting of deaths across the US.
4/ and yes, underreporting not just a @NYCMayor issue ...https://t.co/X6T5JlEX9v#Covid_19

— Dr. Andrea Feigl (@andreafeigl1) April 6, 2020
While equity strategists appeared to focus on the strong numbers out of the Continental Europe yesterday, (Italy, Spain, France, Germany, Belgium, the Netherlands, mostly), numbers out of the UK, where the Queen delivered a landmark speech while the PM was admitted to the hospital with brutal COVID-19 symptoms, were much more alarming, with the largest jump in deaths reported yet as the UK's death toll has accelerated over the past week. Meanwhile, reports that Britons continue to flout the lockdowns despite the crackdown by police have vexed those trying to combat the outbreak.
Worldwide, we're on the verge of 70k deaths as the virus continues to spread, finally accelerating in places like Brazil, and elsewhere across Latin America, while small outbreaks have cropped up in practically all of Africa's 54 countries.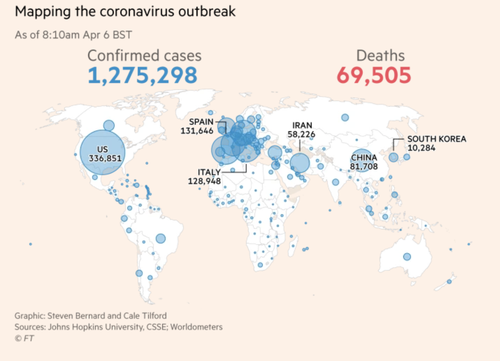 The same is true in Asia: While South Korea reported just 47 new cases of the coronavirus, the lowest daily uptick since infections began surging on Feb 21., and the first time that number has dipped below 50 since then as well. At the peak, SK was reporting 900+ new cases daily. As one reporter noted on twitter, things could still turn on a time, but it's definitely a milestone for the country with arguably the most effective response to the virus in the world.
South Korea reports just 47 new cases of the coronavirus, the lowest daily uptick since infections began surging Feb 21, & the first time it's dipped below 50 since.

At the peak, it was 900+ new cases in one day.

Things could still turn on a dime, but feels like a milestone.

— Victoria Kim (@vicjkim) April 6, 2020
Although South Korea never had to close their economy (as officials' swift response kept things from getting to out of control), analysts at Nomura just helped put SK's outbreak in perspective.
Reported coronavirus cases adjusted for population, via Nomura: pic.twitter.com/Pqn6gqjIkI

— Tracy Alloway (@tracyalloway) April 6, 2020
Meanwhile, another 50+ cases were reported out of Tokyo overnight, as Japanese PM Abe prepared to announce plans to launch a state of emergency set to begin tomorrow. As Nikkei Asian Review reported Monday morning, Abe said Monday the planned state of emergency would be rolled out in seven prefectures, while also announcing a record 108 trillion yen (about $1 trillion) stimulus package.
Tokyo, Kanagawa, Saitama, Chiba, Osaka, Hyogo and Fukuoka prefectures will be covered by the decree. However, because the Japanese Constitution bows to civil liberties and doesn't give the government the authority to stop people from leaving their homes, cities and governors won't be able to punish businesses who flout the rules - though they can engage in that famously Japanese cultural practice: shaming.
"Even though we will declare a state of emergency, we will not lock cities down and I do not think it is necessary," Abe told reporters in Tokyo before a meeting of the government's coronavirus task force. "We will ramp up our effort to maintain economic activities as possible as well as preventing the further spread of the virus."
The prime minister said he would declare the state of emergency as soon as Tuesday. His bailout will include cash payments to households and bailouts for small businesses similar to what the US is trying to pull off.
Before we go, here is a snapshot on how the situation in the US has developed over the last 24 hours.
Coronavirus update, U.S.

- 26,076 new cases in last 24 hours
- 337,620 cases in total
- 17,461 recovered
- 9,643 deaths
- 36% of cases in New York
- 1.7 million tests performed

— Norbert Elekes (@NorbertElekes) April 6, 2020
Late last night, Axios reported (and we duly note) whispers that "the first major confrontation" had unfolded during a White House task force meeting between - of all people - Peter Navarro and Dr. Fauci. Navarro slammed Dr. Fauci for allegedly playing down the efficacy of hydroxychloroquine, which was recently determined to be one of the more effective therapies that have been tested in small batches (albeit without control groups, which, as any good scientist will tell you, is vital for producing 'usable' data). At the end of the fight, Jared Kushner demanded that Navarro "Take yes as an answer" since the administration is already working to get the drug to 'hotspots' around the country.
But before people start buying into the optimism and project that the end is within striking distance, we'd like to highlight an alarming reminder that the pressure hospitals are facing right now isn't just operational, it's financial as well, as Quorum, a hospital operator in the US, faces bankruptcy. Though the business would likely keep running throughout, the added stress is not exactly conducive to running an operation at full-tilt during an unprecedented global crisis.