---
Dozens Of Chinese-Owned Factories Have Been Torched By Myanmar Protesters
In yet more sanctions actions out of the White House Monday (following anti-China human rights related sanctions), Secretary of State Antony Blinken announced fresh measures against members of Myanmar's military for the continuing crackdown on pro-democracy protests after the Feb. 1 coup d'etat led by the army.
Myanmar's chief of police, Than Hlaing, and its Bureau of Special Operations commander, Lt. Gen. Aung Soe, along with two army units will be hit with sanctions "for being responsible for or complicit in or having directly or indirectly engaged or attempted to engage in, actions or policies that prohibit, limit, or penalize the exercise of freedom of expression or assembly by people in Burma," Blinken said, using the official US name for Myanmar. 
Blinken cited the use of lethal force against peaceful protesters which has included charges that over the past days the above mentioned units spearheaded "the Burmese security forces' planned, systemic strategies to ramp up the use of lethal force," according to Blinken's statement.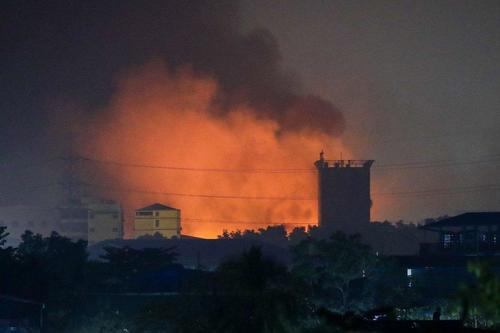 "The United States continues to call on the military regime to release all those unjustly detained; stop its attacks on civil society members, journalists, and labor unionists; halt the brutal killings by its security forces; and return power to the democratically elected government," Blinken added.
International reports over the weekend have counted at least 230 people dead as a result of protest unrest and clashes with police - a number which could be far higher amid communications and internet blockages in various parts of the country. Earlier this month security forces were increasingly observed restoring to 'live fire' to disperse large demonstrations in major cities.
Reuters meanwhile has noted the resistance in the streets has grown fiercer: "Demonstrators in Myanmar maintained their dogged opposition to military rule on Sunday despite a rising death toll, with two more people killed as the junta appeared equally determined to resist growing pressure to compromise."
The junta is defending its imposition of martial law given an alleged spate of arson attacks on Chinese-owned factories, particularly in the garment production hub of Yangon. At this point dozens of Chinese-owned businesses have been reported either vandalized or torched amid growing anti-China sentiment among the protesters. Beijing is seen as quietly supportive of the military coup despite official condemnations of the unrest from its embassy.
Protesters set fires to Chinese factories in Myanmar, during the deadliest day of anti-coup protests. pic.twitter.com/c18X5olCYk

— SCMP News (@SCMPNews) March 15, 2021
Within the past two weeks there's been well over 30 Chinese factories attacked by mobs of protesters, some of which was met with live ammo used by security forces, resulting in deaths: 
The Chinese embassy urged Myanmar's ruling generals to stop violence and ensure the safety of people and property.

China's Global Times newspaper said 32 Chinese-invested factories were "vandalised in vicious attacks" that caused damage worth $37 million and injuries to two Chinese employees.
This had resulted in one of the worst single days of bloodshed a little over a week ago, which "came in the Yangon suburb of Hlaingthaya where security forces killed at least 37 protesters after arson attacks on Chinese-owned factories, said a doctor in the area who declined to be identified."
Many protesters have claimed that security forces are actually behind the fires set to Chinese businesses. They say the military has relied upon 'agitators' to taint the popular street protests and bring China closer to its side. Beijing has urged calm while at the same time calling on state forces to protect the Chinese community and its property there.
Monday's latest US sanctions are not the first announced punitive measures against members of the national army; however, they are the most extensive, given as they target two entire military units.