---
Drone Attack Damages Russian Oil Facility As Cross-Border Activity Intensifies
There's been another weekend drone attack on Russian territory, as the AFP is reporting Saturday based on Russian regional authorities that a pair of drones truck an oil pipeline facility in Russia's western Pskov region.
Local Governor Mikhail Vedernikov confirmed there was an explosion at an administrative building at the site. "Provisionally, the building was damaged as a result of an attack by two unmanned aerial vehicles," he described.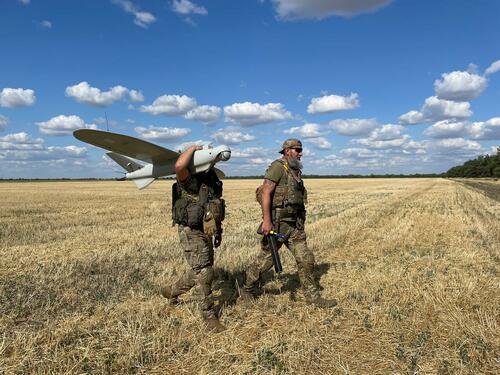 "Early morning, an explosion damaged the administrative building of the oil pipeline near Litvinovo, Nevelsky district," Vedernikov said further. 
There were no casualties reported amid an ongoing investigation into the cross-border incident, which reportedly took place near Belarus. The general region where Russian, Belarusian, and Ukrainian borders come together has been site of intensifying attacks from Ukraine in particular.
These attacks have steadily multiplied, with the biggest and deadliest recent one being the Monday through Tuesday attack by groups of gunmen in Belgorod in which they tried and failed to "liberate" Russian villages.
Ukraine has on an official level denied involvement in these, while Ukrainian officials and media have tended to positively celebrate them, suggesting at least foreknowledge or direct involvement by Kiev.
A similar attack on a Russian oil refinery which took place in early May resulted in the Kremlin pointing the finger at Washington.
At that time, Russia accused the United States and Western allies of helping the Ukrainians conduct an attack: 
Kremlin Press Secretary Dmitry Peskov told reporters that Kyiv could not have carried out the attack without Washington's involvement.

"Attempts to disown this — both in Kyiv and in Washington — are, of course, absolutely ridiculous," the Kremlin spokesman said, Russian news agency TASS reported.

"We know very well that decisions on such actions, on such terrorist attacks, are not made in Kyiv. Namely, in Washington. And Kiev is already doing what what he is told to do," he added. Russia has not presented any evidence backing up its claims that Ukraine and the U.S. were behind the drone attack.
Recently The Wall Street Journal publish a very revealing report on the presence of UK special forces assisting the Ukrainians along or near the front lines of fighting. 
The report said that "UK special forces from the British Army's SAS and SRR regiments and the Navy's SBS units are operating very close to the front lines" in Ukraine. 
The WSJ presented it as constituting a "split" in policy with Washington, given the White House has held back sending special forces to directly assist the Ukrainians on the front lines of fighting. However, there have long been significant rumors and reports of American operatives, including intelligence, directly supporting the war effort regardless.
Loading...