---
Texas COVID-19 Cases Top 800k; France Sees Biggest Jump In ICU Admissions Since April: Live Updates
Summary:
Texas cases top 800k
Dr. Fauci: vaccine effort on 'really good track'
France sees biggest jump in ICU cases since April
Rapid test wins emergency approval from FDA
Golfer Dustin Johnson tests positive
London Mayor Sadiq Khan supports "circuit breaker"
Mexico strikes deal for vaccine supplies
Netherlands tightens restrictions
Ukraine closes schools, universities
Netherlands sees another record jump in cases
UAE reports record daily cases; positive rate rises
Dutch woman dies after being reinfected
First American confirmed reinfected with COVID-19
Russia, Hungary report record deaths
China launches another massive testing campaign
India new cases lowest in 2 months
WHO says world saw record jump in COVID-19 cases last week
14% of those infected with COVID are health-care workers
Italy imposes new restrictions
* * *
Update (1830ET): Tuesday was another rough day in Europe as more countries imposed new restrictions and partial lockdowns as coronavirus cases surged and France reported a jump in patients admitted to its ICUs.
The new rapid COVID-19 test that we reported on a couple of days back has won emergency approval from the FDA.
In the US, Texas recorded more than 5,000 new cases for the first time since the end of September, pushing the state's caseload past 800,000.
France reported the number of new patients in ICUs increased by 94 to 1,642 on Tuesday, the biggest jump since April 6, reaching the highest level since late May.
Finally, despite the recent interruptions in trials for COVID-19 vaccines and therapeutics, Dr. Fauci told CNN on Tuesday that the US vaccine effort is on a "really good track".
* * *
Update (1500ET): Dustin Johnson, the world's top-ranked golfer, has tested positive for COVID-19.
PGA TOUR Statement on Dustin Johnson pic.twitter.com/8WkPHUwpEo

— PGA TOUR Communications (@PGATOURComms) October 13, 2020
He has withdrawn from the CJ Cup after testing positive for the virus. He last competed at the US Open in September.
* * *
Update (1455ET): London Mayor Sadiq Khan has joined the chorus of Labour officials calling for another 2-week "circuit breaker" where bars, restaurants and other non-essential businesses would be closed.
London's infection rate has climbed, but not nearly as fast as the northern hotspots.
* * *
Update (1415ET): Labour leader Keir Starmer and a pair of government scientists are pressuring PM Boris Johnson to agree to a 2-week countrywide lockdown (since it worked so well last time) to get COVID-19 numbers under control. This, despite the WHO's declaration that lockdowns disproportionately hurt the poor.
The warnings come as Liverpool is struggling with a surge in hospital patients, with 95% of its intensive care beds in the city's main hospitals full, roughly half of them with COVID-19 patients.
"We've got plenty of ventilators but we don't have the beds," the doctor added. "There's a feeling of dread at the moment."
As its outbreak continues to rage, Mexico's government on Tuesday signed deals with pharmaceutical giants AstraZeneca, Pfizer and China's CanSinoBio. These deals, combined with Mexico's participation in the WHO's Covax procurement initiative, have secured sufficient COVID-19 vaccines to inoculate 116 million people by the end of next year.
Finance Minister Arturo Herrera said the government had 35 billion pesos ($1.6 billion) available to spend on vaccines, and that the government will make 6.8 billion pesos payment to secure the doses in its effort to provide free vaccinations to all Mexicans.
Ukraine's government has closed schools and universities again, with the closures set to start on Oct. 15, the day after tomorrow, as cases surge to levels that threaten to overwhelm Ukraine's threadbare medical system. Ukraine isn't alone, the Netherlands Prime Minister Mark Rutte is expected to announce the new measures after a Tuesday cabinet meeting.
The Dutch government is returning to a partial lockdown on Wednesday,  the sale of alcohol in the evening will be barred, restaurants and bars will be closed, and visitors to another home to three and stop amateur sport for adults.
Earlier, Football star Cristiano ROnaldo tested positive for the virus, thoughthe Portuguese Football Federation said he was not showing symptoms.
* * *
Update (0850ET): The UAE has reported its highest daily COVID-19 infection tally, with 1,315 new cases in the tiny Middle Eastern nation, really a collection of principalities. Tuesday's numbers bring the UAE's ally to 108,608, with just 448 deaths since the start of the pandemic.
Poland's prime minister Mateusz Morawiecki entered quarantine after exposure to someone who had tested positive for coronavirus, as the second wave of the pandemic rages in central and eastern Europe.
The Netherlands just reported another 7,378 new cases, its latest daily record, the second daily record in a row, and 500 more from yesterday's number. The country also suffered another 35 new deaths. The record follows news that the first confirmed death from a patient reinfected with COVID-19 had been recorded in the Netherlands.
Though the Netherlands' rate hasn't risen quite as quickly as Italy, which has seen daily case numbers double over the past week, the Dutch numbers are up more than 50% from the prior week as Europe's second wave explodes across the continent. Meanwhile, another 100+ new patients were admitted to Dutch hospitals, bringing the total actively receiving treatment to 1,410, more than 1,400 for the first time since May 14, according to government data. 277 of those patients were being treated in the ICU, with 25 of those newly arrived overnight.
* * *
Speaking to a massive crowd in Florida last night, President Trump declared that he felt "powerful" and that he would "kiss" every person in the crowd if he could. Shortly before the start of Trump's performance, Press Secretary Kayleigh McEnany posted a memo from President Trump's doctor, Dr. Sean Conley, telling the public that Trump had tested negative repeatedly over the course of several days.
Trump went ahead with his rally even as Dr. Anthony Fauci slammed the president for holding the rallies despite the chance of spreading COVID-19 (even after he repeatedly refused to weigh in on the potential impact of all those protests) and even accused the president and his campaign of "harassing me" by using clips that Dr. Fauci said were taken out of context.
But perhaps the biggest news on the COVID-19 front from overnight was Johnson & Johnson's decision to "pause" its 60,000 patient COVID-19 vaccine trial. JNJ's halt comes a little over a month after the AstraZeneca-Oxford trial was stopped by regulators after a patient was afflicted with a rare spinal condition. Although AZ's trials have resumed in India, the UK and elsewhere, regulators in the US are still enforcing a hold, and their reasoning isn't clear. Though JNJ insisted that it voluntarily halted the trial, we await more information from US regulators, who have been convened to investigate what went wrong. According to the STAT News report that broke the story, the trial was halted due to an "unspecified" illness.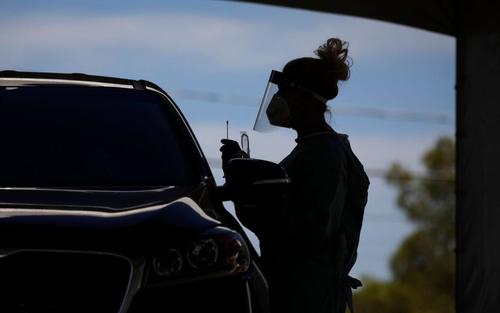 Moving on to Tuesday morning, there has been some big news out of Europe. The FT reported, citing a scientific paper published in the journal Clinical Infectious Disease, that an 89-year-old Dutch woman has become the first person reinfected with COVID-19 to succumb to the virus. According to the paper, the patient first arrived at a hospital in the Netherlands complaining of fatigue. She tested positive, and was later discharged. But 59 days later, she returned to the hospital with even more serious conditions, and tested positive for COVID-19 again. She died shortly after.
The news follows last night's exclusive WSJ report documenting the first case of a patient who was reinfected with COVID-19 in the US. We'll have more on that later. The report in the Lancet cited by WSJ also shows that the second bout of COVID-19 is often more severe in reinfected patients.
Finally, after announcing a slate of new restrictions last week, the Italian government has on Tuesday set out the tighter restrictions on social gatherings, restaurants and school activities to stop the spread of the virus after the average number of daily cases doubled over the course of a week.
PM Giuseppe Conte signed off on a decree outlining the measures that are expected to come into force from Tuesday and to be in force for the next 30 days. The measures include restaurants and bars needing to close by midnight, or before 2100 local time if they don't have table service.
Finally, the WHO confirmed yesterday that global COVID-19 cases set a new record last week.
Though it has slowed somewhat since September, India's outbreak was one of the biggest contributors to this trend, along with Europe, the US and Brazil.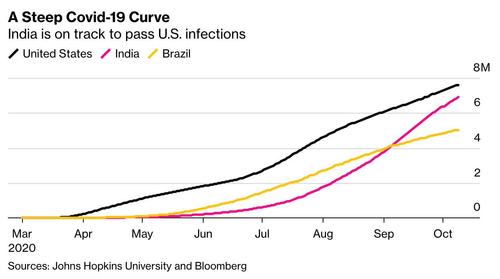 Here's a rundown of the key COVID-19 news from overnight and Tuesday morning:
Globally, Global cases have reached 37,722,044, according to Johns Hopkins data. The global death toll has hit 1,078,411 (Source: JHU).
India reports fewest new cases in two months, reporting just 55,342 new cases for the past 24 hours, bringing the country total to 7.18 million. That's well below the numbers from last month, when India was reporting 90k+ new cases on average. The health ministry also reported 706 deaths in the past 24 hours, raising the toll to 109,856. (Source: Nikkei).
South Korea reports 102 cases, marking the first triple-digit increase in six days. Daily infections had mostly fallen into the double digits over the past two weeks, prompting the government to relax social distancing rules this week (Source: Nikkei).
After reporting China's first domestic outbreak in more than 2 months, the Chinese city of Qingdao said on Monday it will test its entire population of more than 9 million people for coronavirus, after discovering 12 new infections that appeared to be linked to a hospital treating imported infections (Source: Nikkei).
The World Health Organization chief has warned against suggestions by some to just allow COVID-19 to spread in the hope of achieving so-called herd immunity, saying this was "unethical" (Source: Al Jazeera).
In a study of 83 countries, mostly in Europe and the Americas, about 14% of the cases reported to the WHO affected health-care workers, who make up less than 3% of the global population (Source: Bloomberg).
Russia reported its highest number of deaths over 24 hours from Covid-19. The total of 244 exceeds the previous high of 232 on May 29, according to data from the country's anti-coronavirus task force. Overall, 22,966 people have died from the disease, it said. Hungary also registered record coronavirus deaths on Monday, as well as 1,025 new cases, official data show (Source: Bloomberg).
A key member of Hong Kong's top orchestra has been infected with Covid-19, sending some 100 musicians into quarantine and raising concerns about the risk of exposure to a concert audience that included the city's leader and home affairs chief (Source: SCMP).
Hong Kong will extend all social distancing rules for another week to Oct. 22, according to a government statement. Rules include a public-gathering limit of four people, compulsory mask-wearing and no dining in restaurants after midnight (Source: Bloomberg).