---
Egypt Secretly Planned To Send 40,000 Rockets To Russia: Leaked Doc
Egypt is typically closely behind Israel in terms of countries receiving the highest amount of US foreign aid each year. For example a State Department fact sheet has reviewed that "Since 1978, the United States has provided Egypt with over $50 billion in military and $30 billion in economic assistance."
This is why the US administration was likely livid when it learned that Washington's ally, President Abdel Fattah El-Sisi, was moving to ship tens of thousands of rockets to Russia as the Kremlin executes its war in Ukraine.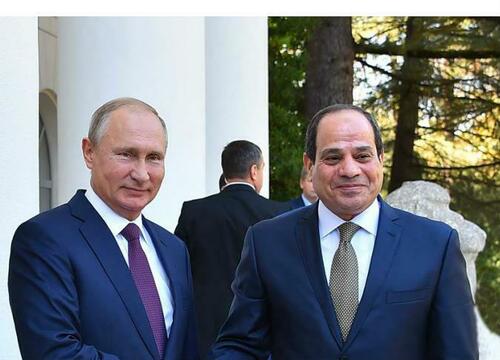 The revelation came via the trove of classified Pentagon files leaked online, and which is now subject of widespread reporting. The Washington Post, which has seen the leaked slide, said that Sisi recently ordered production of up to 40,000 rockets to be covertly shipped to Russia.
The top secret document is dated to Feb. 17 of this year, and purports to summarize conversations between the Egyptian president and his senior military officials. Artillery rounds and gunpowder are also mentioned. 
"In the document, Sisi instructs the officials to keep the production and shipment of the rockets secret 'to avoid problems with the West,'" the Washington Post writes.
Indeed, countries like Egypt caught shipping weapons into Russia would not only prove highly embarrassing, but could possibly trigger US sanctions on Cairo, or at least the freezing of defense aid to the country.
Per the report, "The Washington Post obtained the document from a trove of images of classified files posted in February and March on Discord, a chat app popular with gamers. The document has not been previously reported."
The U.S. gives Egypt $1 billion aid each year and this is how Egypt repays that generosity. https://t.co/RA3i0AdnJq

— Mortimer Mechanic (@mortymechanic) April 11, 2023
Egypt's Foreign Ministry has predictably denied and downplayed the document, with FM spokesman, Ambassador Ahmed Abu Zeid, saying "Egypt's position from the beginning is based on noninvolvement in this crisis and committing to maintain equal distance with both sides, while affirming Egypt's support to the U.N. charter and international law in the U.N. General Assembly resolutions."
Some pundits have pointed out that Russia is running up against its own military supply shortages, or at least expects to run low, after a year of waging war in Ukraine...
Exactly, a sign of Russia's supply shortages. We should watch Russian procurement of war materiel from Algeria. Russia upgraded military ties with Algeria after this rocket scrounge from Egypt failed https://t.co/f1vzwwa5MU

— Samuel Ramani (@SamRamani2) April 11, 2023
Loading...