---
Elon Musk: "Most Are Oblivious" To The Danger Of World War 3
Authored by Paul Joseph Watson via Summit News,
Tesla founder Elon Musk warned that "most are oblivious to the danger" of World War 3 as the conflict in Ukraine continues to escalate.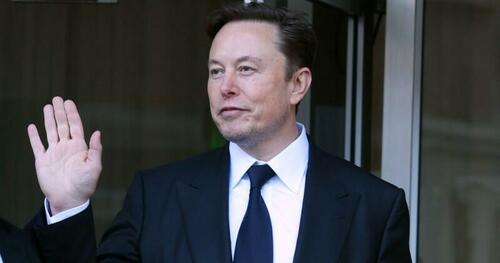 The comment was in response to a speech by UN Secretary-General Antonio Guterres to the General Assembly on Monday during which he expressed his fear that humanity was marching toward a "wider war" with its "eyes wide open".
"Could we please not do WWIII," asked commentator Luke Rudkowski.
"Most are oblivious to the danger," responded Musk.
Most are oblivious to the danger

— Elon Musk (@elonmusk) February 6, 2023
Despite Musk providing his SpaceX Starlink satellite internet systems to the Ukrainian government, supporters of prolonging the war have attacked Musk for calling for peace.
Last week, Mikhail Podoliak, an aide to Ukrainian President Vladimir Zelensky, even claimed, without evidence, that Musk was restricting the reach of pro-Ukraine Twitter accounts in order to help spread "Russian propaganda".
"Maybe a regulator is needed to explain competition rules to the owner?" Podoliak suggested.
The Twitter CEO previously warned that the "relentless escalation" of the conflict in Ukraine was placing the security of the world in jeopardy.
In January, German foreign minister Annalena Baerbock caused consternation after saying "we are fighting a war against Russia."
This prompted Croatian President Zoran Milanovic to respond by calling the remark "madness" and wishing Germany better luck than with the last war they had with Russia 70 years ago.
As we highlighted last month, the head of the Russian Orthodox Church cautioned that any attempt to "destroy Russia" by "madmen" trying to impose their values will lead to "the end of the world."
"We pray to the Lord so that he enlightens those madmen and helps them understand that any desire to destroy Russia will mean the end of the world," said Patriarch Kirill.
Donald Trump recently warned, "We're on the brink of World War 3," and in a campaign video last week asserted, "If I were president, the Russia Ukraine war would never have happened … never in a million years."
"But even now, if I were president, I'd be able to negotiate an end to this horrible and rapidly escalating war within 24 hours," he added.
President Trump: "We're at the brink of World War 3" pic.twitter.com/7biiihDauw

— MAGA War Room (@MAGAIncWarRoom) January 28, 2023
*  *  *
Brand new merch now available! Get it at https://www.pjwshop.com/
In the age of mass Silicon Valley censorship It is crucial that we stay in touch. I need you to sign up for my free newsletter here. Support my sponsor – Turbo Force – a supercharged boost of clean energy without the comedown. Get early access, exclusive content and behind the scenes stuff by following me on Locals.
Loading...