---
Embattled Lukashenko Raises Possibility Of Fresh Elections In First Hint At Compromise
Embattled Belarusian President Alexander Lukashenko has remained defiant after weeks of mass protests have brought parts of the country, especially the capital of Minsk, to a standstill, following his disputed August 9 reelection to a sixth term. He's actually been seen walking the presidential compound grounds in combat fatigues while holding an automatic rifle, to show just how serious he is about resisting the unrest increasingly at the gates of his residence. 
But on Tuesday he showed the first signs he might be willing to compromise as both domestic and international pressures grow toward holding a fresh election. The opposition claims the Aug.9 election was "rigged" as exiled opposition leader Sviatlana Tsikhanouskaya urges "international pressure on this regime" while issuing regular messages from neighboring Lithuania
Lukashenko was quoted in Interfax as saying Tuesday that he may have "overstayed" his time in office and that he would "not exclude early presidential elections" in a significant first sign of possibly softening his stance.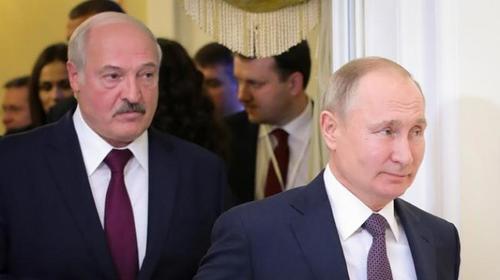 However, he underscored in the comments that he remains the only leader capable of carrying out any need reform, saying the possibility of a rerun of the contested election would only be accomplished after constitutional reform takes place. 
"We are ready to carry out the reform of the Constitution; after that I do not exclude early presidential elections," Lukashenko said according to Interfax news agency.
Notably he also rebuffed calls to hold cooperative dialogue with Belarus' opposition Coordination Council, saying "I do not know who these people are." This after European Union leaders are urging "dialogue" between the two sides. 
Previously Lukashenko has made statements suggesting a replay of the Ukraine crisis, warning that "NATO is at the gates" and that he'd never given into the demands of foreign forces. At the same time he's held out the possibility of Russian security services support if the situation unravels and Belarus comes under threat of NATO.
There he is again, its Sunday-Kalaschnikow-Time for Lukaschenko. Picture is from his office, released just now. pic.twitter.com/JG8ZD2pfEa

— Paul Ronzheimer (@ronzheimer) August 30, 2020
It should be noted that indeed NATO military drills are currently being conducted across the border in Lithuania; however, NATO leadership has stressed the games were "pre-planned" and are not directly connected to the crisis. 
Lithuania's defense ministry has stressed the war games are "pre-planned and not associated with any events in the region."