---
English Ignore Social Distancing Pleas And Pack Beaches On Hottest Day Of Summer
Millions of Britons across northern England have been placed under partial lockdown as a handful of hotspots have emerged in Manchester and other areas. But despite a pervasive sense of trepidation as outbreaks in Catalonia, Poland and elsewhere revive fears about a second wave hammering Europe, many in the UK are crowding on to beaches as temperatures reach record summer highs.
Footage going viral on social media shows packed beaches along the south coast of England as temperatures notched the hottest day of the year.
At Bournemouth, a resort town in southwestern England not far from Southampton, a major incident was declared last month because the beach became so packed, social distancing became impossible.
That's happening again, it appears.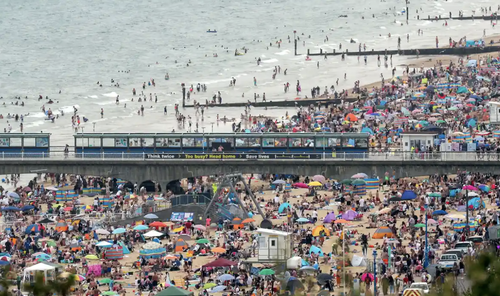 Here's more from the Guardian, which documented groups of as many as 50 people, mostly consisting of teenagers and people in their early 20s.
Despite the warnings, groups of up to 50 teenagers, and men and women in their early 20s gathered. Security guards removed some men who were drinking under the pier but no attempts were made to close the beaches or to to ask people to leave.

One sun-seeker, 18-year-old Lizzie Jones from Portsmouth, who was on the beach with a dozen friends, said she felt perfectly safe and didn't feel she was putting anyone at risk. "We're out here in the fresh air. People are a bit close but I don't think there's much of a danger," she said.

Some car parks were full, prompting scores of people to abandon their vehicles illegally.

A digital sign informed people that the beach was "too busy." A new app produced by the local authority, Bournemouth, Christchurch and Poole council, urged people to avoid long stretches of the beaches with the message: "Avoid, safe social distancing not possible."
Further east, the city council of Brighton and Hove expressed alarm over the number of people crowding its beaches.
We're concerned about the number of people in the city.
- If you're not already here, please don't travel to the city today
- There is limited capacity on public transport
- Large numbers make it impossible to maintain physical distancing pic.twitter.com/n7UxPpxp3N

— Brighton & Hove City Council (@BrightonHoveCC) July 31, 2020
Officials also warned visitors to some of the most popular beaches in Kent to find a less-crowded spot, or consider returning at "a quieter time".
Please avoid our most popular beaches #Jossbay #Botanybay #VikingBay during the #heatwave today as it's now extremely busy. We have 19 miles of coastline, so consider all the places you could visit or come back at a quieter time #Margate #Broadstairs #Ramsgate @VisitThanet pic.twitter.com/fSJykRehW5

— Communications Team (@ThanetCouncil) July 31, 2020
Another anonymous young man who spoke to the Guardian said he and his friends had taken public transit to the beach at Bournemouth: "It feels safe to me. I don't know anyone who has had coronavirus. Until I do I don't think it will feel real to me."