---
Escobar: What Happens In Russia After 'The Longest Day'?
Authored by Pepe Escobar via The Cradle,
Following Wagner's 'rebellion' – which was nothing more than a blatant coup attempt, and a PR stunt demonstrated by Prighozin's top-notch theatrics – NATO and the Collective West's excitement over the possibility of Russia descending into chaos and civil war were quickly turned into utter disappointment.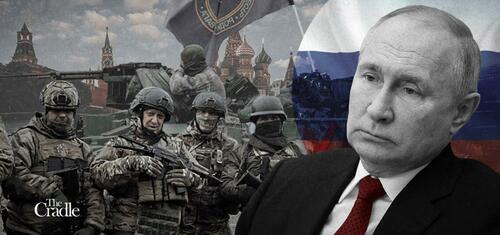 The first draft of the extraordinary events that took place in Russia on The Longest Day – Saturday, June 24 – leads us to a whole new can of worms.    
The Global Majority badly wants to know what happens next. Let's examine the key pieces in the chessboard.
Foreign Minister Sergei Lavrov is cutting to the chase: he has reminded everyone that the Hegemon's modus operandi is to back coup attempts whenever it can benefit. This dovetails with the fact that the FSB is actively investigating whether and how Western intel was involved in The Longest Day.
President Putin could not have been more unequivocal: 
"They [the West and Ukraine] wanted Russian soldiers to kill each other, so that soldiers and civilians would die, so that in the end Russia would lose, and our society would break apart and choke on bloody civil strife (…) They rubbed their hands, dreaming of getting revenge for their failures at the front and during the so-called counter-offensive, but they miscalculated." 
Cue to the collective West – from Secretary of State Anthony Blinken on down – frantically trying to distance itself even as the CIA leaked, via its trademark mouthpiece, the Washington Post, that they knew about "the rebellion." 
The agenda was painfully obvious: Kiev losing on all fronts would be ritually buried by wall-to-wall coverage of the fake Russian "civil war."
There's no smoking gun – yet. But the FSB is following several leads to demonstrate how the "the rebellion" was set up by CIA/NATO. The spectacular failure makes the upcoming NATO July 11 summit in Vilnius even more incandescent. 
The Chinese, much like Lavrov, also cut to the chase: the Global Times asserted that the idea of "Wagner's revolt weakening Putin's authority is wishful thinking of the West," with the Kremlin's "strong capacity of deterrence" further increasing its authority. That's exactly the reading of the Russian street.  
The Chinese reached their conclusion after a crucial visit by Deputy Minister of Foreign Affairs Andrei Rudenko, who promptly flew to Beijing on Sunday, June 25. This is how the iron-clad strategic partnership works in practice.  
"The rebellion" as a P.R. stunt
Arguably the best explanation so far of the nuts and bolts of The Longest Day has been offered by Rostislav Ischenko.
The Global Majority will rejoice that Prighozin's theatrics, in the end, left the collective West dazed, confused, and shattered: wasn't the whole thing supposed to unleash total chaos inside Russian society and the army? 
Even as the fake, lightning-quick "mutiny" was in progress, Russia continued to pound Kiev's forces – which, by the way, were spinning that the main phase of the "counter-offensive" was being launched exactly on June 24 at night. That was, predictably, yet another bluff.    
Back to the Russian street. "The rebellion" – inbuilt in a very convoluted plot – in the end was widely interpreted as just another military demonstration (by master of ceremonies Prighozin, not by the overwhelming majority of Wagner soldiers). "The rebellion" turned out to be a Western P.R. stunt, a series of (ultimately faded) pictures for global consumption.  
But now things are bound to get way more serious. 
Lavrov, once again, pointed to the role being played by the ever-self-aggrandized Le Petit Roi, Emmanuel Macron, right up there with the United States: "Macron clearly saw in the developments an opportunity to realize the threat of Ukraine dealing Russia a strategic blow, a mantra NATO leaders have been holding onto."
So just like Kiev and the collective Western media, Lavrov added, Macron remains part of a single "machine" working against Moscow. That ties up with Putin, who stated of Macron's Sunday intervention that "the entire Western military, economic and information machine has been set in motion against us." 
And that's a fact. 
Betting on a "long-term economic blockade"
Another fact adds to the more ominous clouds on the horizon.  
While no one was paying attention, a mini-Congress of national security officials took place in Copenhagen exactly on the fateful 24 and 25 of June.
They were arguably discussing "peace in Ukraine." The chairman was none other than US National Security Adviser Jake Sullivan.  
Present at the meeting were Brazil, Germany, the U.K., France, Italy, Denmark, India, Canada, Saudi Arabia, Turkey, South Africa, Japan, Ukraine – and the proverbial Eurocrat of the non-sovereign EU. 
Note the G7 majority, side by side with three BRICS and two aspiring BRICS+ members.
"Peace in Ukraine" means, in this context, the so-called 10-point "Zelensky peace plan," which implies a total Russian strategic defeat – complete with the restoration of Ukraine within the borders of 1991 and payment of colossal "reparations" by Moscow.
No wonder China was not part of it. Yet three BRICS – call them the weakest nodes – were there. BRICS and BRICS+ prospective members compose the six "swing states" which will be relentlessly courted and/or submitted to hardcore Hybrid Wars by the Hegemon to "behave" when it comes to Ukraine: Brazil, India, South Africa, Turkey, Saudi Arabia, and Indonesia.  
Then there's the 11th EU sanctions package, which is taking the economic war against Russia to a whole new level, as attested by Acting Permanent Representative to the EU, Kirill Logvinov.
Logvinov explained how "Brussels intends to drag as many countries as possible into this war (…) There is a clear shift from a failed blitzkrieg, which was said to be aimed at causing irreparable damage to Russia, to a multi-move game with the goal of establishing a kind of long-term economic blockade against our country."
That's undiluted Hybrid War territory – and the key targets are the six "swing states." 
Logvinov remarked how "the EU always prefers to use blackmail and coercion. Since the EU remains the biggest economic partner for many countries, as well as a source of investment and a financial donor, Brussels clearly has enough leverage to exert pressure. So, the EU's fight against the bypassing of sanctions is expected to be lengthy and uncompromising."
So welcome to extraterritorial sanctions, EU-style, blacklisting companies from third countries "suspected" of re-exporting banned goods to Russia or engaged in oil trade without taking the so-called Russian oil price cap into account.
Fun in the Belarussian sun 
Among so many cheap thrills, what will be the next role of the main actor in The Longest Day (and even before)? And does it matter? 
Chinese scholars are fond of reminding us that during China's periods of turmoil – for instance, at the end of the Han and Tang dynasties – the reason was always warlords not following orders from the Emperor.  
The Ottoman Empire's Janissaries – their Wagner at the time – were meant to protect the Sultan and fight his wars. They ended up deciding who could be Sultan – as much as Roman Empire legionaries ended up deciding who would be Emperor. 
Chinese advice is always prescient: Beware of how you use your soldiers. Make sure they believe in what they're fighting for. Otherwise, they'll turn around to bite you.
And that leads us to Prighozin once again changing his story (he's a specialist on the matter).  
He's now saying that June 23-24 was just a mere "demonstration" to express his discontent. The main objective was to prove the superiority of Wagner over the Russian Army. 
Well, everybody knew about that: Wagner soldiers have been in combat day in, day out for over 10 years now in Libya, Syria, the Central African Republic, and Ukraine.
And that's why he could boast that "Wagner advanced for 700 km without meeting any resistance. If Russia had asked them to be in charge of the war from the beginning, that would have been over by the night of February 24, 2022."
Prighozin is also alluding to a deal with Belarus – laying extra fog of war around a possible transfer of Wagner under Belarus jurisdiction. NATO is already terrified in advance. Expect more ballooning military budgets – to be imposed at the Vilnius summit next month. 
Camps to accommodate at least 8,000 Wagner fighters are already being built in Belarus, in the Mogilev region – according to "Vyorstka" ("Layout"). 
The real story behind it is that Belarus, for quite a while, has been expecting a possible attack from rabid Poland.
In parallel, as much as sending NATO into extra freakout mode, Moscow could be contemplating the opening of a new front between Lviv and Kiev.  
Wagner in Belarus makes total sense. The Belarussian Army is not exactly strong. Wagner secures Russia's western front. That will raise major hell on NATO – even figuratively, and force them to spend even more astronomical sums. And Wagner can merrily use airports in Belarus to pursue its – rebranded – activities in West Asia and Africa.  
Everything that happened since The Longest Day is part of a new dramatic plot twist in a running series – way more gripping than whatever Netflix could offer. 
Yet what the majority of Russian public opinion really seems to expect is not another farcical Ride of the Valkyrie. They expect a serious draining of the Soviet-style bureaucratic swamp, and a real commitment to get this "almost war" to its logical conclusion as quickly as possible.
Loading...