---
NYC's Intensive-Care Units Still "Dangerously Overcrowded" Despite 'Flattening Curve': Live Updates
Summary:
Germany reports jump in new cases, deaths
Spain reports most new cases in a week
North Dakota releases plan to reopen state May 1
US case total passes 650k
France confirms
Turkey releases mafia boss from prison
Global Times editor denies report about leak from Wuhan lab
Trump reschedules tonight's press conference for 6pmET
Switzerland unveils bailout package
Singapore reports another record daily jump as 2nd wave arrives
Trudeau says no plans to open border with US to "non-essential" traffic
Italy reports slight rise in new cases, pullback in deaths
NJ reports jump in cases
Phil Murphy opens investigation into nursing home deaths
Details of Trump's reopening guidelines are leaking out
Cali gov says Trump said "what we were hoping to hear"
More promising reports about remdesivir
Sweden reports another alarming jump
Chinese factories on verge of second shutdown
France coronavirus-linked deaths fall for first time in 4 days
UK health minister says it's too early to end lockdown as measures set to be extended
Trump set to release reopening 'guidelines' some time after 3pmET
Belgium reports more than 1k new cases
UK extends lockdown by "at least" 3 weeks
Macron says EU may collapse unless "coronabonds" happen
7 Midwestern states drop guidelines for reopening economy
Britain crosses 100k case threshold
European Commission President apologizes to Italy
Russia's streak of record new cases stretches to 5th day
Japan expands state of emergency to cover whole country
WSJ reports medical supplies bound for US are being blocked from export by Beijing
Cuomo reports 606 more deaths in NYS
UK planning to announce lockdown extension today
Party of South Korean president wins 180 of 300 seats in legislative vote
President Trump to unveil plan to reopen economy Thursday
*      *      *
Update (2020ET): Denver Broncos Pro Bowl linebacker Von Miller has tested positive for the coronavirus, becoming the second NFL player to contract the virus.
"It's true," Miller told 9News. "I've just been here in the crib and I started to get a little cough. You know, I have asthma and I started getting a little cough a couple days ago. My girlfriend ... she told me when I was asleep, she said my cough, it didn't sound normal."
Miller told the press that a nebulizer didn't help and his assistant persuaded him to go to the doctor on Tuesday to get tested.
President Trump may have succeeded in assuaging some concerns of his critics by delegating more power to the states, by in a report published a few hours ago, the New York Post just reminded us how bad the situation truly is inside NYC's hospitals.
While COVID-19 related hospital admissions have been falling, ICU admissions have been steady or rising. Now, the ICU is where 'all the drama is happening, according to several nurses. Manhattan's Mt. Sinai is dangerously overcrowded, with ICU patients crammed into rooms.
[One] nurse at Manhattan's Mount Sinai Hospital likewise said that while it's no longer "so insane in the emergency department," the ICU was "actually where the crazy s–t is happening."

"When we take patients up there, it's insane," the nurse said.

"They're putting two patients in every ICU unit. When I brought a patient upstairs - a freshly intubated patient who was critical and unstable - we had to transfer them from a stretcher to a bed in the hallway, which is obviously unsafe."

The nurse added, "If a patient, God forbid, codes [from cardiopulmonary arrest], there's no room to do a code. There's no room because patients are just jam-packed in there."
Meanwhile, ERs nurses at some hospitals are still dealing with 3-4 patients dying on them per shift, and a growing number of patients who die during the ambulance ride to the ER.
*      *      *
Update (1845ET): Tonight's press conference is going about as well as can be expected, since President Trump made the smart move of letting Dr. Birx and Dr. Fauci take the reins.
If you're looking for a copy of the slides Dr. Birx presented during her turn at the podium, they're included in the report below, which outlines the White House's plan to reopen the economy in a surprising level of detail.
*      *      *
Update (1820ET): WSJ reported earlier that China is moving to block exports of medically essential supplies manufactured by US companies on Chinese territory, despite the fact that they were lawfully due to be shipped out.
The key paragraphs:
The policies were instituted this month, and Chinese officials have said they are intended to ensure the quality of exported medical products and to make sure needed goods aren't being shipped out of China. Instead, they have created bottlenecks at a time of urgent need, according to the suppliers, brokers and the State Department memos.

China's policies have "disrupted established supply chains for medical products just as these products were most needed for the global response to Covid-19," according to one of the memos sent this week. The State Department said in a statement: "We appreciate the efforts to ensure quality control. But we do not want this to serve as an obstacle for the timely export of important supplies."
As for these 'export controls'? Beijing blamed 'complaints' from Europe about the quality of certain Chinese-made goods.
To repair its image, China has tried to reshape perceptions about its role in the crisis, leveraging its manufacturing power to export crucial medical supplies to affected countries. Beijing was then hit with complaints from European countries about the quality of masks, gowns and other products they received.

The export restrictions then followed. Chinese customs prohibited the export of medical products without certifications from China's National Medical Products Administration, even if the goods had been registered with the U.S. Food and Drug Administration. On Friday China added another hurdle, subjecting certain types of surgical protective gear and equipment—including ventilators and masks—to extra checks before they could be shipped overseas.
Interestingly, the editors at WSJ dedicated a surprising amount of column inches making clear that market factors and "legitimate complaints" were contributing to these shortages.
Suppliers said the urgent demand has created a "complete sellers' market," with prices changing daily as factories, inundated by offers, dictate minimum purchasing quantities and buying conditions.

"China's between a rock and a hard place," said Solomon Matzner, the Shanghai-based founding partner of BioAktive Specialty Products, who assists U.S. and German institutions in sourcing KN95 masks. "They need to get as much product out as possible, but on the other hand, Chinese products are being criticized for quality."
Is WSJ buttering up the Communist Party censors to try and win favor for an eventual return of their reporters? Or, is it just trying to shield those reporters who haven't yet left but are due to depart as Beijing kicks out reporters for the WSJ, WaPo & NYT.
Suppliers said the urgent demand has created a "complete sellers' market," with prices changing daily as factories, inundated by offers, dictate minimum purchasing quantities and buying conditions.

"China's between a rock and a hard place," said Solomon Matzner, the Shanghai-based founding partner of BioAktive Specialty Products, who assists U.S. and German institutions in sourcing KN95 masks. "They need to get as much product out as possible, but on the other hand, Chinese products are being criticized for quality."
It's just the latest evidence that the shortages of certain medical supplies aren't simply due to closed factories; it's deliberate policy intervention by Beijing.
*      *      *
Update (1710ET): We neglected to note this earlier, but the FT published an interview with French President Emmanuel Macron shortly before the country reported a massive spike in new cases.
Emmanuel Macron has warned of the collapse of the EU as a "political project" unless it supports stricken economies such as Italy and helps them recover from the coronavirus pandemic.  Speaking to the FT from the Elysée Palace, the French president said there was "no choice" but to set up a fund that "could issue common debt with a common guarantee" to finance member states according to their needs rather than the size of their economies. This is an idea that Germany and the Netherlands have opposed. The EU faced a "moment of truth" in deciding whether it was more than just a single economic market, with the lack of solidarity during the pandemic likely to fuel populist anger in southern Europe, Mr Macron said. "If we can't do this today, I tell you the populists will win — today, tomorrow, the day after, in Italy, in Spain, perhaps in France and elsewhere," he said. "I believe [the EU] is a political project. If it's a political project, the human factor is the priority and there are notions of solidarity that come into play . . . the economy follows on from that, and let's not forget that economics is a moral science."
Now, why is Macron pitching coronabonds as essential for the survival of the EU as a "political project", when the primary benefactors would be Italy and Spain? It's right there in the text: France is the next domino to fall, and Macron knows it. Yet, Germany and the Netherlands remain deeply opposed to the idea.
Too bad for Macron the Europeans are almost as fractious and petty as their colleagues across the Atlantic.
*      *      *
Update (1700ET): Never a dull moment this Thursday.
For the first time, it looks like investors are getting gassed up on reports about a possible "miracle drug."
Reports about Gilead's remdesivir out of a trial in Chicago - trials using the drug are being run around the world on patients in various stages of the illness, though China just shut down two of them for "lack of eligible patients" - are claiming that the drug has shown rapid progress in combating patient's symptoms.
Futures spike on the news, though keep in mind: This isn't really anything we haven't heard before. It's more reports that the drug "works", just this time few a few dozen more patients having been tested.
Gilead Sciences climbed 4.4% post-market Thursday as STAT reported severe Covid-19 patients being treated in Chicago with the company's experimental drug remdesivir are "seeing rapid recoveries in fever and respiratory symptoms."

Almost all patients were discharged in under than a week, and only two patients died, STAT said, citing comments made this week during a video discussion about trial results with University of Chicago faculty members.

STAT cautions that trials are running at other institutions and full study results can't yet be determined; Gilead told the news outlet that it's looking forward to data becoming available.
We're also getting more details on the president's "guidelines" for reopening the economy, which, like the remdesivir news, is simply more of the same.
Amusingly, the administration appears to have leaked a copy of the "Opening Up America Again" plan to the New York Post, which published a report that has been digested by newswires.
President Trump's reopening guidelines suggest a 14-day downward trajectory in coronavirus cases before beginning phased re-opening, although document is said to not offer a specific timeframe for opening up the economy.

As a guide, US President Trump told Governors they call the shots regarding reopening the economy and that some could begin before May 1st if they want to, while he will conduct a press conference on re-opening the economy at 1800EDT/ 2300BST where he will explain guidelines for opening up and an official noted that guidelines will be flexible and on data driven recommendations. Furthermore, phase one of the guidelines recommends closed schools should remain shut, that people maximize distance when in public and that gatherings over 10 people should generally be avoided, while bars should remain closed but large venues such as restaurants, theatres and sporting venues could open with strict physical distancing.
We now wait to hear from the big man himself at 6pmET.
Meanwhile, in America's neighbor to the north, Canadian Prime Minister said Thursday that he has no plans to reopen the border with the US. There had been some talk earlier in the week about the possibility of reopening the border following comments by President Trump.
*     *      *
Update (1615ET): According to JHU, confirmed coronavirus cases in the US have topped 650k, with more than 30k deaths.
#US #COVID19 cases top 650,000 with more than 30,000 deaths: Johns Hopkins University. #LATEST pic.twitter.com/wTRuV1ONGG

— China Daily (@ChinaDaily) April 16, 2020
Meanwhile, Gavin Newsom is beginning his nightly press conference. Early on, he confirmed that 69 new deaths were recorded in California over the last day, bringing the death toll north of 890.
WATCH NOW: California Gov. Newsom gives an update on the coronavirus https://t.co/l9eVS9iJc8 pic.twitter.com/0prkkD7IoF

— CBS News (@CBSNews) April 16, 2020
Newsom said that while there was a modest decline in hospitalizations (down by 0.9% since yesterday) new cases ticked higher. Still overall Newsom said it was "good news" but still only "one day's headline."
The Cali governor also signed an executive order that will allow for paid supplemental sick leave for food service workers across California that have been impacted by COVID-19 for the "larger sector" employers whom Newsom said were left out by the federal package.
The order allows for two weeks of additional leave for all workers who have contracted, been exposed to someone who has tested positive, or have been exposed to isolation or quarantine orders by local health officials, he said.
"We don't want you going to work sick," he said, referencing workers in grocery, food delivery services, fast food chains and agricultural workers who will benefit from the order.

"I heard a few grocery store workers say this: 'We're called essential workers, but increasingly we feel like we're disposable.' I want you to know, you're not disposable. You're essential and you're valued," Newsom said.
More numbers here:
NEW: CA has 26,182 confirmed positive cases of #COVID19.

3,141 of those cases are in our hospitals. 1,191 of those are in the ICU.

CA is flattening the curve -- but we MUST continue to take this seriously.

Stay home.

Practice physical distancing.#StayHomeSaveLives

— Gavin Newsom (@GavinNewsom) April 16, 2020
*      *      *
Update (1607ET): What's that? The governor of California saying something...vaguely positive...about President Trump?
CA GOV SAID WHAT TRUMP SAID WAS 'WHAT WE WERE HOPING TO HEAR'
Like Cuomo, Newsom has embraced the bipartisan approach of a pragmatic governor trying to manage their state and guide it through a crisis. Notice the contrast between what's happening in the state houses and what's happening on Capitol Hill.
*      *      *
Update (1600ET): And details of Trump's grand reopening 'guidelines' are starting to leak out.
TRUMP GUIDELINES RECOMMEND STILL DISTANCING IN FIRST PHASE
GUIDELINES SAY PHASE 2 FOR STATES WITH NO EVIDENCE OF REBOUND
GUIDELINES URGE TELEWORK, SCHOOLS STAYING CLOSED IN PHASE ONE
And after a volatile session, stocks closed well in the green, leading us to believe...
They're gonna pull the old pump each phase of opening the economy just like the trade deal

— Hipster (@Hipster_Trader) April 16, 2020
*      *      *
Update (1545ET): During his call with America's governors, President Trump reportedly said that some states would be allowed to open some businesses and schools before May 1.
President Donald Trump told U.S. governors on a conference call Thursday that some states would be able to reopen businesses and schools before May 1, when federal social distancing guidelines are set to expire.

He said some governors may want to take more time, conceding that some states are in rough shape, two people familiar with the call said. But he told the governors that the country is heading in the right direction.

The president said he'll announce federal guidelines for states to lift stay-at-home orders and relax social distancing practices during his daily news conference at 6 p.m. He told the governors that they'll receive booklets with the guidelines.
While states like North Dakota, that is, states with only a few hundred cases and a handful of deaths, are pushing to reopen asap to stave off needless economic harm (which, as we've noted before, can often translate into harming of the physical/emotional variety), others, like California, are looking at a much longer timeline. Meanwhile, Bill Gates is insisting that allowing a few states to reopen earlier would be nothing short of disastrous.
We imagine he'll have something to say about Trump's comment.
Update (1455ET): In case you haven't noticed, there's been a firehose of coronavirus news this afternoon, from various states laying out their plans to reopen their economies, to the White House scrambling to finalize a plan of its own, while the UK, France and even Japan are expanding or extending their own stay-at-home measures.
The chorus of questions surrounding the virus's origins has grown louder, and Trump has been saying he's planning a "major" press conference tonight at 6pmET.
As if that weren't enough, as more states sign on to their official reopening guidelines, Trump is teasing that he thinks the states will be "happy" with the federal government's plan and - furthermore - it might come with a $2 trillion infrastructure package attached.
The bipartisan infrastructure package has become synonymous with dashed hopes about areas of bipartisan cooperation in the Trump era; the phrase "infrastructure week" has become a niche joke shared by political junkies.
And now here we go again. The White House can't even find enough common ground with the Dems to top off the 'PPP'. An infrastructure package seems like a distant dream, as it always has been, and will likely remain.
If the White House is resorting to bringing back "infrastructure week", then we fear the worst: not only is there no plan, but there was never even any hope for a plan.
Fortunately, the states have been somewhat proactive in that department.
Trump is now holding a virtual meeting with governors.
*      *      *
Update (1450ET): France isn't alone in reporting a massive jump in cases. New Jersey reported 4,391 new cases, almost as if Gov. Phil Murphy is trying to make Trump and everybody talking about reopening the economy look bad. It brought the state's total to more than 75k, while 362 new deaths were also recorded.
The jump in Jersey deaths includes 17 bodies that were found in a nursing home, a story that has scandalized the state.
Earlier, Murphy has asked the state's AG to open a statewide investigation into COVID-19 deaths at nursing homes in the state.
We now have 75,317 confirmed #COVID19 cases.
• Atlantic: 344
• Bergen: 11,409
• Burlington: 1,326
• Camden: 1,734
• Cape May: 186
• Cumberland: 223
• Essex: 9,084
• Gloucester: 624
• Hudson: 9,165
• Hunterdon: 373 pic.twitter.com/CSWKKWn5sh

— Governor Phil Murphy (@GovMurphy) April 16, 2020
Other states, including neighbor New York, reached out to express support.
New York will send 100 ventilators to our friends in New Jersey.

Other states helped us when we most needed it, and we are proud to do the same.

We're all in this together.

— Andrew Cuomo (@NYGovCuomo) April 16, 2020
*      *      *
Update (1435ET): Remember what we said ten minutes ago about French officials saying that the pace of new cases 'accelerated' over the past 24 hours?
Well, turns out that was a bit of an understatement. In what appears to be the biggest single-day jump in new cases in Western Europe for the last few weeks, France reported 17,164 new cases, bringing its total to 165,027.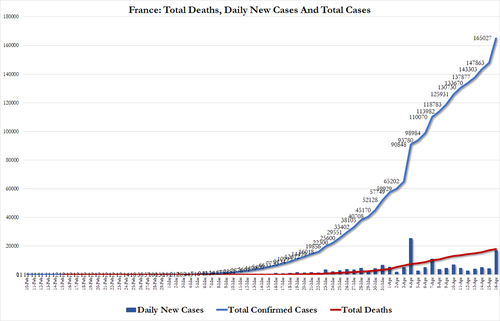 Might we also remind readers that Germany reported one of the largest batches of new cases in weeks earlier, and Belgium just reported 1,236 new cases and 417 new deaths, indicating that Belgium is in the phase of the virus where cases accelerate rapidly before the 'peak' - or at least that's what they'll say. Belgium has a total of 34,809 cases and 4,857 deaths.
Taken together, this doesn't paint the brightest picture for Europe, even as Italy is looking at May 1 to start accelerating its return to normalcy. In a form of symbolism, the venue in Netherlands that would have been host to the Eurovision 2020 conference has been converted into a COVID-19 hospital.
*      *      *
Update (1420ET): Speaking of 'preempting Trump', the president just tweeted that tonight's press conference, which is also supposed to feature the release of the federal guidelines, until 6 pm.
Major News Conference tonight, the White House at 6:00 P.M. (Eastern), to explain Guidelines for OPENING UP AMERICA AGAIN!

— Donald J. Trump (@realDonaldTrump) April 16, 2020
Meanwhile, in France, deaths linked to the virus rose to 17,920, according to Director General for Health Jerome Salomon, that's an increase of 753 from figures reported on Wednesday, a smaller jump than was reported the day before. However, the pace of new cases rose.
*      *      *
Update (1415ET): As California hints at a return to normalcy that could drag out for over a year, and Cuomo leaves the door open for a summer rebound, a bipartisan group of governors in the Midwest have formed their own little group, as everybody rushes to preempt Trump's announcement (expected some time after 3pm) to make it look like they're all firmly in control.
The consensus is that these states are now shooting to start reopening their economies on May 15, a date that some experts believe should be "a good one" for "a lot of places around the country," according to Josh Bolton from the Business Roundtable, who was speaking about the news on CNBC.
I'm proud to announce that Midwest governors will work in close coordination to reopen our economies in a way that protects families from the spread of COVID-19.

Thank you @GovWhitmer, @GovMikeDeWine, @GovEvers, @GovTimWalz, @GovHolcomb and @GovAndyBeshear for your partnership. pic.twitter.com/dSBeMOEgpq

— Governor JB Pritzker (@GovPritzker) April 16, 2020
The states co-signing the guidelines include: Illinois, Minnesota, Wisconsin, Michigan, Kentucky, Indiana and Ohio.
*      *      *
Update (1320ET): One Twitter user has highlighted an extremely depressing fact about Italy's outbreak:
A very sad fact:

It's the 30th day in a row that Italy reports more than 400 deaths from coronavirus.

Declining, but still 400+ lives lost per day.

— Norbert Elekes (@NorbertElekes) April 16, 2020
Meanwhile, across NY, 1.2 million people have filed unemployment claims over the past five weeks, said Melissa DeRosa, secretary to Gov. Andrew Cuomo. Across the country, a staggering 22 million Americans have filed for unemployment benefits.
Iran reported its lowest number of new coronavirus deaths since March 13 on Thursday with 92 new deaths, bringing its total to 4,869, and 1,606 new cases, bringing its case total to 77,995.
In the UK, British Foreign Secretary and acting leader Dominic Raab extended the country's near-total lockdown by "at least" three weeks, as was expected.
In Washington, President Trump tweeted more criticisms at Democrats for refusing to strike a deal on reloading the 'PPP'.
Democrats are blocking additional funding for the popular Paycheck Protection Program. They are killing American small businesses. Stop playing politics Dems! Support Refilling PPP NOW – it is out of funds!

— Donald J. Trump (@realDonaldTrump) April 16, 2020
*      *      *
Update (1240ET): Italy reported 3,786 new cases of coronavirus and 525 new death on Thursday, bringing its totals to 168,941 cases and 22,170 deaths. Though the number of new cases is higher vs. yesterday, the margin isn't wide, and testing was also higher. Meanwhile, the number of deaths dropped, while the number of hospitalized and ICU patients also fell.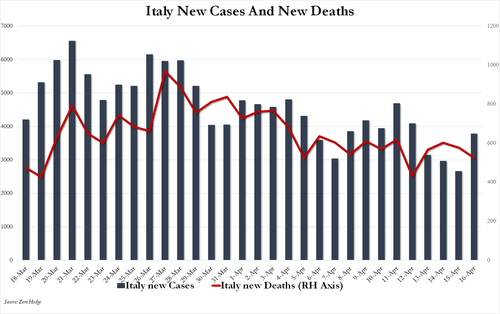 The highlight, though it's actually not all that positive, of the report is that 40k people have fully recovered, but that's only about a quarter of patients. It showcases just how long it takes for some people to recover.
*      *      *
Update (1240ET): Cuomo's decision to extend New York's stay at home order and North Dakota Gov. Doug Burgum's decision to release his plan to start reopening the state May 1 have set up an epic clash between states pushing to reopen the economy as soon as possible, and states that want to keep the measures in place as they are for at least another month.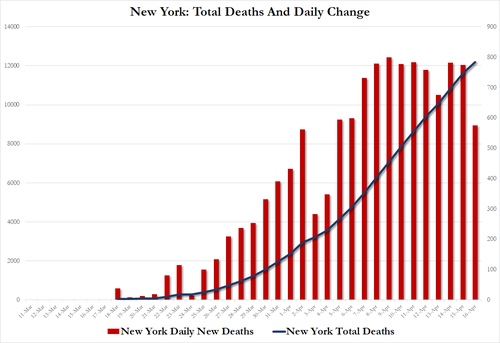 Amid all of this, President Trump is expected to deliver the White House 'guidelines' some time after 3pmET on Thursday.
*      *      *
Update (1215ET): Singapore reported a record 728 new cases of COVID-19 for Thursday, bringing the city-state's new total to 4,427, up from just a few hundred earlier this month. The sudden resurgence has unfolded despite Singapore's authoritarian government imposing strict lockdown conditions and focusing on migrant housing units where cases have clustered.
Of the new cases, 81% are linked to previously identified clusters, according to the Ministry of Health.
Of the 700+ cases mentioned above, 654 involve foreign worker dormitories, while 26 were work-permit holders who lived outside the dorms (meaning they likely contracted it at work or in another 'sanctioned' environment).
As for local cases in the community, 48 cases were reported on Thursday, and there were no new imported cases.
CNA reported that among the new cases was an 89-year-old resident of Pacific Healthcare Nursing Home at 21 Senja Road, a dangerous environment for the virus that presumably is in danger of igniting another cluster. The resident has been placed in isolation.
*      *      *
Update (1200ET): In keeping with the general theme of the day, Cuomo focused on how the state plans to 'reopen' its economy - particularly hard-hit NYC. First, he said that the economy is going to need to change, particularly in crowded public places like restaurants. Employer will need to develop new policies governing everyday activities like travel, interactions in the workplace, commuting etc.
New York on PAUSE will be extended in coordination with other states to May 15.

Non-essential workers must continue to stay home.

Social distancing rules remain in place.

We must STAY THE COURSE.

— Andrew Cuomo (@NYGovCuomo) April 16, 2020
Whether or not that does come to pass, Cuomo reiterated that the state is planning to follow four key principles which he first shared yesterday.
Our strategy for reopening New York and bringing people out of their home at the appropriate time:

1) Do no harm: Control the rate of infection
2) Surge/flex: Strengthen the healthcare system
3) Test/trace: Need federal partnership
4) Phased return — not all at once

— Andrew Cuomo (@NYGovCuomo) April 16, 2020
Adding that businesses will gradually reopen based on priority.
He also announced an extension of the state's shutdown by 2 weeks until mid-May.
And here are today's charts illustrating how the number of hospitalized patients in the state is starting to decline.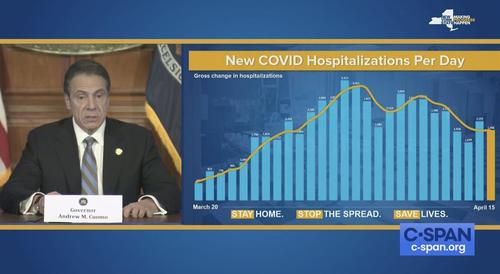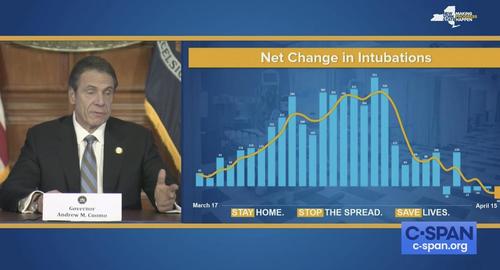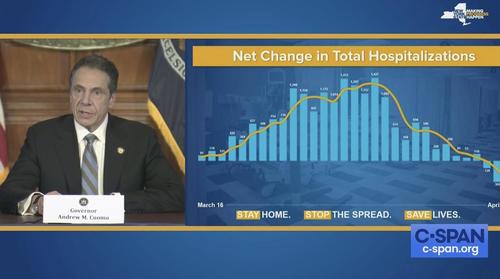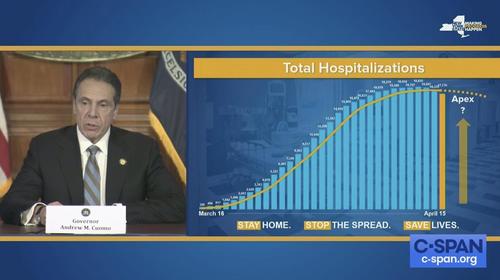 *      *      *
Update (1140ET): New York Gov. Andrew Cuomo started his daily briefing Thursday like he always does, by confirming the new deaths over the last 24 hours. That number was 606 for Wednesday. That brings the statewide death toll to 12,192, up 5.2% from yesterday, which is better than yesterday's 7.7% jump from the day before.
The governor added that hospitalizations have continued to fall, as well as intubation and ICU admissions. New cases were roughly ~2k yesterday, roughly even with the rate over the past week or so.
"The good news is, it means we can control the virus, we can control the spread, and we did not know for sure that we could do that. We speculated that we could do it but we didn't know for sure. Now we know we can control this disease," Cuomo said.
Watch the press briefing live below:
Holding a briefing with updates on #Coronavirus. Watch Live: https://t.co/D2peQvIqB1

— Andrew Cuomo (@NYGovCuomo) April 16, 2020
*      *      *
Update (1050ET): More alarming data out of Sweden, one of only a handful of European countries that didn't go all-in on border closures and stay-at-home orders, surfaced this morning: the country reported 613 new cases of coronavirus and 130 new deaths, bringing its totals to 12,540 cases and 1,333 deaths.
*      *      *
Update (1000ET): Beating the White House by at least a few hours, North Dakota Gov. Doug Burgum has released new 'guidelines' to reopening his state's economy on May 1.
NORTH DAKOTA GOVERNOR ISSUES GUIDELINES TO REOPEN STATE MAY 1 - STATEMENT - RTRS
Yesterday, the governor moved to extend restrictions on non-essential businesses until the end of April. Now, North Dakota, though his state is one of five sparsely populated states that haven't issued stay-at-home orders.
The state has reported only 9 deaths, and 365 cases, as of Thursday morning. Some of Burgum's critics have slammed him (and his South Dakota colleague, Gov. Kristi Noem) for not taking the outbreak seriously enough by resisting full lockdowns adopted by other states. The mainstream press has been carrying out a veritable crusade against Noem over a small outbreak in Sioux Falls, her state's largest city, that is, according to all available evidence, completely under controlthe meat-processing plant at the center of the outbreak has been closed indefinitely.
The Washington Post claims it's currently "the biggest hotspot in the country".
While that might be technically true based on some obscure metric, there are probably apartment blocks in Manhattan with just as many cases.
Will this inspire more states with fewer cases to follow suit?
As of today...Utah, Idaho, Delaware, Arkansas, New Mexico, New Hampshire, Vermont, Nebraska, Maine, West Virginia, South Dakota, Hawaii, Montana, North Dakota, Alaska, and Wyoming have a COMBINED 189 deaths related to coronavirus.

They should all go back to work on Monday.

— NotKennyRogers (@NotKennyRogers) April 9, 2020
While the governors critics (many of whom don't live in the state) slam the decision, it's worth noting that ND has been examining various 'contact tracing' strategies including repurposing an app called the Bison Tracker, created to help fans of the North Dakota State University Bison football team follow its 1,000-mile roadtrip to a championship game in Texas, Bloomberg reports. The governor first mentione the plan during a press conference last night.
*      *      *
Update (0950ET): Adding to the figures from England released about an hour ago, the UK Department of Health and Social Care reported 861 deaths and 4,618 new cases, bringing its total to 103,093 cases and 13,729 deaths.
As of 9am 16 April, 417,649 tests have concluded, with 18,665 tests on 15 April.

327,608 people have been tested of which 103,093 tested positive.

As of 5pm on 15 April, of those hospitalised in the UK who tested positive for coronavirus, 13,729 have sadly died. pic.twitter.com/z6FNsommq9

— Department of Health and Social Care (@DHSCgovuk) April 16, 2020
Deaths were moderately higher compared with the ~760 reported yesterday, while the number of new cases was slightly higher, but not by much.
Though Thursday's report is notable because it marks the crossing of the 100k threshold, joining a select group of elite nations that have confirmed more than 100k cases. UK is technically only the 6th nation to cross this threshold, though many suspect that China's true total was probably north of 100k (likely even north of 1mil).
Britain's latest release brought the global case total above 2.1 million.
*      *      *
Update (0850ET): Singapore has reported another record daily increase of coronavirus cases with 447 new cases. Most of these cases, more than 90%, involve migrant workers who live in cramped housing, which the Singapore government has moved to isolate to prevent what is officially the city-state's second wave from spreading.
During an appearance on CNBC Thursday morning, Expedia/AIC Chairman Barry Diller offered some chilling words for what's left of the American media: Diller said he expects Expedia to reduce advertising spending by 80% this year, from $5 billion to $1 billion.
And just like that, newspapers die. https://t.co/wi39rre19j

— Dustin P. Walsh (@dustinpwalsh) April 16, 2020
And they won't die alone: More sites from Buzzfeed will face even more pressure: This is certainly bad news for all those 'freelance writer' blue-checkmarks.
*      *      *
Update (0750ET): The Swiss government has just released measures intended to stave off corporate bankruptcies while helping workers to pay their bills until the economy can be brought back on line. The measures will take effect later this month. The Swiss government has already lent billions of dollars' in Swiss francs to SMEs operating in the country at an interest-free rate.
*      *      *
Update (0730ET): As expected, Japanese PM Shinzo Abe on Thursday expanded his 'toothless' state of emergency order to cover the entire country, after initially targeting just seven prefectures (including Tokyo) after the entire northern island of Hokkaido declared its own state of emergency on Sunday following a sharp resurgence in new cases.
Though the government can't force businesses to close and people to stay inside, the government has asked some non-essential businesses to close and people to work from home).
To ease the financial burden on Japanese households, Abe's government is also planning a Trump-style cash handout of ¥100,000 ($930) for every citizen, regardless of income, according to the Nikkei Asian Review.
The mayor of Tokyo confirmed 149 patients tested positive for the virus in her city on Thursday.
The government had originally planned to give 300,000 to qualified households that had lost income, but it came under heavy criticism because the payments were seen as too complicated and too small. Distributing ¥100,000 to every citizen will cost the government more than 1.2 trillion yen, or $11 billion.
Across the Sea of Japan, South Korean President Moon Jae-in's left-leaning Democratic Party won a staggering victory during Wednesday's legislative election, leaving his government in a strong position to push through its agenda of reforms. Despite the outbreak, the turnout in the election reached an all-time high, as South Koreans rushed to reward the government for its response to the outbreak. With 180 seats out of the 300-seat legislature, Moon's government is in a strong position to push through reforms of the penal system, income distribution and relations with NK, though he doesn't have enough votes to push through changes to the South Korean constitution.
*      *      *
What would have been tax day for US citizens has come and gone. And as we enter the back half of April - and millions of Americans join the ranks of the unemployed - and some are starting to get a little restless.
The number of confirmed COVID-19 cases surpassed the 2 million mark, as we reported last night. According to the FT, 84,515 new cases were confirmed around the world on Wednesday, roughly even with the numbers from the last two weeks. However, a record 7,959 deaths were recorded yesterday, a worldwide record.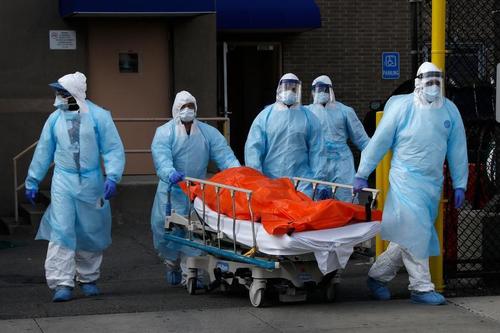 But perhaps the most important revelation from last night came shortly after the conclusion of last night's White House press conference. A Fox News reporter asked the president a couple of surprising questions about the Wuhan Institute of Virology and whether the virus might have leaked out of the level 4 bio-lab. We were de-platformed by Twitter for asking the same question a few months back.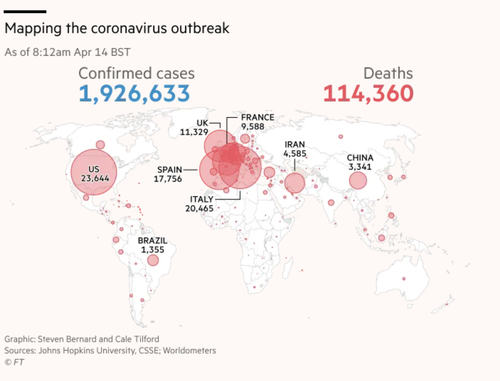 Source: FT
As it turned out, those questions portended a much bigger revelation: Fox News reported last night, citing a handful of anonymous sources, that the novel coronavirus accidentally leaked out of the Wuhan biolab.
Now, with yet another 'conspiracy theory' apparently well on its way to becoming a 'conspiracy fact', Beijing has chosen to issue its rebuttal via the editor in chief of the Global Times, one of the CPC's most popular English-language mouthpieces.
Fox News published a ridiculous report claiming COVID-19 originated in a Wuhan lab. President Trump helped hype this story to divert public's attention. It's a dirty trick. Trump will further exploit China topic for his reelection campaign.

— Hu Xijin 胡锡进 (@HuXijin_GT) April 16, 2020
We imagine we'll be hearing more from the CPC's official spokesmen and women. But the fact that such a high-level mouthpiece was tapped for the initial denial is certainly telling.
Moving on: Two days after Turkey passed a prisoner amnesty law, one of the most notorious Turkish Mafia bosses has been released from prison as part of a program to release 90k offenders, some of whom were violent criminals. Alaattin Cakici, who was convicted for murder and racketeering, is well known for having close ties to an ultra-nationalist party that is working in a coalition with President Erdogan's AKP. Critics have criticized the amnesty program for leaving thousands of journalists and civil-society activists behind bars.
Offering the latest indication that mainland China is likely headed for a second shutdown, this one driven by a combination of viral resurgence fears and a staggering drop in demand, BBG reports that Chinese manufacturers who resumed work as restrictions were being lifted are already being forced to halt production again due to rising costs, difficulties in funding and logistics, and, of course, the demand drop, said Xu Kemin, an official with the industry ministry.
Germany reported a jump in new cases and deaths, with the number of newly diagnosed cases at its highest level in a week. Spain also reported a jump in new cases, confirming 5,183, the most in a week, bringing its countrywide total to 182,816. Health officials also reported 551 deaths, for a total of 19,130 since the outbreak began.
UK Health Minister Hancock said early Thursday that it's too early to make a change to lockdown measures in the UK as the virus would likely come roaring back since the outbreak appears to be "approaching" its peak, he said. The UK is expected to announce an extension to its current lockdown period today until May 7, according to reports. The government is reportedly planning to restart the economy by segmenting society into "risk groups", allowing those in the lower-risk groups to venture back into society. Some scientists have speculated that some level of social distancing will need to remain in place until a vaccine is ready for mass production.
In Brussels, European Commission President Ursula von der Leyen said that Europe should offer a "heartfelt apology" to Italy for failing to help when the country became the first EU nation to be hit by the coronavirus pandemic.
"You cannot overcome a pandemic of this speed and this scale without the truth, the truth about everything: the numbers, the science, the outlook, but also about our own actions," she said during a speech to the European Parliament.
Of course, as we noted at the time, von der Leyen and the European Commission didn't just fail to act; they encouraged EU member states to keep their borders open, while playing down the severity of the outbreak.
Finally, Russia's streak of disturbing records in new cases reported stretched to a fifth consecutive record jump on Thursday, while the country also recorded its highest jump in deaths. Health officials in Moscow said they had recorded 3,448 new cases across the country, a 14% jump that took Russia's total to 27,938, while 34 more people died overnight, raising Russia's death toll to 232. And
Looking ahead, President Trump said during the White House's Wednesday night press briefing that he would unveil the White House's guidelines for reopening the economy this afternoon. The guidelines were purportedly developed following conversations with CEOs and leaders of American corporations (even as some have pointed out that corporations might not have the best interests of small business at heart).