---
EU Hits Belarus With New Sanctions As Pentagon Says "No Indication" Its Troops In Ukraine
On Wednesday the European Union approved fresh sanctions on Belarus for its role in facilitating the Russian invasion of Ukraine, which started last Thursday. While from the start there have been conflicting reports over the extent to which Belarus actually has forces or military assets on the ground inside Ukraine, it's clear that Minsk allowed its territory to be used as a staging ground for Russian forces to come from the north. 
"The sanctions target Belarusian officials and military personnel that the EU says were involved with Russia's aggression against Ukraine, according to a tweet from the French presidency of the EU," The Hill reports.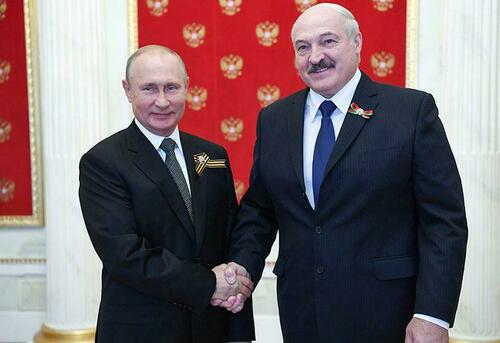 The French statement further specified the actions are against "Certain sectors of the Belarusian economy, in particular the wood, steel and potash sectors."
This follows the initial EU announcement Sunday that it would soon impose penalties on "Belarusians helping the Russian war effort."
"Lukashenko's regime is complicit in this vicious attack against Ukraine. So we will hit Lukashenko's regime with a new package of sanctions," EU President Ursula von der Leyen had stated previously.
The fresh sanctions correspond with the US Treasury also targeting some top Belarusian officials. 
Ukrainian officials themselves have widely alleged the presence of Belarusian forces assisting in the invasion. "Belarusian troops have entered Chernihiv region. The information was confirmed to the public by Vitaliy Kyrylov, spokesman for the North Territorial Defense Forces. More details later," Ukraine's parliament information service tweeted earlier. 
Belarus had been swift to reject the accusations, with President Lukashenko asserting, "No decisions were made by me." He added: "And without my decision, these units cannot even be withdrawn from the barracks."
According to Politico, the Pentagon and US intelligence has yet to see evidence that Belarusian forces are directly involved inside Ukraine's territory:
In Washington, a U.S. defense official briefing reporters said the U.S. had "no confirmation that the Belarusians are entering Ukraine, we've seen no indication of that."

And Belarusian leader Alexander Lukashenko denied that his country's military has joined Russia's attack.
At today's security council meeting, Lukashenko showed what looks like an actual invasion map. It shows Ukraine military facilities destroyed by missiles from Belarus, attacks directions (everything agrees except Odessa-Transnistria). Also, Ukraine is divided into 4 sectors. pic.twitter.com/ueqBIFUbyM

— Tadeusz Giczan 🇺🇦 (@TadeuszGiczan) March 1, 2022
Regardless, it's clear that on the level of intelligence and logistics, Belarus is coordinating with its Russian ally as part of the so-called 'Union State'. In recent months Lukashenko has raised eyebrows over his repeat invitations for Putin to station nuclear warheads at bases in Belarus.