---
EU Readying Fresh Iran Sanctions As Protests Grow Bolder
In yet further confirmation that talks toward a restored JCPOA nuclear deal have completely unraveled, France says the European Union is eyeing new sanctions on top Iranian officials over the ongoing "anti-hijab" protests.
Multiple security officials could be targeted by the sanctions for leading a crackdown on protesters which has resulted in the deaths of over 130 Iranians, with French Foreign Minister Catherine Colonna telling lawmakers on Tuesday, "France's action at heart of EU... (is) to target those responsible for the crackdown by holding them responsible for their acts."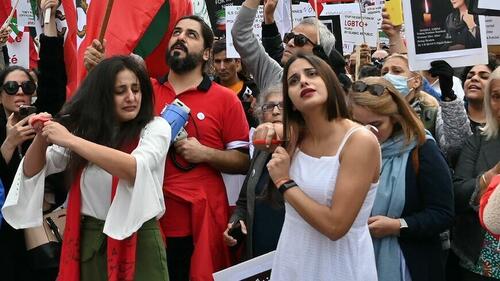 Colonna detailed this is likely to involve asset freezes and travel bans for the top security officials, due to their repeat human rights violations.
The protests, now in their third week, have been called unprecedented in size and numbers of cities impacted, now with universities becoming a battleground between demonstrators and police. The unrest began following the funeral 22-year-old Mahsa Amini, who died in police custody after being detained for improperly wearing her Islamic head-covering.
Among the early actions of the United States and Canada was to impose sanctions on Iran's morality police and several officials leading law enforcement agencies - something which may be expanded by the EU sanctions. 
Protests have clearly grown bolder in recent days, despite the severe crackdown by security forces...
A girls' school in Iran brought a member of the IRGC-run Basij paramilitary to speak to students. The girls welcomed the speaker by taking off their headscarves & chanting "get lost, Basiji".

Teenage girls have been at the forefront of protests for days.pic.twitter.com/kvskgB8qas

— Kian Sharifi (@KianSharifi) October 5, 2022
President Biden said Monday in addressing the spiral situation that he's "gravely concerned about reports of the intensifying violent crackdown on peaceful protestors in Iran, including students and women, who are demanding their equal rights and basic human dignity." He also vowed more sanctions being prepared against Iranian officials.
Tehran, for its part, has blamed the US and Israel for planning and stoking the protests as part of efforts to fragment and ultimately overthrow the Islamic Republic. Recent statements by Ayatollah Ali Khamenei said the West's regime change "schemes" won't work.
Our country's great advantage is that our security is built from within. The US mistakenly imagines they know Iran. They inject their poison, but their schemes won't work.

— Khamenei.ir (@khamenei_ir) October 3, 2022
Since near the start of the protests which have gripped dozens of cities and towns, crowds have chanted "Death to Khamenei" and "Death to the dictator" while clashing with security forces, and also with allegations that police have used live ammunition to quell the demonstrations.
The White House has pledged to stand with the Iranian people, but as some skeptics have pointed out...
It is seriously disturbing how many people genuinely believe-despite all available evidence & historical context-that THIS time, during THESE protests, the US government really does care about the Iranian people..

— Matt McKenna (@Mattylongruns) October 5, 2022
Loading...