---
China Retaliates After EU Sanctions CCP Over Uighur Crackdown In First Since Tiananmen Square
Update (0910ET): Well that didn't take long. Chinese authorities have already retaliated to the EU sanctions... and threatens more (emphasis ours)
On March 22, the European Union imposed unilateral sanctions on relevant individuals and entities in China based on lies and false information under the pretext of the so-called human rights issue in Xinjiang. 

The European side ignored facts, turned black and white, grossly interfered in China's internal affairs, flagrantly violated international law and the basic norms of international relations, and seriously damaged China-EU relations. China firmly opposes and strongly condemns this. The Chinese government is unwavering in its determination to defend national sovereignty, security, and development interests.

China has decided to impose sanctions on 10 persons and 4 entities that have seriously harmed China's sovereignty and interests and maliciously spread lies and false information on the European side, including: Member of the European Parliament Petty Koffel, Geller, Glucksman, Ku Chuk, Lexman, member of the Dutch parliament Shelzma, member of the Belgian parliament Kograti, member of the Lithuanian parliament, Sakariene, German scholar Zheng Guoen, Swedish scholar Ye Biyang, European Council Political and Security Committee, European Parliament Human Rights Subcommittee, German Mercator Center for Chinese Studies, Danish Democratic Alliance Foundation. Relevant personnel and their family members are prohibited from entering the mainland of China and the Hong Kong and Macao Special Administrative Regions. They and their affiliated companies and institutions have also been restricted from communicating with China.

China urges the European side to realize the seriousness of the mistakes, self-examine, correct mistakes, stop pretending to be a "human rights teacher", stop playing with hypocritical double standards, stop interfering in the internal affairs of other countries, and stop on the wrong path Go further. Otherwise, China will make a further firm response.
Seems like global geopolitical tensions have notably heated up since Biden's admin took over?
*  *  *
On Monday European Union foreign ministers took a nearly unprecedented move in pulling trigger on sanctions against top Beijing officials for human rights abuses stemming from China's crackdown on its Uighur Muslim minority - the first such sanctions in over three decades. 
"The ministers approved the travel bans and asset freezes on four Chinese individuals and one entity, whose names will be made public later on Monday, accusing them of rights abuses against China's Uighur Muslim minority in Xinjiang," Reuters reports.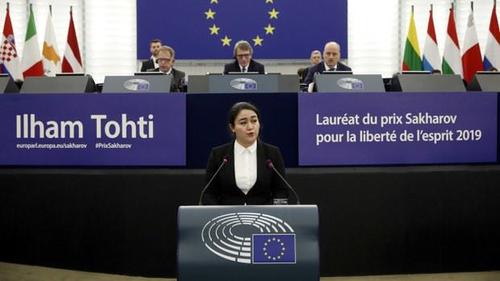 It follows a couple years of widespread reports of 'systematic' human rights abuses in the northwest Xinjiang region, where millions of Muslim Uighurs are said to be confined to Communist 'reeducation' and labor camps.
As Reuters emphasizes further, these are "the first sanctions against Beijing since an EU arms embargo in 1989 following the Tiananmen Square crackdown."
After it first emerged last week that the EU was preparing the punitive measures, the Chinese mission to the EU posted a statement expressing outrage over the move, calling it "confrontational". It pleaded not to pursue such a dramatic step: "We ask the EU side to think twice," a statement posted to Twitter said.
Amb. Zhang on EU's possible sanctions: Sanctions are confrontational. We want dialogue, not confrontation. We ask the EU side to think twice. If some insist on confrontation, we will not back down, as we have no options other than fulfilling our responsibilities to the people. pic.twitter.com/durTRjhXQj

— Mission of China (@ChinaEUMission) March 17, 2021
With this significant action it appears that US pressure and spiraling relations with Beijing, focused heavily on human rights-related complaints and the crackdown on the Uighurs which the Trump administration had previously dubbed "genocide", are now for the first time manifesting in a very definitive way in Europe.