---
CDC Adds Being Overweight To List Of Potential COVID-19 Risk Factors: Live Updates
Summary:
CDC adds being overweight to list of risk factors
Polands joins Czech Republic in imposing new COVID restricitons
Portugal sees new cases top 1k/day
Florida posts most new cases in a month
NJ focuses on hotspots in Monmouth and Ocean Counties
Texas passes California as state with 2nd highest death toll
De Blasio addresses chaotic protests in ultraorthodox neighborhoods, releases latest NYC numbers
France reports another 18,129 new cases
Czech Republic imposes new social distancing restrictions
Denmark advises against travel to most of Sweden
Russian health minister asks citizens to stay home
Top EU regulator doesn't expect vaccine approvals before New Year
Another Titans player tests positive
Northern England headed for more restrictions
* * *
Update (1655ET): Talk about curious timing.
The CDC has finally added 'overweight peopele' to its list of risk factors for COVID-19, saying that even those who are even a little overweight might be at risk of serious or life-threatening symptoms.
The link between extra pounds and severe Covid-19 grew stronger as the U.S. Centers for Disease Control and Prevention said that people who are merely overweight, not just the obese, may be at high risk of serious disease from the infection. The warning, posted on the agency's website Tuesday, means about two-thirds of Americans could face higher risks.

Nearly 40% of American adults are obese, which the CDC tied to poor outcomes of the infection in late June, and about 32% are overweight, according to the agency. Obese people are more likely to fall very ill with Covid-19 and be hospitalized, and the risk of death from infection increases along with higher body mass index, the CDC has said.

Doctors determine whether people are obese or overweight with a calculation of height and weight aimed at estimating body fat called body mass index. Overweight people have a body mass index of 25 to 30. Obesity is defined as having a body mass index of 30 or higher. For example, a man who is 5 feet 11 inches and weighs 200 pounds would be considered overweight. Add in 25 pounds, and he would be considered obese.
On the CDC's website, the section that describes people who "might be at increased risk", lists being "overweight" with a BMI between 25 and 30.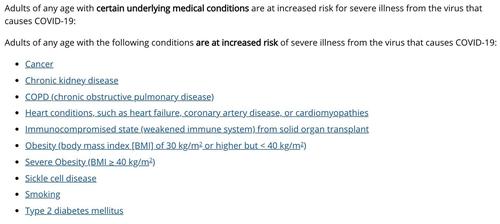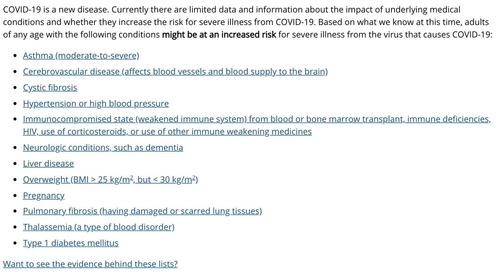 President Trump's doctor, Navy Commander Dr. Sean Conley, acknowledged that the president is a little overweight during a press briefing.
* * *
Update (1350ET): Thursday has been another busy session for COVID-19 news in the US and Europe.
France is moving another four towns into a state of "maximum alert" against the COVID-19 pandemic, closing bars and imposing strict rules in restaurants as cases climb and hospitals come under increasing strain.
"The health situation unfortunately continues to deteriorate in France," said French health minister Olivier Veran on Thursday during a press conference. Lille, Grenoble, Lyon et Saint-Etienne will come under stricter control from Saturday morning, said the minister. Paris and Marseille had already been placed on maximum alert as the government tries to avoid a national lockdown by pushing local restrictions. Critically, 30% of intensive care beds in those cities are now full while the level of new infections per 100,000 people climbed to more than 250.
In the US, Florida reported its biggest one-day increase in coronavirus cases in nearly a month on Thursday, and its biggest jump in deaths in just over a week. Another 3,306 people in Florida tested positive for coronavirus over the past 24 hours, authorities revealed this morning, up from 2,582 yesterday and compared with 2,628 cases on Thursday a week ago. It marked the first time in October that Florida reported more than 3,000 new cases - thought the state's daily numbers are nowhere near its peak from the early summer Sun Belt wave.
Thursday's numbers showed 77,500 tests for the virus conducted over the past 24 hours, a six-day high, and up from nearly 66,300 tests on Wednesday. The positivity rate among people tested for the first time rose to 4.57% from 4.11% yesterday and compared with 4.65% reported on Thursday a week ago. Florida's death toll rose by 170, up from 139 yesterday and compared with 131 on Thursday last week. It was the biggest one-day jump in fatalities since the 175 reported on Sept. 30.
On Wedneday, Florida became the fifth US state to attribute 15,000 deaths to the virus. Thursday's numbers took that overall tally to 15,254.
New Jersey has seen Atlantic County join Monmouth and Ocean County with infection rates above the hypothetical travel advisory threshold. After NJ reported more than 1,000 in 24 hours again on Thursday, NJ Gov Phil Murphy tweeted that Monmouth and Ocean Counties were the state's "biggest concerns".
Atlantic County (11.1 per 100,000 residents) joins Ocean (25.8) and Monmouth (13) with rates above hypothetical travel advisory threshold of 10/100K. So, the whole Shore except Cape May. New Jersey now at 8.5; for the state, it's not a hypothetical threshold. https://t.co/A2rEHSOycC

— Michael Symons (@MichaelSymons_) October 8, 2020
Here's the rest of Gov Murphy's thread.
The daily positivity for tests from October 4th was 3.69%.

The statewide rate of transmission is currently 1.22. pic.twitter.com/Qihb4a1HvV

— Governor Phil Murphy (@GovMurphy) October 8, 2020
☑️652 patients in our hospitals – 422 #COVID19 positive patients and 230 Persons Under Investigation pending the return of test results
☑️148 patients in intensive care
☑️52 ventilators in use pic.twitter.com/r4lqvapGKp

— Governor Phil Murphy (@GovMurphy) October 8, 2020
Sadly, we must report 11 additional #COVID19 deaths, bringing our statewide total of confirmed deaths to 14,373.

Seven of these deaths are from the past seven days.

The number of probable deaths is currently 1,788. pic.twitter.com/jhSXdrHoJK

— Governor Phil Murphy (@GovMurphy) October 8, 2020
Poland has joined the Czech Republic in announcing new rules as daily cases rise. Poland's PM Mateusz Morawiecki said that masks would need to be worn outdoors across all of Poland once again beginning Saturday, and he warned that Poland would follow Czechia and Slovakia in imposing new emergency measures if numbers didn't improve.
Portugal's daily coronavirus cases have topped 1,000 for the first time since April, reaching 1,278 in the past 24 hours, the second highest total since the pandemic began.
In the UK, Northern Ireland raised fines for violating coronavirus rules while making it mandatory to wear face coverings in more public places. The measures include a minimum £200 fixed penalty fine for people caught breaching Covid-19 regulations, up from the previous £60 minimum. Northern Ireland reported 923 new coronavirus infections on Thursday, the second-highest in a single day since the pandemic began
* * *
Update (1155ET): French health authorities just confirmed 18,129 new cases of the virus over the last 24 hours, the second straight day of reporting more than 18,000 new cases.
In other news, NYC Mayor Bill de Blasio addressed protests in 'hot spots' that erupted Wednesday night after the mayor tried to close private schools and businesses in the ultraorthodox community. The protests began Tuesday evening, but took a more intense turn on Wednesday.
Despite reports that a journalist was viciously assaulted, no arrests were made during the unrest Wednesday evening.
Cops confirmed Thursday morning that no arrests were made overnight in the Orthodox Jewish enclave — despite a report of at least one assault. https://t.co/M50zwAd4Xv @nypmetro

— Julia Marsh (@juliakmarsh) October 8, 2020
The earliest NYC hotspot schools (public/private) closed Tuesday will be allowed to reopen is Oct. 21, per @NYCMayor who adds that it could be later.

— Julia Marsh (@juliakmarsh) October 8, 2020
Weekly testing in yellow zone schools begins next Friday, per @NYCMayor

Find your zone here: https://t.co/jJXD9P6ncO

— Julia Marsh (@juliakmarsh) October 8, 2020
Impressive stats from @NYCMayor this morning:
- 250k tests in NYC last week (most ever)
- citywide average turn around is 2 days
- 1 day for H+H clinics

— Julia Marsh (@juliakmarsh) October 8, 2020
The mayor adds that there was some confusion from the PD about enforcement and that will be cleared up before tonight

— Julia Marsh (@juliakmarsh) October 8, 2020
The mayor of NYC who is in charge of the NYPD on the attack on @jacobkornbluh:
"There clearly need to be consequences for anyone involved and I don't know why that hasn't happened yet."

— Julia Marsh (@juliakmarsh) October 8, 2020
.@NYCMayor says protests should be stopped now when they weren't in June etc because "we are now in a new situation," where an isolated resurgence could overtake the city if it's not stopped

— Julia Marsh (@juliakmarsh) October 8, 2020
* * *
Update (1000ET): We have a flurry of new restrictions on travel and business across Europe Thursday morning as Italy and Sweden impose new travel restrictions, while the Czech Republic imposes new restrictions on cultural events for two weeks, as well as tighter social distancing rules.
Health officials in the CR said they would seek to limit the economic harm as much as possible. But the country has seen cases soar over the past 2 months as the tiny Central European country nears the 100k case threshold.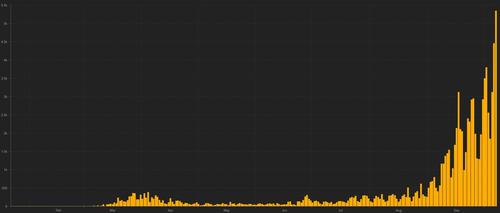 As more EU countries scramble to cut back on travel to hot spots just weeks after the continent started to open up internally again, Denmark just announced that it would advise its citizens against traveling to 8 regions in Sweden, as cases creep higher in Scandinavia.
Yesterday, Italy said it would make testing for COVID-19 compulsory for people traveling from the UK, the Netherlands, Belgium and the Czech Republic, according to Health Minister Roberto Speranza, who made the announcement in a statement posted to Facebook.
Infection data are growing across all of Europe and in Italy too, Speranza wrote in a Facebook post. "I've signed an order which makes coronavirus testing compulsory for travellers from Belgium, the Netherlands, United Kingdom and Czech Republic," he said.
The Russian minister of health  just advised citizens to spend the upcoming weekend at home as the number of new cases being reported per day surges to near-record levels, largely thanks to a virulent outbreak in Moscow.
* * *
Where we left off Wednesday evening, health authorities in Brazil announced that the number of confirmed COVID-19 cases in Latin America's most populous country had finally surpassed 5 million cases as the outbreak starts to accelerate once again. Brazil reported 31,553 new cases last night, along with 734 new deaths, which pushed Brazil's death toll to just under 150k.
In other news, South Korea has just sentenced a man accused of lying to authorities about his job and whereabouts during a coronavirus-tracing investigation to jail for six months. The case was the most high-profile investigation yet as SK authorities continue their aggressive efforts to track, trace and quarantine, Yonhap reports.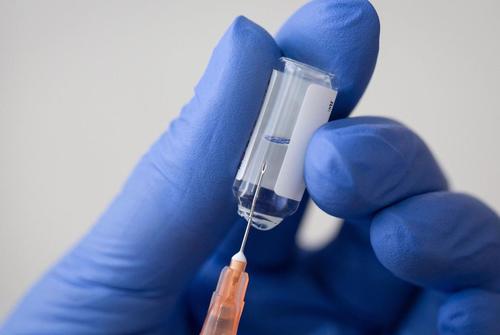 After declaring that he wouldn't participate in a remote debate, President Trump said during his first interview after returning to the White House from Walter Reed that he expected Eli Lilly's antibody treatment to be approved shortly, along with the Regeneron cocktail that Trump was treated with during his stay at Walter Reed, which Trump hailed as a "cure" in a video published yesterday.
After declaring last night that Regeneron's treatment would be made available to all who need it, Trump said on Fox Business Thursday morning that the therapeutics from Eli Lilly and Regeneron - or their equivalents - will be sent out "for free".
Late last night, the FT published an exclusive report after obtaining a memorandum of understanding between AstraZeneca and a Brazilian manufacturer which exposed AZ's pledge to provide its vaccine "at cost" until the pandemic is over as a misleading promise. Because in the memorandum, AZ stipulates that the pandemic will "end" on July 1 of 2021. Since the vaccine has yet to be approved, that should leave a very narrow window where the company is selling their vaccine "at cost".  The "pandemic period" can only be extended if "AstraZeneca acting in good faith considers that the SARS-COV-2 pandemic is not over".
Finally, the head of the EU's medicine regulator, which has already struck deals with AstraZeneca and other vaccine developers to expedite their evaluation (the so-called "rolling reviews") said Thursday that a COVID-19 vaccine is "looking unlikely by year end."
"Technically, of course it's possible. Practically it's very difficult - it's very unlikely," said Guido Rasi, executive director of the European Medicines Agency, in an interview Thursday. Even if drugmakers "submit the data in a few weeks, we are already approaching middle of October, so if we wait a few weeks and we take a minimum time of evaluation, more or less we are at the end of the year."
It's still possible that EU member states could use national emergency powers to distribute a vaccine, especially as deaths start to climb as the 'second wave' takes hold. Already, the UK has set out plans in August to amend legislation and clarify its powers so that an unlicensed COVID jab could be temporarily authorized in Britain. However, Rasi discouraged this behavior, and said countries would be better served by focusing on building out their distribution infrastructure, rather than approving an experimental vaccine "a few days before" everyone else.
Perhaps the biggest story in the US right now, the cluster that has gripped the Tennessee Titans, saw a new development just minutes ago as the team announced another player had tested positive, bringing the team's total for players and staff who have tested positive to more than 20.
Circling back to Europe, as more countries ramp up social distancing restrictions and 'localized lockdowns', DB has published its latest weekly update, showing that the European countries seeing the biggest surge in new cases are the Netherlands, Belgium, Spain and France.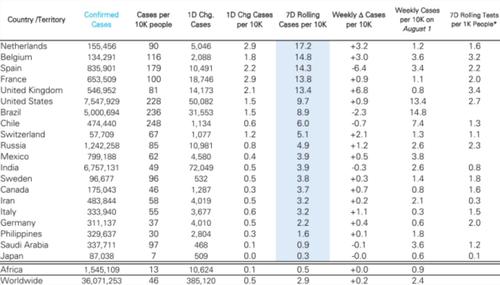 ITV's Robert Peston reported last night that as cases climb in northern England, ministers are "likely" to close all hospitality venues in the region for a period until the outbreak cools.
In its latest weekly update, analysts at Goldman Sachs placed gave the US a reopening score of 67 out of 100 as Texas preparations to lift more restrictions were partly offset by another round of school and potentially business closures in NYC.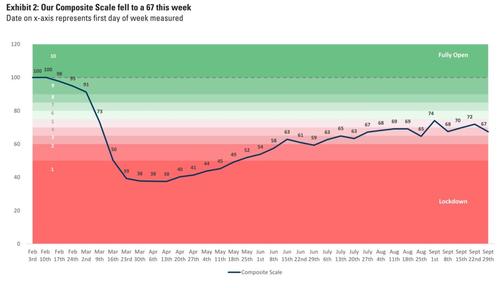 Here's some more news from Thursday morning, as well as the overnight session.
India reports 78,524 cases in the last 24 hours, up from 72,049 the previous day, bringing the total to over 6.83 million. The death toll jumped by 971 to 105,526 (Source: Nikkei).
China reports 11 new cases for Wednesday, up from seven a day earlier. The new cases all were imported infections involving travelers from overseas. The number of new asymptomatic cases, which China does not count as confirmed cases, fell to eight from 24 a day earlier (Source: Nikkei).
In an exclusive report, the FT revealed that a copy of a memorandum of understanding between AstraZeneca (which is developing a COVID-19 vaccine with the help and cooperation of Oxford University) and the country of Brazil revealed that the drugmaker's pledge to provide its drug "at cost" until the pandemic is "over" (Source: FT).
Indonesia's infections reach a new daily high of 4,850 cases, with 108 deaths in the past 24 hours. Indonesia has now reported a total of 320,564 cases and 11,580 deaths. Health officials express concerns over potential further increases in the coming weeks, with labor unions and student groups taking to the streets over the past few days in protests against a contentious omnibus law on job creation (Source: Nikkei).
The next phase of the Boston Public Schools reopening plan was delayed Wednesday because the city's coronavirus positivity rate has climbed higher than 4% (Source: AP).