---
France Joins Germany In Reviving Nationwide Lockdown As COVID-19 Cases Soar Across Europe: Live Updates
Summary:
France announces new partial lockdown
NY tops 500k COVID cases
Merkel confirms lockdown plans
Protests over new restrictions arise in Italy
Details of new French, German lockdowns hit
Brussels to discuss EU-wide measures
Germany prepares return to partial lockdown
France mulls new measures
Czech Republic and Poland suffer new records
Texas cases see biggest jump in 2 months
Mainland China reports 42 more cases
BoJo faces pressure for new lockdown
UK vaccine task force warns: prepare for imperfect vaccines
* * *
Update (1515ET): As expected, French President Emmanuel Macron announced during a briefing Wednesday evening that France would join Germany in announcing a new partial lockdown that would see schools remain open, while curfews, 'nonessential' business closures and restrictions on movement return.
Per the new restrictions, all bars and restaurants across France will close, a measure that is infuriating the national hospitality industry.
Will the announcement, which was telegraphed in advance by leaks to the press, rattle markets on Thursday, leading to a continuation of Wednesday's market turmoil?
The restrictions will endure for at least a month, Macron said.
* * *
Update (1220ET): As some Italians take to the streets to protest the most restrictive nationwide measures since the end of the lockdown, Italy has reported another daily record, with 24,991 new cases reported in the last 24 hours on Thursday. They also reported 205 new deaths.
One commentator said the numbers mean another lockdown for Italy "just went from possible to likely" as we await an announcement from French President Emmanuel Macron.
Almost 25,000 new #COVID19 cases in #Italy in last 24hrs, and 205 deaths. A new Italian lockdown has gone from possible to likely, a mon avis. Emmanuel Macron may announce one to tonight in #France

— Eric Reguly (@ereguly) October 28, 2020
It's the second straight daily record for Italy, and the latest in what has been an almost unbroken string of record over the past 2 weeks.
The northern region of Lombardy is again one of the hardest-hit areas, reporting 7,758 new cases, while Lazio reported 1,963. ICU patients increased by 126 to 1,536 as hospitalizations soared and the positivity rate was roughly 13%. The number dead increased by 205 to 37,905.
Meanwhile, the AP has published a lengthy update on the situation in Europe, which included comments made by EU President von der Leyen after a pan-European meeting on Wednesday. She said Europe is "deep in the second wave" and that "I think that this year's Christmas will be a different Christmas."
She added that the continent isn't just dealing with the virus, but also "coronavirus fatigue".
"We're dealing with the coronavirus- the virus itself - and also corona fatigue," she said. "That is, people are becoming more and more fed up with the preventive measures."
Deaths have also been on the rise in Europe, with the number dying increasing by 35% over the past week.
More than 2 million new confirmed coronavirus cases have been reported globally in the past week, the WHO said, which is the shortest time ever for such a dramatic increase. Of these 46% of the new cases were reported in Europe.
During an address to the nation Wednesday night, Merkel affirmed that "we need a limited, nationwide" effort starting Monday. Merkel said that all federal and local leaders had agreed to the new guidelines, which will begin Nov. 2, until they're reviewed in 2 weeks.
* * *
Update (1150ET): NY Gov Andrew Cuomo just confirmed that his state reported another 2,031 new positive cases over the last 24 hours, bringing NY's total north of 500k.
Today's update on the numbers:

Of the 129,660 tests reported yesterday, 2,031 were positive (1.56% of total).

Total hospitalizations are at 1,085.

Sadly, there were 15 COVID fatalities yesterday. pic.twitter.com/M5oPRfZoaB

— Andrew Cuomo (@NYGovCuomo) October 28, 2020
Case numbers across the state have continued to creep higher, while the NY Gov has restricted travel into the city from 95% of the country.
New York reported a 3.8% positivity rate in its hot spots, though that rate dropped to 1.3% when the hotspots were excluded (still, that's well above the statewide positivity rate from the lows seen this summer).
Across the Hudson River in NJ, which has seen spread of the virus soar in recent weeks, hospitalizations have exceeded 1,000 for several days in a row. In NJ, 80 COVID-19 patients are on ventilators, and 194 are in intensive care. The state has 1,010 hospitalized, up from less than 500 at the beginning of the month.
* * *
Update (1100ET): It's official. Angela Merkel has officially confirmed that Germany will enter a 'lockdown light' on Monday, the toughest restrictions since lockdown ended. The restrictions will remain in place for a month, at least.
Merkel was reportedly resolute heading into the meeting with the heads of Germany's 16 states, bolstered by a record jump in case numbers.
In response, owners of restaurants and bars planned to stage a protest demanding more government support if their establishments are forced to close down again.
Officials say Germany is beginning to lose control of the situation with local health authorities unable to trace contacts of those infected. Its health minister, Jens Spahn, has told SWR Public Radio that the country must move to flatten the curve again as soon as possible because "once the intensive care wards are full it's too late," Spahn said.
* * *
Update (1045ET): Despite PM Giuseppe Conte approving new relief measures to help out the hardest hit industries, protests have broken out in Rome, Milan and Turin on Wednesday over the newest restrictions.
Hundreds took to the streets in Rome and other Italian cities to protest new Covid-19 restrictions, including curfews and closure of entertainment venues.

More via @business https://t.co/DxX7yRV9mw pic.twitter.com/a8r8fGKJTb

— Bloomberg QuickTake (@QuickTake) October 28, 2020
This followed protests in roughly a dozen cities on Monday evening.
* * *
Update (1000ET): Reuters is reporting that French President Emmanuel Macron is preparing a stay-at-home order this week to try and contain the virus as France cements is space as the worst hit of Europe's biggest economies.
The new order will require people to stay in their homes except for "essential" trips to work or to buy food or see the doctor.
Macron is expected to make a televised address at 2000 local time on Wednesday.
Insiders added that they expect the lockdown to be similar to the measures employed back in the spring, though they wouldn't be quite as intense. One main difference: The government intends to keep schools open.
It's not clear yet how long the government is thinking of maintaining the measures.
Too bad they didn't follow the Biden plan and impose lockdowns back in the spring...oh wait.
France preparing for a nationwide stay at home order. They should've listened to the science in January and followed the Biden plan

— GreekFire23 (@GreekFire23) October 28, 2020
* * *
Update (0950ET): With US stocks rattled by the resurgence in COVID-19 cases, JPM has released its latest weekly update on the instant-economic indicators that purport to offer a glimpse of the economy in real time.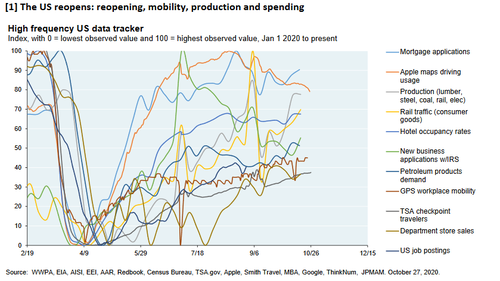 * * *
Update (0930ET): Germany's Bild newspaper just confirmed that after speaking with local leaders from around the country, Merkel has decided to move ahead with a temporary national lockdown (or at least something pretty close to it) although schools will continue to hold classes.
According to BILD information, the corona lockdown planned by the federal government is to begin on Monday (November 2nd).

Following the discussions with the Prime Ministers of the federal states about further restrictions, Chancellor Angela Merkel will inform the parliamentary group leaders in the German Bundestag about the resolutions.

This was announced by the deputy government spokeswoman Martina Fietz in Berlin. On Thursday morning, Merkel will make a government statement about the corona crisis in the Bundestag.
Here are the details (courtesy of Reuters) of the "lockdown-lite" proposed by Merkel, which will focus on closing bars, restaurants and public events to slow the second wave of the virus. Shops will stay open with restricted hours, while schools will only close in parts of the country where numbers are particularly high.
To be sure, Germany's situation is perhaps the most mild out of the major European economies. But Merkel is hoping to stave off the return of a more stringent lockdown.
We expect to hear more today from EU leaders, who are holding a virtual bloc-wide meeting with leaders to discuss potential EU-wide measures to combat the virus.
* * *
The drumbeat of European economies moving back toward lockdown intensified Wednesday morning after German Chancellor Angela Merkel pushed for stronger curbs on movement and contact, including closing bars, restaurants, gyms and other nonessential businesses through the end of November.
It comes as Italy and Spain impose their toughest nationwide restrictions since the end of lockdown, while France, which has relied heavily on localized restrictions targeting the worst-hit metro areas, weighs a potential return to lockdown, with President Emmanuel Macron reportedly favoring a one-month return to nonessential business closures.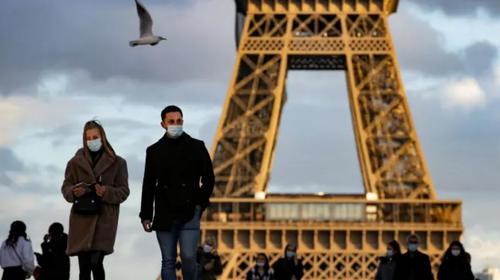 France, widely seen as Europe's epicenter as it booked upwards of 50k new cases a day over the weekend, reported 523 new deaths, including 235 in nursing homes and other government facilities, the highest total death toll since April.
Among the smaller Western European economies, the Netherlands, Belgium and Denmark are all struggling with outbreaks raging well beyond their springtime levels. Belgium, the seat of the EU, has become the worst hit country in the bloc.
Merkel has pledged to do all she can to avoid imposing another lockdown as strict as the one that hammered Europe's biggest economy in the second quarter. The latest measures -- which would take effect Nov. 4 -- are designed to stem the spread of the disease while broadly allowing activity to continue, though they're likely to provoke protests from industry groups and from citizens already weary of what they see as government intrusion into their private lives. She's expected to join talks with local leaders of Germany's 16 states on Wednesday to discuss proposed new curbs. According to a draft seen by Reuters, Merkel wants to keep schools and nurseries open, while much else would shut.
Thanks to surging case numbers in the US and Europe, global cases topped 44 million on Wednesday morning, according to Johns Hopkins, while global deaths numbered 1,168,568. Worldwide, another 450k+ new cases were reported yesterday.
European stocks were understandably rattled by the surprisingly rapid acceleration in the virus over the past week, and US stock futures pointed to a lower open.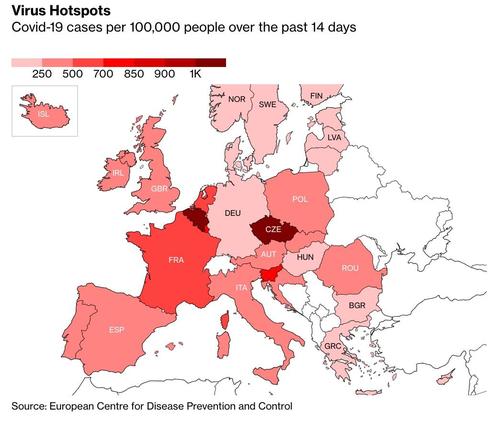 Already, though, Germany's latest restrictions are provoking a backlash with the vice president of Germany's lower house of parliament to declare on national radio that he won't follow the new rules. The country saw new cases rise Wednesday by a record 14,964 to a total of 464,239.
Meanwhile, European Commission President Ursula von der Leyen is expected to release a set of proposals later on Wednesday ahead of a Thursday conference call with EU leaders. Charles Michel, her counterpart at the European Council of EU leaders, called for enhanced bloc-wide measures, including to boost testing capabilities and the deployment of vaccines once they are ready.
Here's some more news from overnight and Wednesday morning:
Texas cases +7,055 which is the largest daily increase in more than 2 months and deaths +81 (Newswires/Twitter).
New York Governor Cuomo is said to be seeking to keep 95% of the US out of New York due to COVID-19 after he included California to the list of 39 states that would require quarantines. Elsewhere, Illinois Governor announced to suspend indoor dining in Chicago beginning on Friday (Newswires).
Cases in Belgium rose by 13,571 and that COVID-19 hospitalizations in Belgium were expected to surpass the peak of the first wave within 24 hours (Newswires/Twitter).
India's total cases are on the edge of crossing the 8 million mark as the country reports 43,893 new infections for the past 24 hours, up from 36,470 the previous day. The country's death toll climbed by 508 to 120,010 (Source: Nikkei).
Mainland China reported 42 new COVID-19 cases for Tuesday, the highest daily toll in more than two months due to a rise in infections in the northwestern Xinjiang region (Source: Nikkei).
UK PM Johnson is said to be pressured for a new lockdown as the government assumes a deadlier second wave, with a lower but longer peak expected for COVID-19 deaths (Source: the Telegraph).
UK vaccine task force chair Bingham said the first generation of COVID-19 vaccines will likely be imperfect and that people should be prepared vaccines may not prevent infection but rather lessen symptoms, while she also suggested that vaccines may not work for all people or for long period (Source: the Lancet).