---
European Allies Reject Zelensky's "Naive" Plea To Strip Russia Of UN Security Council Seat
In another example of European countries putting a little more distance between themselves and what are increasingly unrealistic Ukrainian demands, Germany has said it rejects Zelensky's plea for the United Nations to strip Russia of its seat on the UN Security Council (UNSC).
Foreign Minister Annalena Baerbock said Wednesday, within hours after Zelensky made the request, that "we don't support this, and I have made it clear to my Ukrainian partners time and again."
She emphasized that even though Berlin sympathizes with the Ukrainian people and their plight amid war with Russia, "it is not that we support everything that comes out of Ukraine from the government."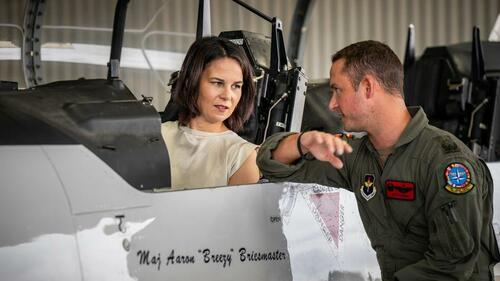 The words were given to Germany's ARD TV channel and then picked up by Russian media. She had asserted in response to Zelensky: "you can't say: 'Okay, we are just changing the Security Council now', that would be a little naive."
The permanent members of the UNSC which exercise veto power are the US, Russia, China, France and Britain, while ten additional seats rotate among the UN's over 170 member states.
Of course, Baerbock still sharply criticized criticized Russia for "abusing" its veto power in the Security Council when it comes to Ukraine. "That is why the reform is more important than ever. However, we have to be realistic: it will not come tomorrow," Baerbock said. 
In the long-term Germany has put itself forward as a possibility for a UNSC permanent seat. "We too can imagine being a permanent member," the German top diplomat said in New York. "But not out of self-interest, but in the course of a major modernization that on the whole takes greater account of the realities of the 21st century."
As for Zelensky's prior provocative comments, he called for Russia to be booted from the UNSC, saying, "Ukrainian soldiers are doing with their blood what the U.N. Security Council should do by its voting." He further argued that "veto power in the hands of the aggressor is what has pushed the U.N. into deadlock."
The UN has been unable to pass any significant resolution condemning Moscow action given Russia's veto power. This means all official statements criticizing Russia are dead on arrival. 
Loading...