---
"This Is Our Bazooka": Germany Ready To Trigger Constitutional 'Crisis Clause' Allowing Fiscal Stimulus
Update (0905ET): Here's more on Friday's announcement about Germany's fiscal stimulus plans, which coincided with a declaration by the European Commission to allow member states to ignore the bloc's strict fiscal rules and move ahead with more stimulus, according to BBG.
The Commission has already granted such an exception to Italy, and thanks to the EU's refusal to recommend border closures (though several of Italy's neighbors have closed their borders anyway), Spain, France and Germany are each struggling with serious outbreaks of their own, while the virus is rapidly spreading in almost every European state, including the tiny Balkans states like Slovakia and Bulgaria which were among the last countries on the continent to report cases of the virus.
As we mentioned earlier, Germany pledged to spend "whatever is needed" to dull the economic impact of the coronavirus - or at least that's what Merkel promised during a press conference yesterday, and what Scholz effectively confirmed during his comments Friday morning.
Germany's goal is to make sure firms have sufficient liquidity to get through the crisis unleashed by the outbreak, Scholz and Economy Minister Peter Altmaier said in a joint statement released on Friday. In addition, as we noted earlier, Scholz said there will be "no limit" to the money available, and that Germany may need to take on additional debt to finance the spending spree.
"This is our Bazooka," Scholz said, according to media reports.
Wow. German Government gives a "Whatever it takes" to german companies and provides companies with unlimited (!) liquidity support! Finance minster Scholz: "This is our Bazooka." #coronadeutschland

— Martin Greive (@MartinGreive) March 13, 2020
This comes as the European Commission released new figures on Friday projecting that the European economy will shrink by 1%.
*  *  *
Update (0830ET): Since politics is always priority No. 1 in our contemporary society, no matter how much blood has just been, or will soon be, spilled, Scholz apparently couldn't resist taking a shot at President Trump and Germany's Afd, the far-right "Alternative for Germany" party.
SCHOLZ SAYS GLOBAL VIRUS CRISIS SHOWS LIMITS OF NATIONALISM
It's a pretty bold claim to make, especially as more health experts criticize the EU's blind commitment to maintaining 'open borders' during the outbreak, allowing sick travelers from Italy to spread the virus all across the continent.
*  *  *
Update (0810ET): In case you couldn't put 2 and 2 together, Scholz has clarified that it's "possible" Germany will need to take on "added debt" to finance this stimulus effort.
As Merkel explained yesterday, Germany's constitutional debt brake allows for excess spending in the event of an emergency, according to Reuters.
Germany's debt brake rule allows for exceptions in extraordinary situations and the coronavirus crisis is such a case, Chancellor Angela Merkel explained on Thursday. Under the rule, the federal government can take on new debt of up to 0.35% of GDP.
"The debt brake...provides for exceptions in extraordinary situations - and that is, as I said yesterday, really not our topic as to how the budget balance will look in the end," Merkel told a news conference. "We are in a situation that is unusual in every respect and I would say more unusual than at the time of the banking crisis."
After all, this is "the crisis of the decade", right?
*  *  *
One day after the biggest drop in European stocks since the financial crisis, German stocks have come roaring back and bond yields have plunged after Finance Minister Olaf Scholz said Friday that Germany would abandon the 'debt break' and whip out the government credit card to help shelter its economy from the vicissitudes of the global coronavirus outbreak.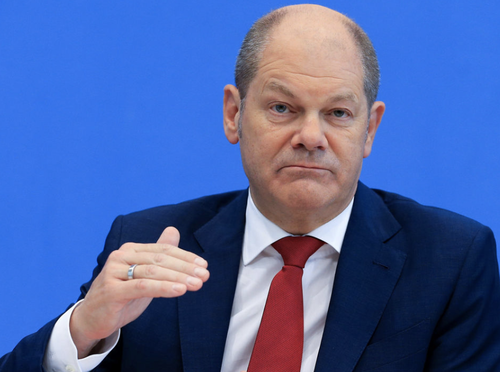 One day after Chancellor Merkel voiced support for the idea, Scholz said Germany will spend "billions" to cushion the economy
BREAKING: Germany will provide unlimited liquidity.

Finance Minister Olaf Scholz says Germany will spend billions to cushion the economy. #coronavirus pic.twitter.com/ZVUlhMHDyn

— annmarie hordern (@annmarie) March 13, 2020
Of course, Germany's notorious fiscal prudence means that some members of Merkel's center-right CDU will likely oppose the move, as some have already expressed opposition to suspending the constitutional debt limits.
Stocks across the developed world rebounded on Friday, soaring into the green in what appears to be a coordinated dip-buying exercise. The STOXX Europe 600 was up 7.3% in recent trade, leaving it on track for its largest daily gain since 2008.
Bond yields, meanwhile, plunged on the news.
GERMAN 10-YEAR BONDS EXTEND DECLINE,  YIELD UP 14BPS
GERMAN 30-YEAR BONDS EXTEND DECLINE,  YIELD UP 15BPS
Scholz added that Germany could adopt a more formalized fiscal stimulus program if needed.