---
Trump Says Coronavirus 'Worst Attack On US Since Pearl Harbor': Live Updates
Summary:
Poll shows most in NY metro area think it's too early to reopen economy
Trump says China may or may not comply with trade deal
California reports record daily jump in cases
Hong Kong reports no new local coronavirus cases for 17th day
South Korea to reopen schools on May 13
Germany's Bundesliga to restart in second half of May
Boris Johnson to unveil plan to end UK lockdown on Sunday
NY deaths top 25k
Scotland says 60% of recent COVID-19 deaths linked to nursing homes
China reports 0 new cases
Brussels warns of massive contractions, virus threatens euro
Kenya reports biggest daily jump in new cases
Shanghai Disneyland to reopen May 11
Russia reports 10k+ cases for 4th day in a row
Volkswagen reports China sales may near pre-corona targets for 2020
NYC subway closes for cleaning for first time in 50+ years Wednesday
Beijing slams HK activists as "political viruses"
Germany reports slight uptick in new cases, deaths
*       *        *
Update (1730ET): In a statement from White House Press Secretary and MLB wife Kayleigh McEnany, the new press secretary said the relationship between the US and China is currently one of "frustration and disappointment." And the rhetorical tit-for-tat continues...
*       *        *
Update (1630ET): A new opinion poll surveying residents of New York, New Jersey and Connecticut, three northeastern states that have been particularly hard-hit by the outbreak, found most still aren't ready for the economy to reopen.
At this point, given the more than half a million confirmed cases and ~35,000 deaths between them, it's fair to assume that most people know someone who has been badly impacted by the virus. Many probably know people who have lost loved ones, or have lost loved ones, or friends, or acquaintances, or coworkers.
Seventy-one percent of those surveyed across the three states said that officials should focus on keeping people home and maintaining social distancing measures to combat the pandemic. Only about a quarter — 26 percent — said that their states should put people back to work to help the economy recover, even if it means hastening the spread of the virus.

[…]

In New York, 58 percent of voters surveyed said they believe it will take a few months or longer before it will be safe enough for the state to reopen. Fifty-five percent in New Jersey and 59 percent in Connecticut said the same, according to the poll.
It's important to remember that even as southern governors have reopened their economies, many cities like Atlanta and Houston remain effectively shuttered.
*       *        *
Update (1555ET): The MSM has spent all day on Trump's comments last night that he understands deaths will continue to climb, but believes we should reopen the economy anyway, even as more evidence questioning the effectiveness of lockdowns emerges (more on this below).
The UK reported another drop in deaths day over day:
UK's update:

- Number of new cases up
- Number of new deaths down
- Number of new people tested down

— Norbert Elekes (@NorbertElekes) May 6, 2020
As of 9am 6 May, there have been 1,448,010 tests, with 69,463 tests on 5 May.

1,072,144 people have been tested of which 201,101 tested positive.

As of 5pm on 5 May, of those tested positive for coronavirus, across all settings, 30,076 have sadly died. pic.twitter.com/cKEui1YBAV

— Department of Health and Social Care (@DHSCgovuk) May 6, 2020
But following up on his comment that whether or not China adheres to the trade deal is no longer relevant, President Trump said Wednesday afternoon that China may or may not keep the trade deal, and that he would have a better idea in a few weeks. The CDC reported that the total number of US cases climbed 1.9% for the second day, below the prior week average.
Adding to his collection of aggressive comments about the virus, Trump added that it represents "the greatest attack on the US since Pearl Harbor", likening China to its wartime archnemesis, Japan.
President Trump: Coronavirus is the worst attack since Pearl Harbor or 9/11. It could have been stopped at its source, in China, but it wasn't pic.twitter.com/F3kuPSXTko

— Jack Posobiec (@JackPosobiec) May 6, 2020
Of course, that would rank it above 9/11 in terms of tragedy. Then again, far more have died from the virus than died on 9/11/01, though the two incidents are obviously wholly unique and incomparable, and even the appearance of attempting to 'rank' them might come off as insensitive. But if nothing else, Trump has made clear that he's treating this like a deliberate act of aggression, while China continues to insist it was a freak and inevitable accident - or worse, a plot orchestrated by the US.
*       *        *
Update (1400ET): As New York reports its lowest number of new hospitalizations since March...
NEW: New York reports lowest number of new Covid hospitalizations since March 20 pic.twitter.com/zL2zO7Hmtg

— Norbert Elekes (@NorbertElekes) May 6, 2020
...California has reported more than 2k new cases, its largest single-day jump, one day after Gov. Newsom hinted at a slightly accelerated reopening timeline, while the single-day death toll neared 100.
CALIFORNIA REPORTS 2,603 NEW VIRUS CASES, LARGEST ONE-DAY JUMP
CALIFORNIA NEW VIRUS DEATHS RISE TO 95 FROM 63 PRIOR DAY
NEW: CA has 56,212 confirmed cases of #COVID19:
+2.3% from yesterday.

3,369 of those are in hospitals:
+2.6%.

1,157 of those are in the ICU:
-1.9%.

CA: you are flattening the curve -- but we must continue to take this seriously and allow our reopening to be guided by science.

— Gavin Newsom (@GavinNewsom) May 5, 2020
TODAY: Governor @GavinNewsom will provide an update on the state's response to #COVID19.

Watch live on Twitter and Facebook at 12 PM PT. pic.twitter.com/ZQUuexDuiV

— Office of the Governor of California (@CAgovernor) May 6, 2020
Italy, meanwhile, reported a slight uptick in new cases and deaths, though both were still well below the averages from last week.
BREAKING: Italy reports 1,444 new cases of coronavirus and 369 new deaths.

Total of 214,457 cases and 29,684 deaths.

— Norbert Elekes (@NorbertElekes) May 6, 2020
NEW: Italy reports 8,014 newly recovered coronavirus patients, a single-day record!

— Norbert Elekes (@NorbertElekes) May 6, 2020
Italy's update:

- Number of new tests up
- Number of new cases up
- Number of new deaths up
- Number of hospitalized down
- Number of ICU patients down

— Norbert Elekes (@NorbertElekes) May 6, 2020
While the number of confirmed cases in Mumbai broke above 10k.
NEW: Number of confirmed coronavirus cases in Mumbai has reached 10,000.

— Norbert Elekes (@NorbertElekes) May 6, 2020
*       *        *
Update (1340ET): Speaking in yet another interview, President Trump said his administration would announce a new member of the coronavirus task force by Monday. The comment comes after Trump flip-flopped on disbanding the task force earlier.
So, instead of shuttering the task force, the administration is expanding it, even as the focus on reopening shifts to the states. Trump made a few other comments.
TRUMP SAYS HEAD OF HONEYWELL TOLD HIM NO NEED TO WEAR MASK YDAY
TRUMP: SPIKE IN UNEMPLOYMENT `ARTIFICIAL', JOBS WILL COME BACK
TRUMP SAYS HIS ADMINISTRATION WILL BE ANNOUNCING NEW MEMBERS OF CORONAVIRUS TASK FORCE BY MONDAY
TRUMP: TASK FORCE WILL BE AROUND UNTIL IT'S NOT NECESSARY
TRUMP SAYS PUBLIC URGED HIM NOT TO CLOSE THE VIRUS TASK FORCE
TRUMP: WILL ADD 2-3 PEOPLE TO VIRUS TASK FORCE
TRUMP: VIRUS TASK FORCE WILL FOCUS ON REOPENING
TRUMP SAYS HEAD OF HONEYWELL TOLD HIM NO NEED TO WEAR MASK YDAY
Regarding the Honeywell comment, we expect a media 'fact check' to hit in the not-too-distant future.
*       *        *
Update (1240ET): NY's death toll broke above 25k, Cuomo reported Wednesday, as the number of new cases and deaths ticked higher, while the overall trends of falling mortality and hospitalizations remained intact.
When it is safe to reopen, NYS will set the bar high.

We have the opportunity to Build Back Better.

We can't waste the many lessons of this pandemic.

— Andrew Cuomo (@NYGovCuomo) May 6, 2020
We must find new, innovative solutions that help the people most in need.@EricSchmidt will serve as chair of a blue-ribbon commission that will reimagine how our state can Build Back Better.

— Andrew Cuomo (@NYGovCuomo) May 6, 2020
.@JetBlue is donating a pair of round-trip flights to 100,000 medical personnel and nurses to honor their efforts, beginning with 10,000 NY medical professionals.

What a great way to thank so many of our frontline heroes. #NationalNursesDay

— Andrew Cuomo (@NYGovCuomo) May 6, 2020
After the briefing, NY confirmed nearly 3k new cases.
NEW YORK REPORTS 2,786 NEW VIRUS CASES; TOTAL 323,978
Interestingly, most new cases of the virus in the state are non-essential workers staying at home for the most part - 66%. Not exactly a vote of confidence in the lockdown.
BREAKING: Most new COVID cases in New York are non-essential workers staying at home https://t.co/hM2XNQLdLr pic.twitter.com/uQdEEMDnTi

— 6sqft (@6sqft) May 6, 2020
As of Wednesday, the total number of confirmed cases in the state stood at 321,192, including 25,124 deaths and 58,950 recovered. In total, the state has tested 1,028,899 in total.
As expected, Spain's Parliament has voted to extend its state of emergency order until May 23, though the country has already loosened some lockdown restrictions and is planning to loosen more later this month. Previously, Prime Minister Pedro Sanchez warned that lifting the order too early would be an "unpardonable" mistake. Spain has reported 250,000+ confirmed infections, as well as 25,000+ deaths from the virus.
*       *        *
Update (1200ET): NY Gov Andrew Cuomo confirmed 232 new deaths reported yesterday as he kicked off his daily briefing.
Holding a briefing with updates on #Coronavirus. Watch Live: https://t.co/1GZKVJCxWG

— Andrew Cuomo (@NYGovCuomo) May 6, 2020
*       *        *
Update (1040ET): Here's a chart the New York Times probably doesn't want you to see. It suggests the US remains two weeks behind Italy in terms of the pace of the outbreak.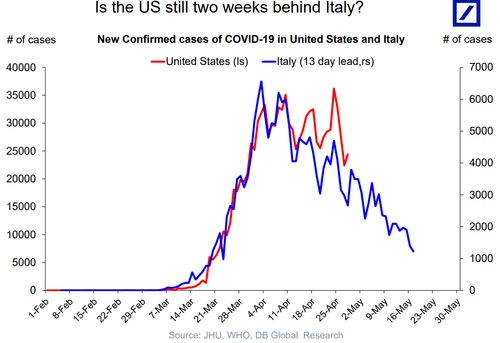 Looks like a solid fit to us, but what do we know?
Also, for anybody looking for quick guide to which states are doing what, we found this to be quite useful: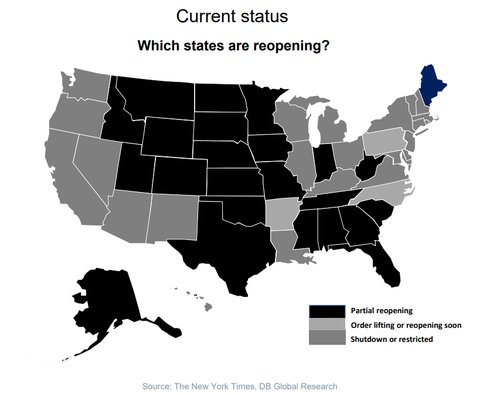 *       *        *
Update (1020ET): Hong Kong reported no new cases of the coronavirus on Wednesday, following in the footsteps of Mainland China, and marking its 17th straight day with zero locally transmitted cases confirmed.
After reporting just 2 new coronavirus cases on Wednesday, all of which were imported, South Korea announced that it would reopen the country's schools on May 13.
*       *        *
Update (0900ET): Following a series of reports about an agreement between German states and Chancellor Merkel to move on to the next phase of reopening, sending more students back to schools and allowing more businesses to reopen, officials in Europe's largest economy have also given the Bundesliga - Germany's top-flight soccer league - to resume play in the second half of May, giving desperate sports fans around the world something else to look forward to, aside from South Korean baseball.
Here's more from The Local: which explained that the league will begin with "ghost games" - games without any spectators in the stands.
The government plans to allow Germany's Bundesliga to restart behind closed doors in May after weeks of shutdown imposed to control the spread of the coronavirus.

That's according to a draft document ahead of a meeting between Chancellor Angela Merkel and state premiers on Wednesday, May 6th.

Politicians believe restarting play in the first and second divisions to "limit the economic damage" for the 36 clubs is "acceptable", the document showed.

Games would be shown without spectators attending, so-called 'ghost games'.

Chancellor Angela Merkel and state premiers will set a date for the games to begin in a telephone conference later Wednesday, with German media reporting May 21st was a possible candidate.

"Restarting match activity must be preceded by a two-week quarantine, where appropriate in the form of a training camp" for players, the document read.

Germany's influential DFL football league has long urged restarting play, which it says is vital for a sector that employs 56,000 people in Germany.

It has offered authorities a strict infection control plan based on numerous coronavirus tests, which it says would allow the competition to be relaunched with low risk.

Health Minister Jens Spahn has judged that the scheme "makes sense and can serve as an example for other forms of professional sport," although "it has to be lived up to".

German clubs stand to recoup €300 million ($325 million) in TV rights if they are allowed to contest the nine remaining match days in the Bundesliga season.

That could help soak up some of their financial losses, with more than a dozen of the 36 first- and second-division teams on the brink of bankruptcy according to media reports.

The DFL will hold a general meeting by video conference Thursday where representatives from the clubs will finalise details of the restart.

Most have already begun training again in anticipation.
In Africa, case numbers have remained relatively subdued, though many fear this is probably due to a relative paucity of tests and health-care infrastructure in comparison to the developed world. However, Kenya's Heath Ministry says 45 new coronavirus cases have been reported in a single day as the nation takes steps to stop the infection from spreading.
Kenyan Health Minister Mutahi Kagwe reported that 45 new cases were reported in a single day on Tuesday, the largest jump yet for Kenya, one of Africa's largest and most industrialized economies.
"This of course is the highest number recorded in 24 hours, ever since the first case on the 12th of March. Out of this number 29 are from Nairobi, 11 are from Mombasa while five are from Wajir and one is a foreign national from Somalia. The five from Wajir have a history of recent travel to Mogadishu," Kagwe said.
*       *        *
Update (0800ET): UK PM Boris Johnson has announced that he will unveil his plan to guide the UK out of lockdown on Sunday, with the first changes to the strict stay-at-home measures coming as soon as Monday, the FT reports.
In his first bout with Keir Starmer, the leader of the opposition Labour party, the prime minister confirmed reports that he will deliver a TV address to the nation setting out how the shutdown will be eased. The prime minister said that the government was waiting as long as possible before making the announcement to ensure it had as much data as possible.
Meanwhile, new data from the NHS found that nearly 60% of Scotland's COVID-19 deaths were linked to nursing homes and other aanaged care facilities.
*       *        *
Early Wednesday morning, public health officials in China announced that they had once again reported no new cases of the coronavirus anywhere in the country of 1.4 billion.
Granted, China's daily stats have been trending toward zero for months, even if the world may never learn how many Chinese were actually infected - and how many actually died - during the outbreak. Nevertheless, the news seemed to energize Beijing, which announced that it might lower its 2020 GDP target ever so slightly even as Volkswagen, the world's biggest carmaker, reported a strong rebound in China sales last month. Volkswagen CEO Stephan Wöllenstein says in a blog post published Wednesday that the carmaker is aiming to hit its pre-corona sales targets for the world's largest car market - however difficult that might be to believe.
In another piece of good news for China from yesterday's earnings barrage, Disneyland Shanghai will reopen on May 11 (albeit well short of 100% capacity), becoming the only major Disney park to reopen.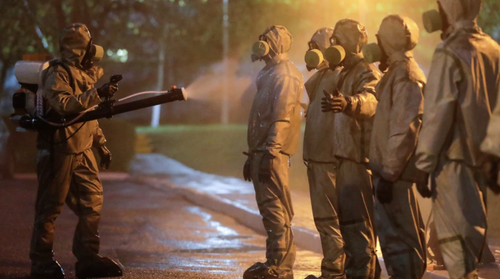 The notion that the Chinese auto market could be "back to normal" by summer - as Wöllenstein claims - sounds far-fetched, considering that certain restrictions on movement remain in Hubei and elsewhere.
What's more, the CCP's office overseeing Hong Kong called the SAR's anti-government protests "political viruses", and warned that Beijing would crack down with force if violent, disruptive protests were to resume. After the disappearing acts Beijing pulled on citizen journalists reporting out of Wuhan, not to mention the arrest of Jimmy Lai, we suspect young Hong Kongers will be too focused on saving their careers and making rent to stir up trouble for the Communists.
Offering a study in contrasts, Brussels released new projections calling for disastrous economic contractions in some of the EU's worst-hit member countries, including Italy. Under "benign assumptions", EU output will decline 7.4% this year, the EU expects - a deeper contraction than the aftermath of the financial crisis. Compared with its autumn forecast, the EU is heading for a €850 billion ($918 billion) investment shortfall for 2020 and 2021. Greece, Italy and Spain are expected to see the steepest declines with a more than 9% decline in GDP. By contrast, GDP in Poland will fall by 4.3%, before rebounding by 4.1%.
The news drove the euro lower against the dollar for the third day on Wednesday as the outlook for the European economy has continued to deteriorate and European bureaucrats warned again that the fallout from the outbreak could destroy the euro and possibly the 'grand political experiment' of the EU.
Meanwhile, Germany reported 947 new coronavirus cases on Monday, a slight increase on the prior day, while also reporting an uptick in recorded deaths from the disease. Germany's Robert Koch Institute also reported an uptick in deaths, with 165 recorded on Monday, bringing the Germany-wide total to 6,996. Germany has reported a total of 164,807 infections, with 147,400 having made a full recovery.
For the fourth day in a row on Wednesday, Russia reported more than 10,000 new cases - 10,559 new infections, to be exact. That's just shy of Sunday's daily record of 10,633 new cases.
Right now, Russia now has 165,929 confirmed cases of COVID-19, as it climbs the global coronavirus outbreak rankings like King Kong scaling the Empire State Building. Oddly, the Russian death toll remains suspiciously low, with just 86 fatalities reported in the last 24 hours, bringing the nationwide tally to 1,537.
After closing Russia's border with the Far East in January, Russian President Vladimir Putin's approval rating has slipped to 59% in April from 63% a month earlier, one of the lowest prints on record, as hysteria about the outbreak (which has been mostly centered on Moscow and the surrounding area) and lingering resentments about continued cuts to social services as Russia grapples with low oil prices and myriad other issues. The pandemic will force the Eurasian giant to run a budget deficit equivalent to 4% of its GDP for 2020, its finance minister warned on Wednesday.
Starting during the early morning hours on Wednesday, the NYC subway stopped running between 1 am and 5 am, a practice that will continue every day until the outbreak subsides. More than 1,000 police officers were assigned to handle what is the first overnight shutdown of the city's subway system in at least 50 years. Officers from the NYPD's department of homeless outreach moved the indigent sleeping in the subway cars to shelters, accompanied by nurses prepared to take care of their health-care needs.
With futures in the green, investors will be keeping an eye out for anything that might offer further justification for optimism. But as Sam Zell warned yesterday, anyone who thinks this is going to simply revert back to normal in a few months is deluding themselves.
The number of new coronavirus cases confirmed around the world yesterday ticked higher compared with the day before, but not by much, remaining roughly in the ~80k range.
\While perusing the overnight headlines this morning, we enjoyed a hearty chuckle over what passes for "news" at Disney-owned ABC.
A retired Kansas farmer who mailed New York Gov. Andrew Cuomo an N-95 mask to give to a frontline worker there has received an honorary degree from his state.

Dennis Ruhnke of Troy, Kansas, was bestowed with a bachelor's degree from Kansas State University during a ceremony on Tuesday afternoon.

"In 1971, Dennis was two credits away from earning his degree in agriculture when his father passed away. He chose to leave school to take care of his mother and the family farm," Kansas Gov. Laura Kelly, who presented the degree alongside the university's president, said in a Facebook post. "Dennis' kindness and lifelong career in agriculture make him more than qualified to receive a degree."
Congratulations, Dennis.