---
Khan Undergoes Surgery After Surviving Assassination Attempt, Shooter Confesses
Update(11:44ET): Pakistan security services have confirmed an attempted assassination against the country's ex-Prime Minister Imran Khan earlier in the day at a political rally. 
A senior leader from Khan's Pakistan Tehreek-e-Insaf (PTI) party said Khan was shot in the foot, for which he's currently undergoing surgery. "The former Pakistan cricket captain was taken from the rally site just outside the town of Gujranwala to receive treatment in Lahore, around a two-and-a-half-hour drive away," CNN writes. 
Bystanders and police could be seen jumping on a young suspected gunman, who was taken into custody at the scene immediately after series of shots rang out at the political parade, at which point Khan and his staff were standing on a large container. At least six were injured, and one person was killed in the attack: 
Police said they detained a man suspected of firing shots at the rally. The male suspect was arrested with a 9mm pistol and two empty magazines, police said.

At least one person was killed in the incident, according to Faisal Javed, a senior PTI politician and close Khan ally who received a wound to the head in the attack. The victim's name has not been released.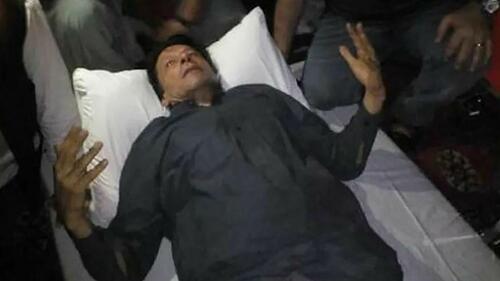 There's now concern that political violence could break out, given that the shooting came just as Khan was leading a protest march to the country's capital Islamabad...
"Pakistan's former prime minister Imran Khan started a protest march to the nation's capital Islamabad in the latest attempt to press the government to call for early elections, while hitting back at the military's spy chief," Bloomberg reported.
CCTV camera footage of the shooter who shot Imran Khan. The shooter was subsequently arrested by PTI members and handed over to Pakistani Police. pic.twitter.com/zrHSs8kq4m

— Soviet -Afghan Wars Samurai 1980 (@Samurai19801) November 3, 2022
Indian national media is saying the shooter has already confessed: 
"I wanted to eliminate him because he (Imran Khan) was misleading the people. I tried to shoot him and nobody else. I made the decision when he left from Lahore. I acted alone, nobody else is involved," the alleged shooter was heard saying in a video uploaded by Pakistan journalist Hamid Mir.
حملہ آور نے اقبال جرم کرتے ہوئے وضاحت بھی کر دی کہ اس نے یہ حملہ کیوں کیا ہے۔ pic.twitter.com/MO2KJTzt7g

— Hassan Ayub Khan (@HassanAyub82) November 3, 2022
There are conflicting reports that a second shooter was firing an automatic weapon, but the investigation is ongoing.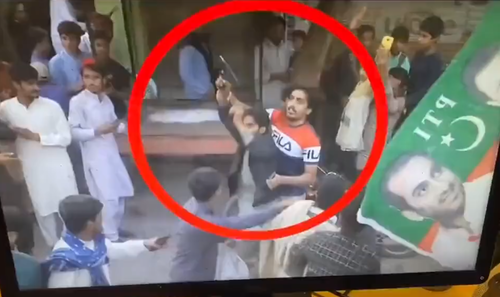 A man from the crowd was seen thwarting the gunman from continuing to fire, for which he's widely being hailed as a national hero...
Hero 🙏🏼🇵🇰 pic.twitter.com/mqTXPdWxjH

— Jemima Goldsmith (@Jemima_Khan) November 3, 2022
* * *
Pakistan's former Prime Minister Imran Khan has been shot at a political rally on Thursday, with multiple media reports saying he has sustained a wound to the leg. "Imran Khan, the former prime minister of Pakistan, has sustained a bullet injury in his leg after a gunman opened fire at a rally in Wazirabad," Al Jazeera reports of the breaking development.
"Azhar Mashwani, an official with Khan's Pakistan Tehreek-e-Insaf party, confirmed to Al Jazeera on Thursday that the politician was shot in the leg but was not in danger," Al Jazeera continues.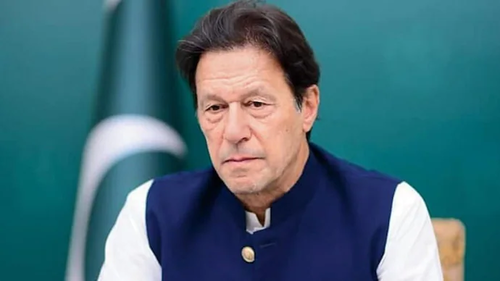 "Six others, including politician Faisal Javed Khan, were also reportedly injured in the attack," the report adds.
Thus it appears a mass shooting and significant assassination attempt on the former head of state and his top officials. As details are emerging, it is not as yet clear who or what group was behind the shooting.
Bloomberg reports former finance minister and Khan's party leader Asad Umar as saying in an update on his condiction: "He is stable. The bullet hit his leg. He is being shifted to a hospital in Lahore."
Khan has been a deeply controversial figure of late, over the past week leading a protest march in demand of snap elections and calling out rampant corruption. 
Dramatic footage purporting to show the moment bullets sprayed the crown at Khan's political rally is circulating on social media...
Footage of the firing. Assassination attempt on Imran Khan. pic.twitter.com/fmSgI2E8jc

— Ihtisham Ul Haq (@iihtishamm) November 3, 2022
Scene from the chaotic aftermath where Khan is loaded into an awaiting car to be rushed to the hospital:
Imran Khan was shot in the leg but was stable while being taken to hospital.I saw the assassin while firing from top of container, he fired a burst from his pistol & he was on the left side. He celebrated after firing so it was a planned assassination attempt. pic.twitter.com/OcNJhHTNcg

— Musa Virk (@MusaNV18) November 3, 2022
developing...
Loading...