---
Explosion Rocks Israeli Munitions Factory
Authored by South Front
On April 21st, a large explosion took place in a defense factory in Israel.
The explosion seems to have occurred during a routine test at the advanced weapons factory which houses various types of missiles.
Officials may have underestimated the collateral damage of the test, which led to the explosion.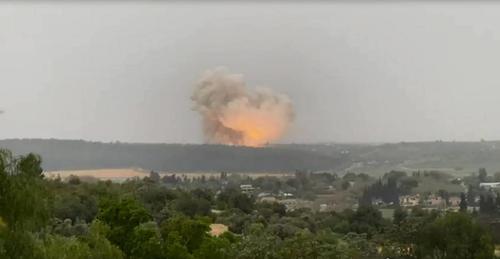 The factory is located in central Israel, and in proximity to residential areas. Civilians documented the mushroom cloud.
Senior defense officials are now investigating what went wrong, and whether guidelines were adhered to. There are still no reports of casualties.
Regarding Iran, Israel appears to have resigned that the JCPOA, the Iran Nuclear Deal will be restored.
Though it's not clear who's responsible for the attack, Iranian media has run with the story, sharing it on English-language and Farsi outlets.
A powerful explosion took place in #Israel today during a routine test at the Tomer factory for advanced weaponry. It produces rocket engines and missiles. Tomer told Haaretz it was a "controlled test with no exceptional circumstances." 1/2 pic.twitter.com/VebIbCPcK5

— Iran International English (@IranIntl_En) April 21, 2021
Iran media is bragging about this "terrible" explosion in Israel...Press TV put the story also under 'breaking' on its main page... pic.twitter.com/aca6juUBc9

— Seth Frantzman (@sfrantzman) April 21, 2021
Israel is lobbying the United States to push for improved international oversight of Iran's nuclear program, as Washington negotiates to reenter the 2015 nuclear deal between the Islamic Republic and world powers, Israeli television reported.
Jerusalem is pushing for International Atomic Energy Agency officials to have greater powers in inspecting the nuclear sites, the Kan public broadcaster said. The position was formulated after Israeli officials concluded there will not be significant changes to the treaty, but nonetheless sought to slightly improve the terms of the pact, the network said.
The Biden administration has repeatedly said it will return to the nuclear deal, if Iran first returns to compliance. Iran has taken a hardline approach, demanding the US lift all sanctions against it first, putting the two sides at a stalemate. Progress is evidently being made.
Meanwhile, the UAE received Zvi Heifetz, Israel's special envoy to the GCC states, in Abu Dhabi as both countries reviewed the progress of their bilateral relations since signing a peace agreement last September 2020.
Sheikh Abdullah bin Zayed Al-Nahyan, Minister of Foreign Affairs and International Cooperation, welcomed the Israeli official to explore further UAE-Israeli relations and mutual cooperation in areas such as trade, investment and tourism. In March, the UAE established a $10 billion fund to invest in strategic sectors in Israel that include energy, manufacturing and healthcare. Since the signing of the Abraham Accords, both countries have established reciprocal diplomatic missions, launched direct flights and held several trade visits – with the UAE attracting over 50,000 Israeli tourists.