---
F-35 Stealth Jet Crashes On US Carrier In South China Sea, 7 Injured
An F-35C Stealth fighter jet has crash landed aboard the deck of the USS Carl Vinson in the South China Sea on Monday, the US Navy announced, inuring seven, including the pilot who successfully ejected and was recovered in the sea by a military helicopter. 
"An F-35C Lightning II, assigned to Carrier Air Wing (CVW) 2, had a landing mishap on deck while USS Carl Vinson (CVN 70) was conducting routine flight operations in the South China Sea, Jan. 24, 2022," a military statement said.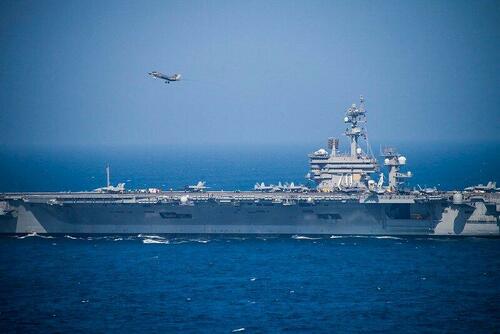 The six others had been injured on the carrier's deck, and three were airlifted to a hospital in Manila, Philippines, with all now said to be in stable condition.
The cause of the crash is under investigation, with the preliminary statement calling it an "inflight mishap". 
The F-35 stealth manufacturer Lockheed Martin had announced last August when the USS Vinson had departed San Diego, "This deployment marks the first time in U.S. naval aviation history that a stealth strike fighter has been deployed operationally on an aircraft carrier."
One prominent China state media pundit in the West was quick to weigh in on the accident, saying the United States "should not be there in the first place"...
You (warplanes) should not be there in the first place. It's nowhere near the US.

— Chen Weihua (陈卫华) (@chenweihua) January 24, 2022
The pilot is reportedly among those in stable condition, with the Navy statement citing that he "safely ejected".
Last November, a British F-35 stealth jet has crashed into the Mediterranean Sea during what was described at the time as routine flying operations from the aircraft carrier HMS Queen Elizabeth. F-35 fighters are an estimated 135 million dollars, with cutting-edge stealth technology and radar.