---
Facebook Defends Allowing Calls For Russian Death As Kremlin Brands Meta 'Extremist Organization'
Facebook has responded to a leaked email which revealed that the company is allowing users in certain countries to call for the death of Russians and Russian soldiers.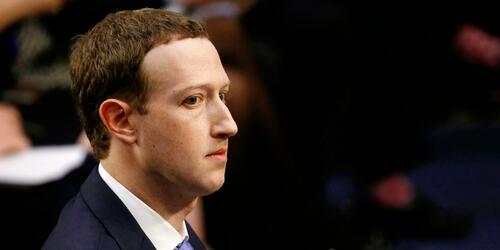 Spokesman Nick Clegg, head of global affairs (and former head of England's Liberal Democrats), says Facebook is simply allowing Ukrainians to express their "resistance and fury at the invading military forces," adding that it does not mean the company tolerates "discrimination, harrassment or violence towards Russians" on its platform.
Clegg said the move is a "temporary decision taken in extraordinary and unprecedented circumstances."
Responding to reports that the Russian government is considering designating Meta as an extremist organization for its policies in support of speech: pic.twitter.com/Y8sUbZDSML

— Nick Clegg (@nickclegg) March 11, 2022
On Thursday, Reuters reported that Facebook "will allow Facebook and Instagram users in some countries to call for violence against Russians and Russian soldiers in the context of the Ukraine invasion."
Meanwhile, Russia has opened a criminal investigation against Meta Platforms and Facebook while also moving to ban Instagram from the country, after this week Facebook said it changed its hate speech policy to allow for calls of violence against Russians in the context of the invasion of Ukraine. 
Kremlin spokesman Dmitry Peskov on Friday said the government will take "decisive measures" if the reports prove to be true, which first surfaced based on internal Meta emails. "We don't want to believe the Reuters report - it is just too difficult to believe," he stated.
EXCLUSIVE Facebook and Instagram to temporarily allow calls for violence against Russians https://t.co/dhcObdoDk6 pic.twitter.com/QVokunNzyx

— Reuters (@Reuters) March 10, 2022
"We hope it is not true because if it is true then it will mean that there will have to be the most decisive measures to end the activities of this company," Peskov added.
The Russian state's Investigative Committee, which is the body responsible for probing major crimes, said it launched the investigation "due to illegal calls for the murder of Russian nationals by employees of the American company Meta."
The Prosecutor-General's Office followed with further specifics, saying the new measures will see Facebook and Instagram branded as "extremist". 
And state media regulator Roskomnadzor, indicated that Instagram will be blocked across the country starting on March 14:
"The Instagram social network distributes information and materials that contain calls for implementing violent actions against citizens of the Russian Federation, including military personnel," Roskomnadzor said.
Meta had later confirmed after the emails came to light the policy change has been made, particularly for countries in the region surrounding Russia...
"As a result of the Russian invasion of Ukraine we have temporarily made allowances for forms of political expression that would normally violate our rules like violent speech such as 'death to the Russian invaders.' We still won't allow credible calls for violence against Russian civilians," a Meta spokesperson said in a statement.
This also includes an allowance for users calling for the death of President Vladimir Putin or Belarusian President Alexander Lukashenko. 
As the Ron Paul Institute's Daniel McAdams observes: "Facebook, a de facto arm of government, is now encouraging calls for violence against innocent people who happen to be of a particular race or ethnic background or linguistic group."
"Race-hate of an unpopular ethnic and religions group? Haven't we seen this horrific movie before?"
Loading...