---
California, Texas, Florida Suffer Record Jump In COVID-19 Deaths; New Jersey, Rhode Island "Pause" Reopening: Live Updates
Summary:
Brazil reports new record jump with nearly 70k cases in a day
Texas suffers record jump in deaths as cases top 400k
Trump says US will send Texas 500 cases of remdesivir
Rhode Island also pauses reopening
California suffers record jump in deaths
New Jersey sees disturbing spike in new cases
Gov Murphy slows NJ reopening
Illinois positivity rate at 3.8% for 2nd day
US passes 150,000 deaths
Dr. Fauci "concerned" about MLB outbreak
Arizona's latest numbers hit
Sweden COVID-19 deaths near zero
Florida suffers 2nd straight daily record death toll
Rep. Louie Gohmert tests positive
China suffers biggest jump in new cases since April
Hong Kong cases top 3,000
Philippines overtakes Mainland China total
Osaka reports another 200+ new cases
16.7 million global cases
659,000 deaths
* * *
Update (1840ET): Brazil reported 69,074 new confirmed cases and 1,595 related deaths on Wednesday, pushing the world's second-worst outbreak toward the 100k dead milestone.
With more than 2.5 million confirmed cases and 90,134 deaths, Brazil is the country worst hit outside the US.
Sao Paulo, the most populous and hardest-hit state in Brazil, has been working through a backlog of previously unregistered cases, reporting more than 26,000 cases on Wednesday alone.
President Jair Bolsonaro has continued to press for the economy to reopen after coming down with the virus himself. He spent several weeks in partial isolation before clearing the virus, which he has continued to describe as "a little flu".
* * *
Update (1730ET): Continuing the trend of record daily death tolls among the hardest hit sun belt states, Texas just reported a record jump in deaths, just hours after the US death toll topped 150k.
The 313 new deaths apparently prompted the state to switch up how it reports deaths to try and make the numbers look less severe. '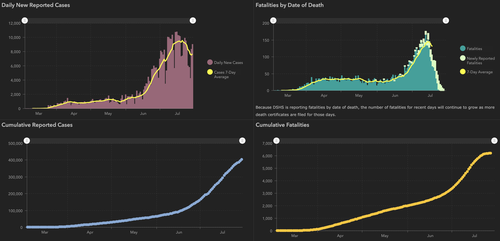 The state also crossed above 400k confirmed cases. As deaths in the state climb, President Trump says the federal government is sending Texas 500 cases of remdesivir.
* * *
Update (1420ET): California reported 8,755 new cases on Wednesday, nearly 3,000 more than its number from the prior day, along with another 197 deaths, a record single-day total.
Meanwhile, last night, California's Department of Health and Human Services announced that it would start tracking data on LGBTQ individuals to ensure that the LGBTQ community isn't "left behind."
Following New Jersey's decision to "pause" its reopening, Rhode Island Gov. Gina Raimondo is following suit, saying her state "cannot move forward to phase four" due to the spread of coronavirus, blaming parties and other large gatherings.
Contacting tracing shows "we're partying too much, social gatherings are too large," Raimondo said during a weekly coronavirus briefing on Wednesday. Cases in the state have rebounded slightly in recent days.
Rhode Island will remain in phase three for another month, with a change; social gathering limits will be lowered from 25 to 15 people.
"We have cases traced back to a house party, with more than 50 people, and no one wearing a mask," she said.
"In each of these instances, the patterns are exactly the same, people who know each other, friends and family, more than 25 people, not wearing masks, in close contact for hours," Raimondo said. There have been up to seven to 10 cases found for each of the parties, in some cases, she said.
Raimondo pleaded for residents "to knock it off, because people are getting sick people are dying, and it's unnecessary."
* * *
Update (1340ET): With the US death toll passing 150,000 according to worldometer and a handful of other sources, New Jersey Gov Phil Murphy warned on Wednesday that New Jersey has reported more than 2,000 new cases over the past four days, including 489 over the past 24 hours, bringing the state's daily rate back to its level from a month ago.
"WE CANNOT GO BACKWARDS" Murphy warned in a tweet.
Over the past four months, we've CRUSHED the curve.

Over the past four days, we've reported roughly 2,000 new positive coronavirus test results.

We're now back to where we were roughly a month ago in the daily number of new cases.

WE CANNOT GO BACKWARDS.

— Governor Phil Murphy (@GovMurphy) July 29, 2020
Our travel advisory was updated yesterday.

Visit https://t.co/Z3gW60WVSi for the complete list of states and to fill out our travel survey.

This goes equally whether you're a visitor to our state, or a New Jersey resident returning from one of these states. pic.twitter.com/JmZkBBZMno

— Governor Phil Murphy (@GovMurphy) July 29, 2020
GET TESTED FOR #COVID19!

To find a testing site near you, please visit https://t.co/JZg9mGpUuV. pic.twitter.com/UUIOfDtvjV

— Governor Phil Murphy (@GovMurphy) July 29, 2020
We urge everyone with @NJ_MVC business to check online to see if your transaction can be done from the comfort of your home.

Deadlines for numerous documents have also been automatically extended. pic.twitter.com/XVIGGmbAgc

— Governor Phil Murphy (@GovMurphy) July 29, 2020
We know that there continues to be some long wait times at numerous @NJ_MVC agencies.

MVC is working hard to mitigate these delays.

In less than a month, they've worked through more than half of the backlog created by the agency's three-month closure.

— Governor Phil Murphy (@GovMurphy) July 29, 2020
NEW: We've received 489 new positive #COVID19 test results, pushing our statewide cumulative total since March 4th to 180,766. pic.twitter.com/tcSopYrcE4

— Governor Phil Murphy (@GovMurphy) July 29, 2020
☑️Spot positivity rate for tests from July 25th is 2.42%
☑️Rate of transmission remains 1.14

We need to keep these numbers DOWN. pic.twitter.com/SUWf7CarGi

— Governor Phil Murphy (@GovMurphy) July 29, 2020
YESTERDAY:
☑️761 patients in our hospitals – 361 who were known #COVID19 positive and 400 listed as Persons Under Investigation pending the return of test results
☑️116 patients in either critical or intensive care
☑️49 ventilators in use pic.twitter.com/vDTOQIpSL4

— Governor Phil Murphy (@GovMurphy) July 29, 2020
All of the metrics in our health care system continue to trend positively.

We're seeing our standing in the national rankings continue to improve.

But, we're not out of the woods yet. We still need to practice personal responsibility and common sense. pic.twitter.com/MCtvGghxBX

— Governor Phil Murphy (@GovMurphy) July 29, 2020
Sadly, we must report an additional confirmed 18 #COVID19 deaths, bringing our confirmed COVID-19 death total to 13,923.

Of the deaths we're announcing today, nine occurred within the last five days.

The number of probable deaths has been lowered to 1,875. pic.twitter.com/At2DlakxEL

— Governor Phil Murphy (@GovMurphy) July 29, 2020
I want to thank each of you for all you are doing, every day, to help us defeat #COVID19.

Please don't let up.

Keep wearing your masks and practicing social distancing.

Don't attend any crowded house parties.

— Governor Phil Murphy (@GovMurphy) July 29, 2020
I know it's been a long four months.

But, we cannot become complacent and take irresponsible risks that put our families and communities at risk.

We've worked too hard to get to where we are now – we can't slide backward.

Keep it up.

— Governor Phil Murphy (@GovMurphy) July 29, 2020
That's a lot to take in. But after a flood of reports about lifeguards and young partygoers getting infected in 'super spreader' events, New Jersey's jump in new COVID-19 cases is clearly large enough to justify slowing the state's re-opening by keeping indoor dining and gyms closed, according to Gov Murphy. He also warned New Jerseyans to stay away from indoor parties.
"This is the reason we've had to hit pause on the restart of indoor activities like dining and health clubs," Murphy said.
"Do not become the person who unknowingly contracts coronavirus at a party and then spreads it to your parents or grandparents," he said.
In other news, Illinois has reported a positivity rate of 3.8%, in-line with yesterday's rate, which was the lowest level in a week.
* * *
Update (1250ET): The Mets pulled off a victory over the Red Sox last night, but on Wednesday, Dr. Fauci said he was "concerned" about major league baseball, though he hopes this outbreak doesn't push the league to close down the season.
* * *
Update (1120ET): Arizona just reported another 2,339 new cases on Wednesday, along with 46 new deaths and a 12.7% positivity rate.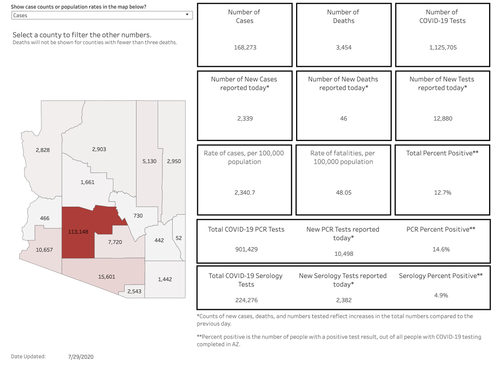 ICU usage ticked higher to 85%.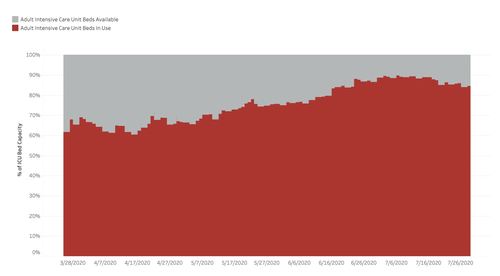 In total, the state has confirmed 168,273 cases and 3,454 deaths.
* * *
Update (1110ET): As COVID-19 deaths along the Sun Belt spike, Sweden just reported its lowest number of COVID-19 related deaths since the start of the pandemic.
Over the last 14 days, merely 7 deaths per day were recorded across Sweden, the lowest number since March 23. Additionally, fewer people are seriously ill from the virus, and the number of ICU admissions is close to zero.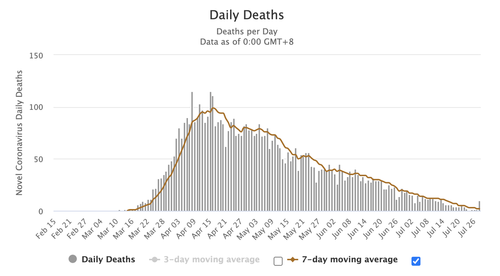 The number of new cases has trailed off to almost nothing.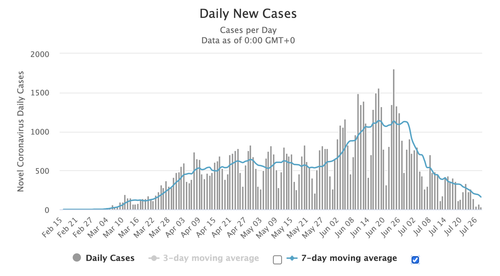 Sweden's state epidemiologist Anders Tegnell said Wednesday that the country has nearly defeated the virus, and although it's guarding against another wave of infections, he's hopeful the country is just about done with the outbreak.
"As for the number of deaths per day, we are down to individual people per day," state epidemiologist Anders Tegnell said, as quoted by the newspaper Aftonbladet.
As for the feared second wave rising across western Europe, Tegnell said: "We thought it would happen only in the autumn...but in Sweden we do not see that trend."
* * *
Update (1040ET): Florida's daily new cases are no longer increasing. The state reported 9,446 new cases Wednesday with a 12.6% positivity rate, a figure that was slightly higher than yesterday's total, but not by much.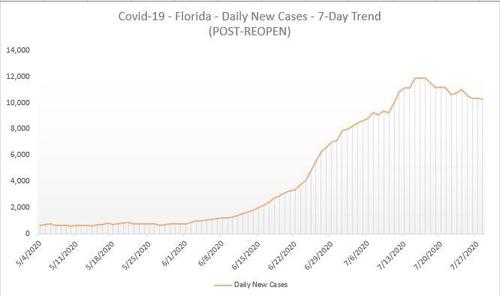 But the bigger number was the 217 new deaths, a record high for the second day in a row.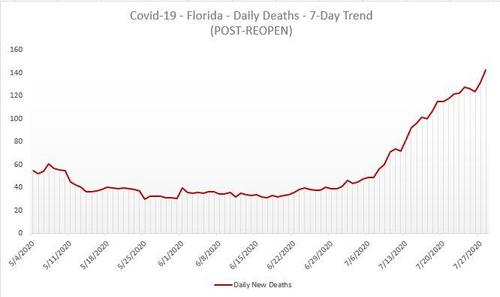 In other news, Texas Rep. Louie Gohmert, who had been scheduled to travel to Texas with Trump via Air Force One on Wednesday, has tested positive for the virus.
* * *
As anxieties about a global "second" (or, in Hong Kong's case, "third") wave intensify, health authorities in China have just reported the biggest daily jump in new COVID-19 cases on the mainland in three and a half months on Wednesday when 101 new coronavirus cases were reported by the health commission.
Over the past few months, health authorities have moved quickly, imposing lockdown measures, closing schools and rolling back other freedoms wherever new clusters were discovered be it Beijing, Wuhan, Dalian, Xinjiang, Urumqi or another city. Yesterday, Chinese officials reported a new case in Beijing (the capital city's first case in 3 weeks) that authorities purportedly linked to an outbreak in the northeastern port city of Dalian.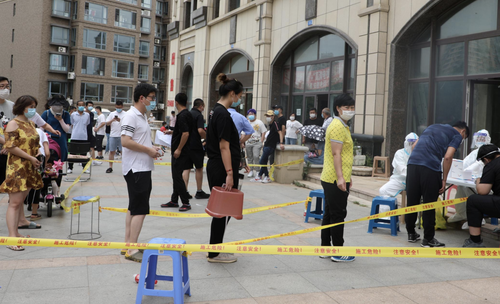 Wednesday's total was the highest in over three and a half months, according to the National Health Commission. Most of the infections were tallied in Urumqi, the capital of China's far-western Xinjiang Province, while one case was reported in Beijing. 27 of the cases were asymptomatic, authorities said, while three were 'imported' cases.
As of Tuesday, mainland China had 84,060 confirmed coronavirus cases...while the official death toll remained at 4,634. Inexplicably, China has suspended poultry imports from a BRF-Brazil Foods plant, according to information from China customs published July 29. China has barred imports of seafood from several Latin American (and other international) producers after supposedly detecting COVID-19 on the packaging.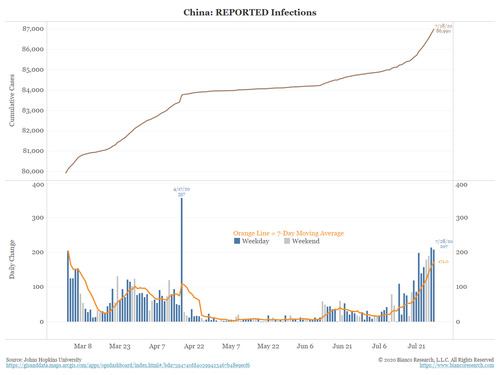 China's resurgence follows the discovery of a new cluster in Hong Kong that has prompted city officials to adopt the most restrictive social distancing rules yet, including ordering bars and restaurants to close for indoor service, and restricting public gatherings to a maximum of 2 people. The city reported another 118 cases on Wednesday, the 8th straight day that daily new infections surpassed 100.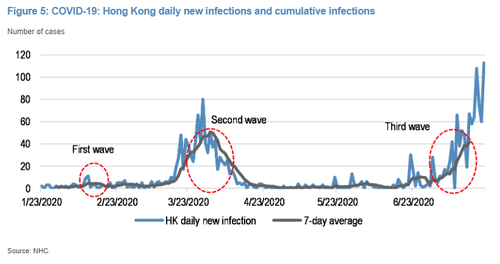 Of the 118 cases, 113 were locally-transmitted and the remainder were imported. 46 of the 113 cases were of unknown origin. The city's deaths reached 24.
The measures imposed in Hong Kong are expected to last for at least one week as leader Carrie Lam warned the city is on the brink of a large-scale outbreak.
Elsewhere in the region, the Philippines officially overtook mainland China with the total recorded number of coronavirus disease cases climbing to 85,486 cases on Wednesday, compared to China's official count of 84,060.
The latest data from the Philippines Department of Health reported another 1,874 cases, bringing the total to 85,486 COVID-19 cases.
Of the total number of infections, 56,528 were counted as active.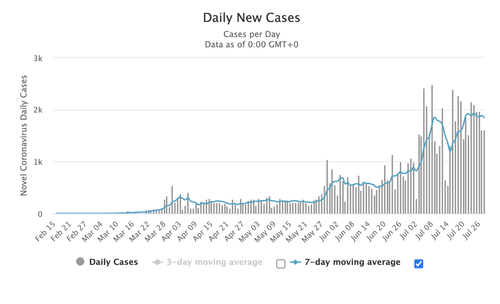 Metro Manila topped the list of areas with new COVID-19 cases with 728. 388 new recoveries were recorded bringing the total number of patients to 26,996.
However, the country's COVID-19 death toll hit 1,962 as 16 new deaths were reported.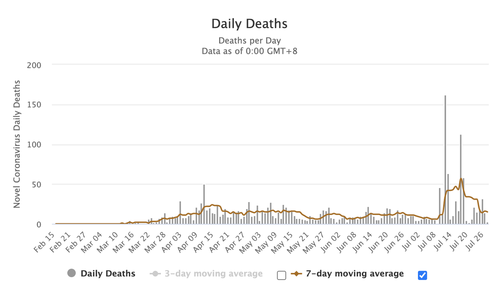 Finally, the Western Japanese prefecture of Osaka recorded at least 220 new coronavirus cases on Wednesday, NHK reports.
Nearly 16.7 million people have been diagnosed with the virus around the world. Some 9.7 million patients have recovered, and more than 659,000 have died, according to data from Johns Hopkins University.
As we await Wednesday's numbers out of the US and Europe, we expect to see the focus of the international community to start shifting back to Asia.