---
Fight Brewing Between Congress & Biden On Labeling Wagner A Terrorist Organization
Sen. Jeanne Shaheen (N.H.), a Democratic member of the Senate Foreign Relations Committee is leading the charge along with six other Democratic and Republican senators to get Russia's Wagner Group mercenary firm labeled a terrorist organization. 
Shaheen's legislation, titled the Holding Accountable Russian Mercenaries (HARM) Act would force the State Department to add Wagner to the Foreign Terrorist Organization (FTO) list. It's designed also to force the Biden administration's hand, which has remained resistant to issuing a terror label, only dubbing it more ambiguously as a global criminal organization and thus bringing limited financial sanctions. This as Wagner is increasingly the focus of international headlines for its leading role in fighting for Bakhmut.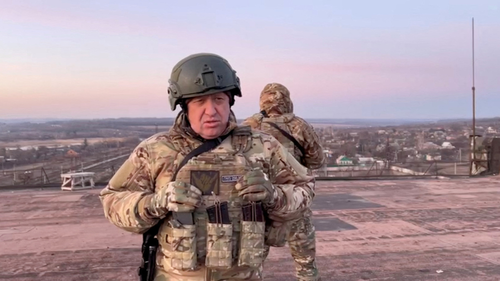 Biden's reluctance is causing anger in Congress, and allegations of White House shortsightedness given Wagner's outsized role in fighting in Ukraine's east. "We've seen that again and again in terms of this support for the Ukrainians and this war, where Congress has been out ahead of the White House," Sen. Shaheen said in a weekend statement. 
"It's been true since Russia invaded Ukraine. I remember in 2014 supporting lethal weapons for Ukraine, and the White House refused to support that. I don't see this as unusual," she added. "I hope the administration and the State Department comes on board."
The FTO designation would impose far-reaching costs on the group and open up more means of targeting the mercenary firm by Washington, including going after third parties that deal with Wagner. And given widespread accusations from Ukrainian and Western officials that it is committing atrocities in Ukraine, this has left some Congress members scratching their heads over why Biden hasn't pulled the trigger on the FTO.
But one Congressional aide explained to The Hill that it relates to other regions of the world where Wagner is active, and that unexpected consequences would accrue and impact US relations with certain countries: 
"[The State Department] is concerned that if suddenly the FTO designation lands on Wagner, that those governments, where there's various officials that deal with them [Wagner], that they would all, immediately be blocked from travel to the United States and have their assets seized for coming into contact with the FTO. So that's the nature of their concern," the aide said.

"They claim they're not opposed to it on Ukraine grounds, but they're opposed to it on Africa grounds."
Wagner meanwhile, last week announced a major recruiting expansions, opening up new offices and recruitment centers in over 40 cities across Russia. The group with ties to President Putin has lately come under severe criticism by the Russian Defense Ministry and regular military chain of command for being too unaccountable and acting as a rival to authorized commanders.
Loading...