---
As NATO's Border With Russia Doubles, Shoigu Confirms Nuke-Capable Missiles Are In Belarus
In a Tuesday ceremony in Brussels, Finland formally became the North Atlantic Treaty Organization's 31st member, which in effect doubles the Western military alliance's border with Russia. 
US Secretary of State Antony Blinken and NATO Secretary General Jens Stoltenberg attended the ceremony with Pekka Haavisto, Finland's Minister for Foreign Affairs. The Finnish presidency said in a statement: "Finland has today become a member of the defense alliance NATO. The era of military non-alignment in our history has come to an end. A new era begins."
"Each country maximizes its own security. So does Finland. At the same time, NATO membership strengthens our international position and room for maneuver. As a partner, we have long actively participated in NATO activities. In the future, Finland will make a contribution to NATO's collective deterrence and defense," it continued.
The Kremlin on the same day called it an aggravation of the situation and vowed to take countermeasures ensuring its security.  "The Kremlin believes that this is another aggravation of the situation. The expansion of NATO is an infringement on our security and Russia's national interests," presidential spokesman Dmitry Peskov told a briefing.
But he also acknowledged the situation of Ukraine, which the West has long tried to turn into an anti-Russian bulwark, is fundamentally different from that of Finland. 
"The situation with Finland, of course, is radically different from the situation with Ukraine, because, firstly, Finland has never had anti-Russian rhetoric, and we have had no disputes with Finland. With Ukraine, the situation is the opposite and potentially much more dangerous," Peskov said.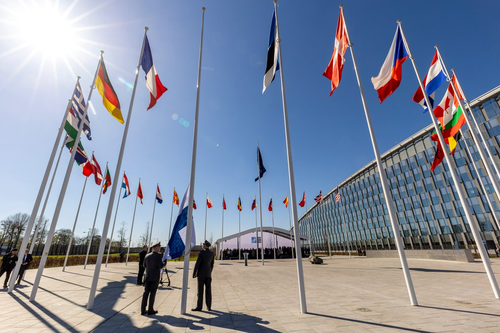 Taking a more ominous and threatening tone, Russian Defense Minister Sergei Shoigu in a televised press briefing confirmed that Belarus had receieved aircraft and Iskander missiles capable of delivering tactical nuclear strikes. 
"Several of Belarus ground attack aircraft received the ability to strike at enemy targets with nuclear weapons," he said. "Besides, Iskander-M operational tactical missile system was handed over to the armed forces of Belarus. It can use both conventional and nuclear missiles."
Belarus received aviation and Iskanders capable of delivering tactical nuclear strikes, Shoigu said. The Russian MoD called it a "measure in response" to the intensification of training, combat and reconnaissance activities of NATO near the borders of both countries. pic.twitter.com/5KjkWuawXh

— NOËL 🇪🇺 🇺🇦 (@NOELreports) April 4, 2023
Despite teasing it, he didn't confirm clearly whether or not the missiles transferred to Belarus were actually tipped with nuclear warheads at this point. But the severity of the threat is clear.
Loading...