---
200 Arrested As Thousands Of Hong Kongers Protest New 'National Security' Law
Update (1100ET): Secretary of State Mike Pompeo slammed China's new security law as a "contravention" of Hong Kong's constitution.
"...the rule of law has been eviscerated, and as always, the Chinese Communist Party is afraid of its own people above all else." He added that the law could compromise the security of foreigners in Hong Kong, including Americans who live and work there, by making them technically liable for prosecution by a Chinese 'rule-by-law' not 'rule-of-law' court.
Pompeo slams China over Hong Kong security law https://t.co/TrNlcrACWL via @YouTube

— Kathleen Durr (@LadyDurr) July 1, 2020
Pompeo reiterated the administration's agenda for retaliation: sanctions on individuals involved in detention of Muslims in Xinjiang, and, most importantly, the revocation of Hong Kong's special status, which is coming. He also compared China with Venezuela and Iran over its arrest of the two Canadian "mikes".
* * *
Update (0915ET): According to Reuters, the number of Hong Kongers arrested during Wednesday's protest has climbed to roughly 200, up from the 2 arrests we reported earlier.
Police arrested nearly 200 people on Wednesday as protesters took to the streets in defiance of sweeping security legislation, the details of which were revealed late last night as President Xi signed it into law. Wednesday's gathering happens to coincide with an annual rally marking the anniversary of HK's handover to China in 1997, a fitting backdrop as Hong Kongers express their preference for the values of the British.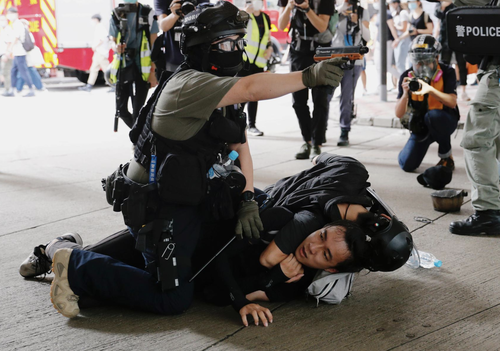 Officials had cancelled the annual rally due to the coronavirus, but tens of thousands came out anyway, including thousands of young people and students.
"I'm scared of going to jail but for justice I have to come out today, I have to stand up," said one 35-year-old man who gave his name as Seth.
Earlier on Wednesday, police cited the law for the first time as they confronted the protesters.
"You are displaying flags or banners/chanting slogans/or conducting yourselves with an intent such as secession or subversion, which may constitute offences under the...national security law," police said.
Police shared photos with an officer with a bleeding arm saying he was stabbed by "rioters holding sharp objects."
Meanwhile, in Beijing, Zhang Xiaoming, executive deputy director of Beijing's Hong Kong and Macau Affairs Office, told reporters that the suspects arrest today could be tried on the mainland (though he stopped short of declaring that this would definitely happen). He also described the new security law as a "birthday gift" to Hong Kong.
* * *
Update (0700ET): SCMP reports that British Foreign Secretary Dominic Raab has just finished outlining a plan to allow Hong Kongers to relocate to the UK and become British citizens.
UK Foreign Secretary Dominic Raab has started laying out a lawyerly assessment over China's national security law for Hong Kong now

— Stuart Lau (@stuartlauscmp) July 1, 2020
Dominic Raab has confirmed the procedure for BNO holders to acquire British citizenship:

1. 5 years limited right to remain.
2. After 5 years, they can apply for settled status.
3. After 12 months of settled status, they can apply for British citizenship.

No quotas on numbers

— Stuart Lau (@stuartlauscmp) July 1, 2020
We imagine Beijing won't be thrilled about this, either.
* * *
At least two people were arrested Wednesday as Hong Kong protesters, undaunted by the new penalties they might face, clashed with police, with some proudly carrying the flag of Hong Kong independence despite the tremendous personal risks: Under the new security law, brandishing pro-independence material could lead to arrest and prosecution with stiff prison sentences.
One day after President Xi signed the new National Security law, officially overriding part of the Hong Kong Basic Law via a loophole in the quasi-constitution left behind by the British, Hong Kongers are on the edge of open revolt, as the drop in COVID-19 cases has emboldened more to return to the streets, despite the legal risks.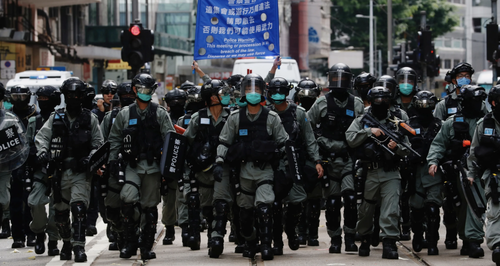 Police used intense crowd-control methods like water cannons, cordons and pepper spray to keep marchers off the main local road between the shopping district of Causeway Bay and central Hong Kong. Instead, tens of thousands of marchers took to secondary streets. Unlike past protests, few carried signs or banners or coordinated their outfits in black. Though at least one of those arrested was booked for carrying the flag, a serious offense as we mentioned above.
Chanting was mostly limited, although the forbidden call of "Revolution of our times" echoed from the open plaza crossing under the Times Square shopping mall as more young people poured out from a subway exit to join the protest, according to a report from Nikkei Asian Review.
Hong Kong police, who have been more than willing to kowtow to Beijing's every demand tied to the law, have already formed a special unit to enforce "national security" offenses, according to a statement from the police chief. That's bad news for the two people arrested during the march, one of whom was touting the independence flag, as we noted above (according to Nikkei).
One of the more terrifying features of the new law is the possibility that 'national security' offenders might be prosecuted by mainland courts, where any semblance of the civil liberties enjoyed in Hong Kong would vanish. Chinese leaders have insisted that these types of cases would be extremely rare.
Despite the government of HK citing the pandemic as an excuse to ban the protest, pro-democracy lawmakers urged people to take to the streets in protest despite the police interference.
Citing coronavirus restrictions, city authorities prohibited the annual protest that was arranged by the Civil Human Rights Front, the organizer of last year's massive rallies. But pro-democracy lawmakers and activists have urged people to defy the ban and take to the streets.
During the protest, journalists were attacked by police in the chaos.
A journalist was shot in the head by water canon. Their body flew a few metres away on the spot and was carried away by first aiders. #hk #hongkong #pressfreedom #journalist pic.twitter.com/1IICFbWP9X

— miamorcl (@jrSYU0qmIJjQe4X) July 1, 2020
HK Chief Executive Carrie Lam, who was installed by Beijing, spoke at a flag-raising ceremony on Wednesday morning where she proclaimed that the new law is "the most important milestone to strengthen the 'one country, two systems' framework."
"The legislation will protect the majority of people who abide by the laws," Lam said. "It's a turning point for Hong Kong to restore stability."
Pro-democracy lawmakers, along with Secretary of State Mike Pompeo and British Foreign Secretary Dominic Raab, have slammed the law as bringing about the death of "one country, two systems". Raab vowed to take action to protect the people of Hong Kong, to whom Britain made a commitment to protect when it agreed to return the territory to Chinese control.
Even the leaders of the pro-democracy opposition in Hong Kong say they weren't allowed to see the text of the law until after it had been enacted. Many in Hong Kong still aren't 100% aware of the laws exact strictures, which is the very definition of China's system of "rule by law" instead of "rule of law".
Say what you want about Hong Kong, for decades, it has been one of the few reliable jurisdictions in Asia where individuals could sue the government and stand a chance of winning. That westernized commitment to fairness (which, as we've learned via the trails and travails of Carlos Ghosn, doesn't exist even in Japan) was what helped transform HK into China's "gateway" to the west.
But now, Beijing clearly sees Hong Kong's restiveness as too big of a risk; and so the former golden goose is being slaughtered.
And while the protests rage, ordinary Hong Kongers are scrambling to remove protest signs from businesses and scrub social media profiles, and even text messages.
i was walking around mong kok and came across a depressing scene of this Hong Kong diner removing protest art and signs stuck to the outside just hours after the national security law passed, HK's freedoms are dying in real time pic.twitter.com/hoBpEmGo1S

— Arman Dzidzovic (@iamarman88) June 30, 2020
That fear, a sense of foreboding that even innocent actions might elicit disastrous consequences, has become an unsettling new feature of life in Hong Kong.