---
US Confirms 40k COVID-19 Cases For 2nd Day In A Row As Pence Cancels Campaign Stops: Live Updates
Summary:
US set for another day of 40k+ cases
Texas reports latest numbers
Pence cancels campaign events
NY reports another 700+ cases
WSJ reports that more GOP governors, Congressman support increased testing and mask-wearing
Cali reports 3% jump
Nevada reports record jump
UK reports 100 new deaths
Italy sees numbers continue to improve
Egypt continues with reopening
16 NBA players test positive
Hospitalization capacity
Florida, Arizona see record jumps
Ariz intensive care occupancy ticks lower
Australia reports largest jump in new cases since April
Tokyo reports another increase in cases
Florida sees 2nd straight record jump
US reports 3rd straight record increase (45,942 cases)
Miami mayor closes beaches
Indonesia reports another record jump
* * *
Update (1800ET): Saturday was another day of record-breaking coronavirus numbers across the US as four states set new records for daily case totals, while Arizona set a new record high for hospitalizations, as the state's hospital system is starting to look dangerously stretched.
Florida, Georgia, South Carolina and Nevada hit new highs in daily cases reported, while Arizona set a record on current hospitalizations. As of Saturday afternoon, more than 42,000 new cases have been reported across the US, leaving the country on track for the second straight day of 40k+ cases (some totals put the number above 40k for Thursday and Wednesday as well, which would make Saturday day No. 4 above the important psychological threshold).
Deaths, meanwhile, remained mostly subdued. And in further good news, it seems the record streak has come to an end, as Jim Bianco notes, the total numbers for Sat vs Friday are slightly lower.
Saturday's cases back off slightly which probably has to do with some labs being closed. Expect the same type of dip into Monday.

165,611 in the last four days. For comparison, on March 31 the total level of cases to date was 168,000. pic.twitter.com/1hbs2xW8v9

— Jim Bianco (@biancoresearch) June 27, 2020
As we noted earlier, Texas Gov Greg Abbott's admission that he regrets reopening bars as early as he did has led a flurry of other Republicans (including even former VP Dick Cheney) to caution on the importance of improved testing access and social distancing and mask requirements.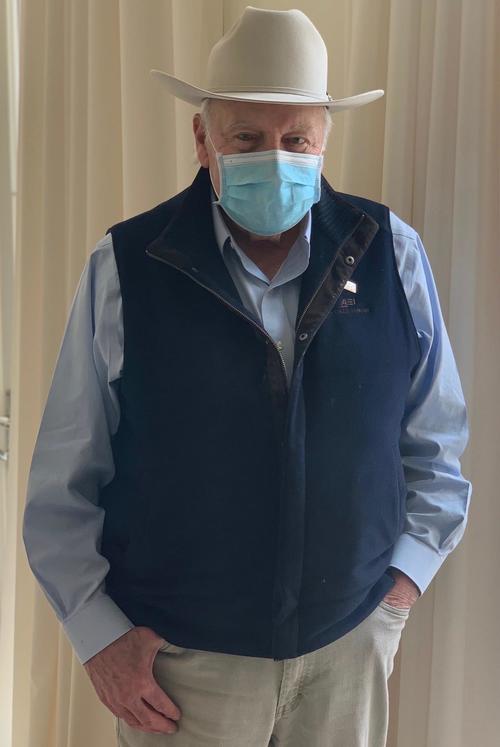 The biggest news of the day is definitely VP Pence's plan to cancel campaign stops set for next week. According to the Washington Post, inside contacts within the campaign couldn't (or wouldn't) tell the paper when campaign stops would resume. In addition to postponing the rallies, the campaign is also rescheduling several more intimate events featuring the VP. Though, one notable late-breaking developing is the fact that one Oklahoma journalist who covered Trump's rally in Tulsa last week has apparently tested positive for COVID-19.
* * *
Update (1600ET): In what looks like good news, Texas has seen the number of new cases slow.
TEXAS VIRUS CASES RISE 4.2%, IN LINE WITH 7-DAY AVERAGE
TEXAS VIRUS DEATHS CLIMB BY 42 TO 2,366
TEXAS VIRUS CASES RISE 5,747 TO 143,371
* * *
Update (1515ET): In the latest indication that President Trump and the rest of the GOP are coming around to supporting mandatory mask wearing and other measures to slow the spread of the virus, the White House just announced that it will cancel VP Pence's campaign trips to Florida and Arizona "out of an abundance of caution." Pence faced a fusillade of questions during the WH COVID-19 task force's first press briefing in two months yesterday about the campaign events, and whether the administration was encouraging Americans to disregard social distancing measures by refusing to lead by example.
The decision to cancel the events comes after both states reported record numbers earlier today (see more on that below).
Pence argued the Trump Campaign was simply giving Americans "the option" of "participating in their civic duty" (though typically that's applied to voting, not attending campaign events). But the latest round of polls has clearly gotten to the president, who is perhaps finally realizing that his antagonistic, divisive rhetoric and sometimes-petulant of insufficiently serious approach (like when he joked about slowing down testing) might actually cost him the election. Mark Cuban even posited that Trump's recent behavior was intentional, arguing that Trump secretly doesn't want to win a second term.
"The media has tried to scare the American people every step of the way, and these grim predictions of a second wave are no different."

-@VP on June 16 https://t.co/1q1bomof4V

— Vaughn Hillyard (@VaughnHillyard) June 27, 2020
Florida, Texas, California and Arizona have been the biggest contributors to the surge in US cases.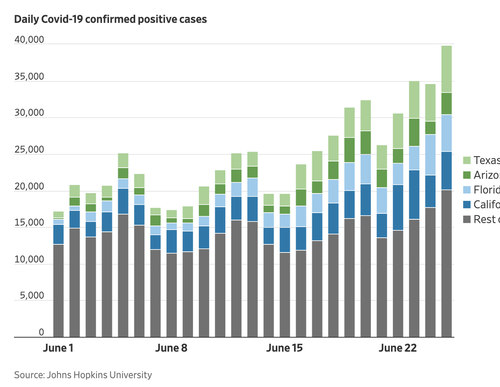 Shortly before the news hit, a pair of WSJ political reporters published a story examining how many GOP governors and members of Congress are throwing their support behind rapidly increasing testing capacity and mask usage as the US is presently on track to report a fourth consecutive record batch of daily infection numbers, as the US has gone from reporting 20k to 40k cases per day in a matter of weeks.
To be sure, while the mainstream press would have readers believe that the fault for this increase lies solely with the president, many areas where BLM protests were the most intense (like Philadelphia and San Francisco) are seeing an alarming jump in new cases on par with the hard-hit "red states".
NY on Saturday reported another 700 or so cases, less than yesterday but the data shared by Cuomo shows that the number of cases has stopped falling and has begun to tick higher, even as deaths continue to decline.
Today's update on the numbers:

73,262 tests were performed yesterday. 703 tests came back positive (0.96% of total).

Total hospitalizations fell to 908.

Sadly, there were 13 COVID fatalities yesterday. pic.twitter.com/zo5plv0dKy

— Andrew Cuomo (@NYGovCuomo) June 27, 2020
Meanwhile, the US is creeping closer and closer to 2.5 million case mark.
* * *
Update (1334ET): Though it's not a record jump, California has reported another day over day increase.
CALIFORNIA COVID-19 CASES RISE 3% VS 2.8% 7-DAY AVERAGE
* * *
Update (1315ET): States from New Jersey to Nevada have just reported their latest coronavirus numbers.
One day after imposing a statewide mandatory mask mandate...
Today is the first day of the statewide face covering mandate. I encourage all businesses to post signage reminding Nevadans and visitors of these new rules to help us all stay safe and healthy. Posters are available online at https://t.co/7wrtjyVq4G #MaskUpNV pic.twitter.com/JBE870kJmn

— Governor Sisolak (@GovSisolak) June 26, 2020
...Nevada has reported a record jump in new coronavirus cases that is more than double the last daily figures.
New Jersey, meanwhile, reported 347 new cases, lower than yesterday's number, however...
NEW: NJ has 347 new positive cases of #COVID19, pushing our cumulative total to 170,873.

Sadly, we must report an additional 36 deaths among COVID-19 confirmed-positive residents, pushing our total to 13,094 lives lost.

For more data, visit https://t.co/JW1q8awGh7. pic.twitter.com/AAUa4As0Wn

— Governor Phil Murphy (@GovMurphy) June 27, 2020
...the number of new cases has continued to creep higher as Gov Murphy has warned about the state's "R" rate, which measures the number of people infected on average by each carrier, a representation of how quickly the virus is spreading. "R" rates above 1 means the virus is spreading; below 1 means the outbreak is waning.
Meanwhile, Pakistan reported 3,138 new cases of coronavirus and 74 new deaths as ten members of the national cricket team were confirmed to be infected. Pakistan now has a total of 198,883 cases and 4,035 deaths. Indonesia reported 1,385 new cases of coronavirus, bringing its total to 52,812 cases in total, in what was Indonesia's latest record jump.
Back in the states, some are already pushing New York to delay the return of "indoor" restaurant service.
Texas & Florida--> closing bars again to slow huge surge in the virus

New York City--> set to open bars & restaurants for *indoor* service July 6

Let's not wait until NYC has a rebound to figure this out. Indoor gatherings are riskier. Let's stick with outdoor service for now.

— Mark D. Levine (@MarkLevineNYC) June 27, 2020
Meanwhile, though numbers in Europe have ticked higher, Italy is still seeing numbers shrink.
JUST IN: Italy reports 175 new cases of coronavirus and 8 new deaths.

Total of 240,136 cases and 34,716 deaths.

— Norbert Elekes (@NorbertElekes) June 27, 2020
NEW: Italy reports less than 10 new deaths from coronavirus for first time in 4 months.

— Norbert Elekes (@NorbertElekes) June 27, 2020
ITALY: Number of coronavirus patients in intensive care has dropped below 100.

— Norbert Elekes (@NorbertElekes) June 27, 2020
Egypt, meanwhile, has started reopening cafes, clubs, gyms and theaters along with lifting and easing other lockdown-related measures, after more than three months of closure, even as the number of infections continues to climb.
In sports news, as the MLB prepares to kick off a shortened season, 16 NBA players in the US have tested positive for the new coronavirus in the first wave of mandatory tests as the league restart approaches.
As of 1pmET, more than 9.7 million people around the world have tested positive for COVID-19, while roughly 4.9 million have recovered, and 493,000 have died, according to Johns Hopkins University. At this rate, the world should surpass half a million infections and 10 million cases by the middle of next week.
Peru, one of South America's worst-hit countries, will lift coronavirus lockdown measures in a large swath of the country, including the capital, Lima, beginning next month. 
The UK death toll increased by just 100 per data released Saturday, bringing its total to 43,514, as one of Europe's deadliest outbreaks continues to slow.
As Germany takes the reins of the EU presidency, Chancellor Angela Merkel cautioned that the coronavirus pandemic is far from over, as more regional clusters stir up fears of a second wave. Merkel said in her weekly video podcast that getting Europe's economy back on track is her No. 1 goal as Germany takes over the rotating European Union. She added that all Europeans share "joint responsibility" to wear masks etc.
* * *
Update (1205ET): As we've noted, deaths across even the most hard-hit cases like Florida and Texas have continued to decline amid the latest surge in infections, as officials see the median age of those infected drop by a decade or more.
But as a team of JPM analysts noted in a note to clients, hospital capacity across the US isn't actually as stretched as it was during the early weeks of the outbreak - before it hit its "peak" in NYC and the surrounding area - as hospital managers in Houston have assured the public that they have plenty of overflow capacity to bring online.
To be sure, left wing conspiracy theorists like Rachel Maddow have reported that people are dying in the halls of Arizona's hospitals, a laughable farce, to be sure. One official from Arizona Children's Hospital claimed that the state's health-care system could be overwhelmed by the beginning of July (ie next week).
Rachel Maddow: 'The federal government is just abandoning ship' on stopping the coronavirus

Hospitals in Arizona have patients in hallways because they are maxed!

The Feds are using Covid19 to exterminate Americans!#wtp2020 https://t.co/AP38VHzKeJ

— DeeJay 🏳️‍🌈 (@barhacuda) June 25, 2020
As the data, packaged here by JPM analysts, clearly shows, no state is seeing capacity stretched to extremes - at least not yet.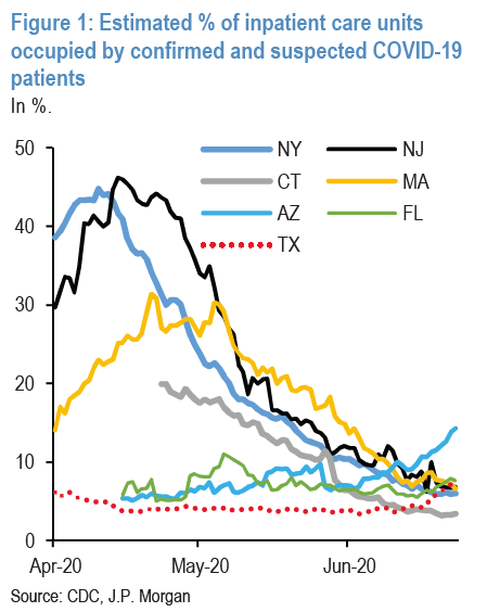 * * *
Update (1145ET): Arizona just reported its daily figures for Saturday (remember, these data are reported with a 24-hour delay). After a brief respite from record numbers, the state reported a record jump of 3,591 cases, which is bang-on tied with the last record number from June 23, though it's slightly lower in percentage-point terms.
ARIZONA DAILY VIRUS CASES JUMP 5.4%, BY A RECORD 3,591
ARIZONA CORONAVIRUS CASES RISE BY 3,591 ON SATURDAY, TIED WITH JUNE 23 FOR BIGGEST DAILY INCREASE SINCE PANDEMIC STARTED – STATE HEALTH DEPT
The most recent data from the Arizona Department of Health Services showed 87% of beds in intensive care units are occupied, down from an all-time high of 88% from Wednesday and Thursday.
The number of new infections have continued to climb since Trump's rally in Phoenix on Tuesday, though numbers were trending higher before that. New cases are climbing in 33 states, but 16, including Arizona, have seen consistent and troubling growth beyond what increases in testing would lead one to expect. The State's governor has pleaded with Arizonans to stay home and wear masks,
* * *
As we noted last night, the US recorded a third record jump in new COVID-19 cases, with 45,942 cases reported, helped along by a staggering ~9k print out of Florida and thousands of new cases in California, Texas and Arizona. Florida's latest numbers have been so sever, that they finally pushed Gov Ron DeSantis to shut down bars in the state, following the lead of Texas Gov Greg Abbott. Following his decision to roll back some of the lockdown easing, Abbott said last night that if he could have done one thing differently, he wouldn't have reopened the bars so quickly.
Nationally, more than 44k new cases were reported today. That's the third straight record day. pic.twitter.com/ahY6WvRLC6

— The COVID Tracking Project (@COVID19Tracking) June 26, 2020
"f I could go back and redo anything, it probably would have been to slow down the opening of bars..." Abbott said during an interview with the local Texas press Friday evening. He added that the bar setting "in reality, just doesn't work with a pandemic..."
Dr. Fauci joined the chorus of experts warning that it's only a matter of time before deaths start increase in line with the new case totals. But on Friday, the 7-day national average for daily deaths reported continued to decline day over day.
States reported 619 deaths.

The 7-day average fell to 556. pic.twitter.com/FoymaF05NK

— The COVID Tracking Project (@COVID19Tracking) June 26, 2020
DeSantis, on the other hand, drew the ire of Bloomberg and the increasingly-critical mainstream press after he snapped at a reporter. When asked if he would have done anything differently, he defiantly responded "like what?" That...probably wasn't the best reaction from an optics standpoint, especially now that his state has kicked off the weekend with another record jump in new cases, suggesting that the US might be on track for a fourth-straight record jump as the outbreak in 16 states mostly along the American sun belt (encompassing most of the south and west) worsens.
Florida reported 9,585 new coronavirus cases, another 7.8% increase (in line with the percentage increase seen in the last few days). That's compared with 8,942 cases reported yesterday. It was the second record jump in a row for the state. In just over a week, the state has reported ~40,000 new cases, or roughly 1/3rd of the statewide total since the pandemic began.
Florida's new state totals include:
132,545 cases
14,136 Floridians hospitalized
3,390 deaths of Florida residents
Testing continued to climb across the US, even as the number of new confirmed cases far outpaced the increase in testing, as even VP Mike Pence acknowledged last night.
The situation is getting worse in Florida, if that's even possible. More than 9,500 new cases reported today. WOW. pic.twitter.com/z70cGDUeNw

— Charles Ornstein (@charlesornstein) June 27, 2020
The percentage of positive tests, a new critical metric that is being closely followed by investors and epidemiologists alike, has continued to climb in many of the hardest-hit states.
This chart looks at per-capita testing rates and the percent positive. Arizona is all by itself, but South Carolina and Florida are moving rightward. pic.twitter.com/H1Yl7VxzIA

— The COVID Tracking Project (@COVID19Tracking) June 26, 2020
South Florida, particularly Miami-Dade County, remains the worst-hit part of the state, reporting roughly a quarter of the statewide total.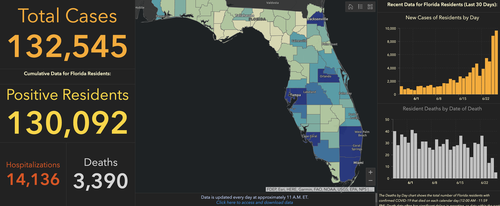 Source: FLA Dept of Health
Hours after Gov DeSantis ordered bars closed, Miami-Dade Mayor Carlos Gimenez announced late Friday that he would shut the city's most popular beaches for the Independence Day holiday weekend, probably the most aggressive step, economically speaking, as the weekend is typically a busy one during an otherwise slow summer season.
Gimenez said in a statement that the five-days suspension starting July 3 would be extended "if conditions do not improve."
After consulting with our County's public health experts, I will be signing an emergency order on Saturday to close all beaches in Miami-Dade County starting Friday, July 3, and ending Tuesday, July 7. More info: https://t.co/oSgkrB8CrS pic.twitter.com/CydnVmljz5

— Mayor Carlos A. Gimenez (@MayorGimenez) June 27, 2020
Internationally, Brazil and Latin American continue to contribute more to the global total as the great rebound continues. Even Europe saw cases rise for the second straight week as easing lockdowns have led some local officials to reinstate strict social distancing rules and even lockdowns. Though, per capita, Arizona alone is still outpacing every European country, including Italy, Spain and the UK.
Elsewhere, Tokyo reported 57 new cases on Saturday, the most since Japanese PM Shinzo Abe finally lifted the state of emergency order from the last few prefectures, including Tokyo. The capital city has been by far the biggest hot spot in the country.
Australia reported 47 new cases, its highest daily jump since April 17. New South Wales, Australia's most populous state, is requiring all returning travelers to get tested for the virus. The region reported 6 new cases on Saturday, while the rest were tied to an outbreak in Victoria State.