---
Foreigners Bought A Record Amount Of US Stocks In The Year Ending October As China Kept Dumping Treasuries
For the fifth straight month, China dumped Treasury holdings in October (the latest data for which TIC is available)...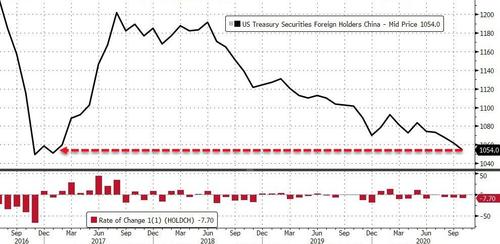 Source: Bloomberg
This is the lowest level of Treasury Holdings since January 2017.
Broadly speaking, October was unremarkable in total foreign flows: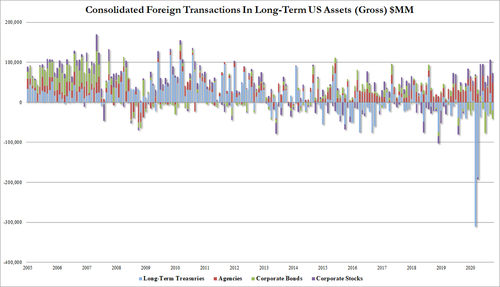 Foreigners sold $20BN in TSYs in October, a reversal from their purcahses of $22.5BN in September.
They doubled down on purchases of Agencies, buying $48.9BN in October after buying $46.2BN in September.
And while they sold $21.5BN in corporate bonds, the second consecutive month of selling after selling $28.7BN in September.
They purchased $24.1BN in equities in October, the 6th consecutive month of purchases...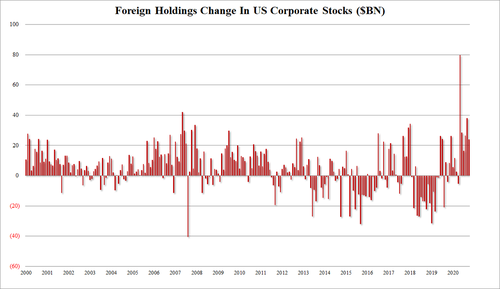 But what really stood out, foreigners bought a record $262.8 billion in US equities in the LTM period ending October 2020: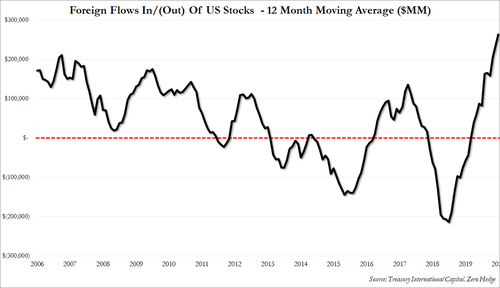 As the chart shows, that is a huge swing from record selling of $214.6BN in just April of 2019.
After a record stretch of selling which ended in May 2020, foreign central banks bought US Treasury for 3 consecutive months in Aug, Sept and Oct, the longest stretch of buying since June 2014...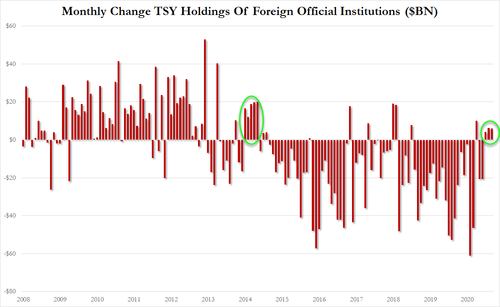 Belgium was the biggest buyer of USTs in October (cough China proxy cough), along with UK and India...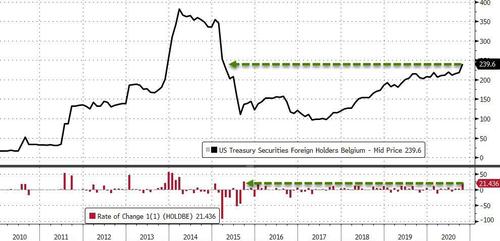 Even so, however, foreign central bank net flows in the past 12 months is a negative $174.1BN, as they have been mostly selling US paper in the past year...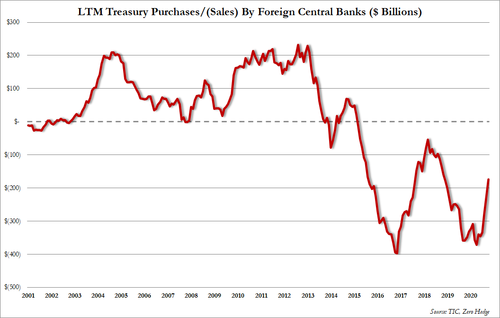 Finally, we note that while Treasury holdings overall are rising modestly, but have a long way to go to match the de-dollarization trend seen in gold holdings over the past year...