---
Former Malaysian PM Guilty On All Counts In Sweeping 1MDB Corruption Case; Sentenced To 12 Years In Prison
Days after Goldman Sachs agreed to fork over nearly $4 billion to the Malaysian government as penance for aiding and abetting the criminals who looted more than $4 billion from 1MDB (a sovereign wealth fund financed by several bond issues underwritten by Goldman Sachs), former Malaysian Prime Minister Najib Razak has been found guilty on 7 charges related to the scandal.
The charges were handed down more than two years after Razak's arrest, and more than a year after his first trial began. The former PM was swept out of office a few years ago in a wave of reformist sentiment as the depredations of his administration fueled a tremendous public backlash.
Shortly after the verdict was handed down, the former leader and politician was sentenced to 12 years in prison, a sentence that - if it stands - could encompass the rest of 68-year-old Razak's natural life.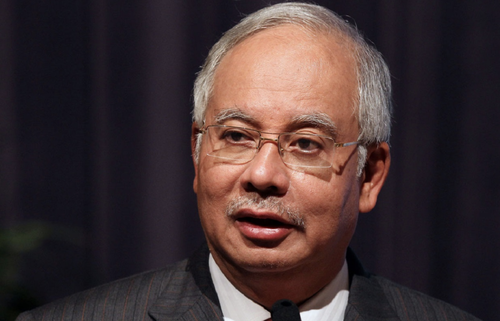 High Court judge Nazlan Mohammed Ghazali found the former PM guilty on all counts, including abuse of power, money laundering and criminal breach of trust. The current trial relates to $10 million that was deposited into Razak's personal bank account via 1MDB. During the early days of the scandal, which was exposed by dogged reporters from the Wall Street Journal, Razak claimed that some $700 million deposited into personal accounts under his control had been given to him by a member of the Saudi royal family.
Ahead of Tuesday's verdict, Razak wrote on Facebook that "no matter what the decision is tomorrow in the High Court, it doesn't end here," suggesting that he plans to appeal.
"I don't give up," Razak added.
Assalamualaikum dan salam sejahtera. Esok 10 pagi penghakiman kes SRC saya di Kompleks mahkamah KL. Saya tahu apa di...

Posted by Najib Razak on Monday, July 27, 2020
Tuesday's ruling is the first judgment against Razak, who faces a variety of charges related to the now bankrupt sovereign wealth fund, including allegations he used it as his personal piggybank.
Najib faces a lengthy prison term that could potentially see him locked up for the rest of his natural life, as each of the 7 charges handed down on Tuesday carries a prison sentence of between 15 and 20 years.
1MDB was created shortly after Najib, the scion of one of Malaysia's most powerful political families, was elected in 2009.
The fund had the stated purpose of leading "market-driven initiatives to assist the government in propelling Malaysia towards becoming a developed nation that is highly competitive, sustainable and inclusive." Instead, according to prosecutors in the US, Malaysia and elsewhere, 1MDB was used as a "slush fund" by Najib, his chief financier Jho Low (now an international fugitive despite settling DoJ allegations after paying a $700 million+ settlement).
DoJ claimed the scandal swindled $4.5 billion from the American people.