---
Former NATO Head: Some NATO Countries Are Considering Sending Troops To Ukraine
Authored by Kyle Anzalone via The Libertarian Institute, 
The former civilian head of the NATO alliance is warning that some Eastern European states are prepared to send their soldiers to Ukraine if the bloc does not make significant pledges to Kiev during an upcoming summit. 
Anders Rasmussen, former NATO Secretary-General and current adviser to Ukrainian President Volodymyr Zelensky, is touring Europe and Washington to gauge the level of support Kiev should expect at the Vilnius Summit in July. "I think the Poles would seriously consider going in and assemble a coalition of the willing if Ukraine doesn't get anything in Vilnius," he said. "We shouldn't underestimate the Polish feelings, the Poles feel that for too long western Europe did not listen to their warnings against the true Russian mentality."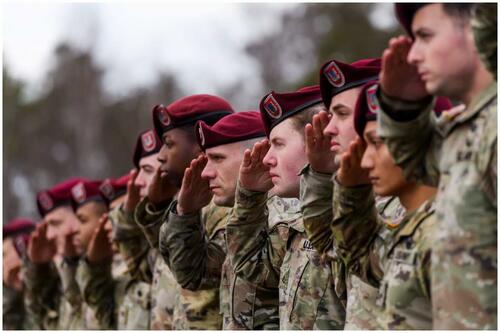 Poland and the Baltic States may send troops to Ukraine if the alliance fails to make a strong enough commitment to Kiev in Lithuania, according to Rasmussen. "If Nato cannot agree on a clear path forward for Ukraine, there is a clear possibility that some countries individually might take action. We know that Poland is very engaged in providing concrete assistance to Ukraine." He continued, "I wouldn't exclude the possibility that Poland would engage even stronger in this context on a national basis and be followed by the Baltic states, maybe including the possibility of troops on the ground."
For several months, members of the North Atlantic Alliance have debated how to upgrade Ukraine's status at the Vilnius Summit. Eastern European members and Kiev are seeking a concrete path to membership with a timeline for when Ukraine will be permitted to join. Some Western European states and Washington do not agree and prefer to focus on the war with Russia.
A subgroup of Eastern European countries within NATO dubbed the "Bucharest Nine" issued a statement on Tuesday calling for Ukraine to receive a path to membership. "We expect that in Vilnius, we will upgrade our political relations with Ukraine to a new level, and launch a new political track that will lead to Ukraine's membership in NATO, once conditions allow," the statement continued. "We will continue our support to Ukraine on this path."
French President Emmanuel Macron said last month Paris will not support full membership for Kiev. Macron called for NATO to "build something between the security provided to Israel and a full-fledged membership." 
There appears to be a consensus among members of the North Atlantic alliance on arming Ukraine as part of a significant multi-year commitment. "America and our allies are helping meet Ukraine's needs on the current battlefield while developing a force that can deter and defend against aggression for years to come," Secretary of State Antony Blinken said during a speech in Finland on Friday. "That means helping build a Ukrainian military of the future, with long-term funding."
Anders Rasmussen has been engaged with Ukrainian leadership on behalf on NATO...
Yesterday, I was in Kyiv to present recommendations on security guarantees to President @ZelenskyyUa.

Ukraine is showing that with the necessary resources, it is more than a match for Russia on the battlefield.

Now Ukraine's allies must step up for the long-term. pic.twitter.com/96CEJy3DVT

— Anders Fogh Rasmussen (@AndersFoghR) September 14, 2022
Rasmussen claimed that Macron was beginning to budge on the issue. "After a slow start, momentum was now building behind these ideas," including in France, he said. Rasmussen noted that some members, such as Germany, believe that giving Ukraine a path to membership could provoke Russia. 
However, the former NATO Secretary-General believes that some member states threatening to send troops to Ukraine will push Berlin and others to give Kiev a quick path to membership in the alliance.
Loading...