---
Four Americans Kidnapped By Armed Gunmen From Minivan In Mexico
President Biden's disastrous border policies put the safety of the American people at risk, as an announcement by the Federal Bureau of Investigation (FBI) said four Americans were kidnapped and assaulted upon crossing into northeastern Mexico from Texas. 
On Friday, four Americans crossed into Matamoros, Tamaulipas, Mexico, driving a white minivan with North Carolina license plates. Shortly after crossing into Mexico, "unidentified gunmen fired upon the passengers in the vehicle... all four Americans were placed in a vehicle and taken from the scene by armed men," the FBI wrote in a statement.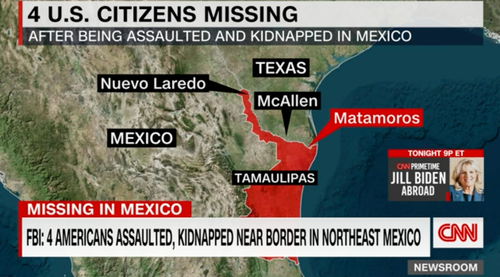 CBS News' Christina Ruffini reports a Twitter post shows the moment four Americans were kidnapped in Mexico. Ken Salazar, US ambassador to Mexico, said in a statement that "an innocent Mexican citizen was tragically killed" in the same incident.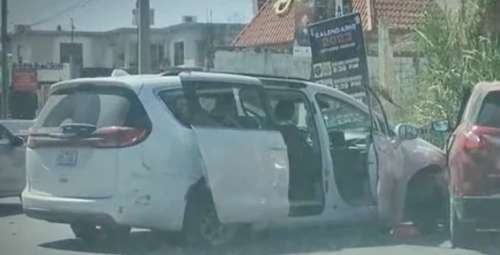 According to Salazar, American law enforcement officials are collaborating with Mexican authorities to ensure the kidnapped Americans' safe return.
After reports of the kidnapping began circulating on local media outlets, the US consulate in Matamoros issued an alert on Friday.
Event: The US Consulate Matamoros has received reports of police activity occurring in the vicinity of Calle Primera and Lauro Villar in connection to a shooting. Media reports indicate that one individual has been killed. US government employees have been instructed to avoid the area until further notice. The US Consulate General reminds US citizens that Tamaulipas is classified as Level 4: Do Not Travel in the State Department's travel advisory for Mexico.
How long will it take for the Biden administration to acknowledge the missing Americans? 
Loading...