---
France Builds New Military Hospital In Preparation For War
On his second day in Marseilles, Tuesday, June 27, Macron announced that a new military hospital would be built on the Sainte-Marthe site by "the beginning of the next decade," reports CNews.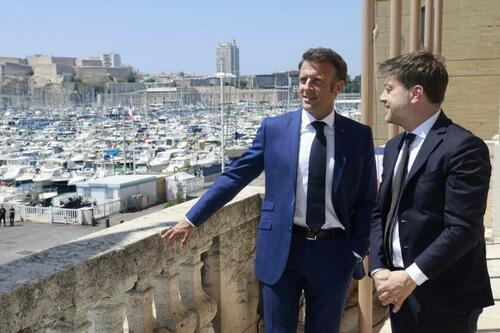 French President Emmanuel Macron, left, meets with Mayor of Marseille Benoît Payan as he arrives at the city hall for a three-day visit in Marseille, southern France, Monday, June 26, 2023. (Guillaume Horcajuelo/Pool Photo via AP)
French President Emmanuel Macron announced the construction of a military hospital in Marseilles, with the facility intended to "prepare France for a possible high-intensity war."
Although Macron said in a statement that the hospital will be able to provide a range of healthcare services, it will "play a key role in the event of a major war," the president said, adding that "the next-generation medical center is intended to meet the needs of the army for decades to come."
Since the outbreak of the war in Ukraine, more and more European countries are rethinking their combat strategies and developing their armed forces.
Many nations are now trying to prepare for a possible imminent conflict, in which the most advanced and powerful combat equipment, excluding nuclear weapons, is expected to be deployed. For France, the new hospital will fulfill the role of being able to "treat more serious combat casualties," according to Macron, who said the facility will cost the government €300 million to construct.
It will not be the first military hospital in Marseilles. The Laveran hospital has been in operation for a long time, but local authorities believe it is no longer modern enough to meet the challenges of the war in Ukraine or future conflicts to come.
Loading...