---
France To Disperse Migrants From Paris To Countryside Ahead Of Rugby World Cup & Olympics
Authored by Thomas Brooke via Remix News,
The French government will offer the incentive of permanent accommodation in rural communities for those who enroll in the scheme, as the French capital seeks to improve its image ahead of hosting the two global sporting events...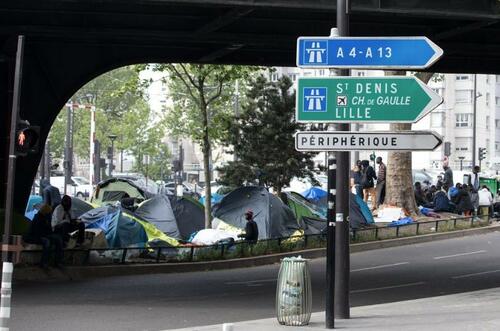 The French government plans to relocate migrants currently living on the streets of Paris to temporary accommodation in the countryside in an attempt to improve the city's image ahead of hosting the Rugby World Cup later this year and the 2024 Summer Olympics.
In a circular distributed among government officials and seen by French newspaper Le Monde, migrants will be encouraged to head to rural provinces with a guarantee of accommodation and greater access to social services.
According to the circular, the Ministry of the Interior expects the first places for the scheme to be available later this month, with 500 places eventually being opened across 10 regions.
Parisian authorities have failed to provide sufficient accommodation for the increasing number of new arrivals. Asylum seekers and migrants have, for several years now, survived in the capital in undignified conditions, often found pitching tents outside the city hall or using parking lots and metro stations as semi-permanent homes.
Emergency accommodation is saturated across the Paris region, and the local government is reluctant to open up the city's hotels to house homeless migrants, as they prefer to keep these free ahead of hosting both the Rugby World Cup in September this year and the 2024 Summer Olympics next July.
The leaked circular states that those who voluntarily enroll in the scheme will be offered accommodation in rural communities, including those who are in an irregular situation.
Those who are specifically subject to an obligation to leave French territory, known as an OQTF, will even have their cases re-examined, with the circular stating that "an updated examination of each situation is necessary" to assert whether new elements, such as human rights to a private and family life, can be used to justify the right of residence.
"Many situations are very poorly known, and some people probably already meet the conditions for obtaining a residence permit," it states.
The government is hoping that the incentive of potential future residence rights will attract those currently living on Parisian streets to relocate and help the French government present its capital in a better light as the world watches on.
"We want the temporary accommodations to allow the entire procedure to be organized," stated Sylvain Mathieu, the Interministerial Delegation for Accommodation and Access to Housing (DIHAL), which is piloting the project in collaboration with the French Interior Ministry.
"In particular, we are asking the prefectures that host these shelters to provide premises reserved for the evaluation of administrative situations by government services, while respecting the confidentiality of exchanges," added Eric Jalon, the director general for foreign nationals in France.
Loading...