---
France Deploys 'Armored Military Vehicles' To Combat Nationwide Riots
Update (1545ET):
There are reports of "Tactical units driving through the streets of Marseille." 
Here we go 👀 🇫🇷 pic.twitter.com/yoqTj0ivth

— Mark (@markmaycot) June 30, 2023
What the Twitter user is saying above lines up with France 24's report:
🔴🇫🇷 The French gendarmerie will use armoured vehicles to suppress riots, PM Elisabeth Borne said Friday

"Additional mobile forces" would be deployed along with the vehicles belonging to the military unit, Borne said 👇 #nahel #nanterre pic.twitter.com/AW82OeY2Mj

— FRANCE 24 English (@France24_en) June 30, 2023
Maybe this is why France needs military vehicles on the streets of Paris. 
OPEN BORDERS🧵: Largely unarmed, French citizens are at the mercy of roving immigrant gangs armed with machine guns. pic.twitter.com/sCQogZC97b

— @amuse (@amuse) June 30, 2023
🚨🇫🇷 France in last Hour

A glimpse into the not too distant future.

Wake up please. pic.twitter.com/ET3oTTj0Le

— Concerned Citizen (@cotupacs) June 30, 2023
Is France a third-world country? 
*   *   * 
Update (1235ET):
President Emmanuel Macron's government struggles to contain social unrest across the country.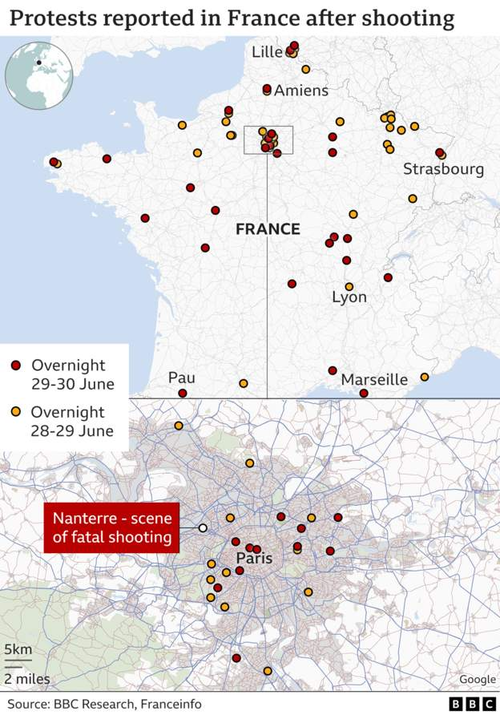 French interior minister, Gérald Darmanin, said overnight chaos has resulted in 2,000 cars burned, 500 buildings damaged, hundreds of businesses looted, and violent clashes with police. He said over 800 people were arrested, with nearly 250 officers injured. 
Earlier, Macron blamed social media for fueling 'copycat violence,' and said state agencies would ask Twitter, Snapchat, and Tiktok to ban the most "sensitive content." 
Riots and vandalism continued throughout the day Friday. Darmanin said buses and trams would be shut down by 9 pm local time nationwide to suppress the overnight unrest. 
Here are more scenes of the chaos:
France after 3 days of riots. pic.twitter.com/AaOC73JQnq

— Felize (@Vigilantefilly2) June 30, 2023
Looting the Apple Store in Strasbourg.

Not a Macron man to be found.

France is spiraling in real time. pic.twitter.com/hII4qMbNkE

— Citizen Free Press (@CitizenFreePres) June 30, 2023
Scary 🆘. Triste 😢 Can't go out with kids. France 🇫🇷😢
This is not protestations. This is looting. #France #FranceProtests #FranceRiots #franceViolence #Emeute #Nael #Paris #Apple #LouisVuitton pic.twitter.com/DvHBKyMfLf

— Santosh Gupta (@santoshskm) June 30, 2023
#BREAKING: Members of the #RAID team of #France's national police have been deployed in #Lille. They are arresting violent protesters, who have been engaging in mass looting.

Protesters seem to be primarily #African, likely of #Algerian and #Moroccan descent.… pic.twitter.com/09jgmAhrxg

— Hexdline (@HexdlineNews) June 30, 2023
*   *   * 
The police killing of a 17-year-old during a traffic stop on Tuesday has unleashed three consecutive days of social unrest across France. 
Bloomberg reports more than 600 people were arrested Thursday night into Friday, with a majority of them between the ages of 14 and 18. 
France showing heat map of riots

This after the pension riots and fuel riots pic.twitter.com/UQ5lV02NwJ

— Kalu Aja (@FinPlanKaluAja1) June 30, 2023
Rioters targeted municipal buildings, town halls, and libraries in various major cities, stores were looted, and all hell broke out nationwide as the government deployed 40,000 police officers yesterday afternoon to quell the violence. About 200 officers were injured overnight in the Paris suburb of Nanterre, where the teen was killed. 
The unrest is so bad that President Emmanuel Macron left an EU summit in Brussels, where he will hold another emergency security meeting Friday, AFP reported, citing his office. 
Video and pictures on social media of the rioting are absolutely shocking. 
France has fallen...

Police are unable to control the migrant and left-wing riots taking place across the country. French media has surrendered and cannot keep track of the number of towns and cities across the country being looted, set on fire, and destroyed.

Islamic attacks,… pic.twitter.com/s0m4CRLjIL

— Amy Mek (@AmyMek) June 30, 2023
A large shopping center in the suburbs of Paris is completely destroyed by fire. #FranceRiots pic.twitter.com/75Q78qVj0b

— Paul Golding (@GoldingBF) June 30, 2023
#WATCH : A huge fire is raging in an RATP bus depot in Aubervilliers (Paris suburb) #emeutes #Nanterre#FranceRiots #FranceProtests #RiotsFrance #Paris #FranceProtests #franceViolence pic.twitter.com/O8j46ixrin

— upuknews (@upuknews1) June 30, 2023
🇫🇷🇫🇷🇫🇷#France is in a Mess#France #Protests #Riots pic.twitter.com/pwG3Vmfs92

— Freedom (@MassAdi15176401) June 30, 2023
Protestesters in France burning down the largest public library in the city of Marseille. #Paris #Internationalleaks #France #FranceRiots pic.twitter.com/cNwNsPmS0a

— The Notorious HbK (@The5HbK) June 30, 2023
France has some serious demographics problms that seems to increase by the day. This is going to be tough. The future doesn't look too bright. Paris must learn from Poland. #FranceRiots must be eye opening.

This is Cultural Enrichment in #Macron's #Francepic.twitter.com/JPGG6HFdTZ

— Mukesh Chaudhary (@MukeshG0dara) June 30, 2023
Burning bus stations, banks, police stations, cranes, and car bombs.

This is Cultural Enrichment in #Macron's #France#PARIS #Nanterre #FranceRiots #FranceProtests #RiotsFrance #protest #protests pic.twitter.com/6NtbRRyZzl

— MidnightVisions (@MidnightVision5) June 30, 2023
The front entrance of a grocery store in #Nantes, #France has been smashed by a car and is curretly being looted, as Muslim riots enter the 3de night. pic.twitter.com/LXeGS9Fo1z

— Sotiri Dimpinoudis (@sotiridi) June 29, 2023
The looting of an Apple store in France.https://t.co/ryUF9UkUAP

pic.twitter.com/kXaJyx8ken

— Russian Market (@runews) June 30, 2023
NOW - Looting, violent riots spread to several cities in France. The situation is out of control in parts of the country. pic.twitter.com/ngsGcVVNol

— Disclose.tv (@disclosetv) June 30, 2023
Muslims in the french city of #Rennes have stolen a forklift from an construction site and are destroying infrastructure, as violent Muslim riots enters its 3de night in #France. pic.twitter.com/u8Vkux91HU

— Sotiri Dimpinoudis (@sotiridi) June 29, 2023
If Macron wants to get a grip on the violence, he might have to declare an emergency. Fox News said the president has been close to announcing one but has stopped short. 
"Nothing justifies the violence that's occurred," said Prime Minister Élisabeth Borne. 
Borne is correct. Looting stores and burning buildings isn't a typical response for those grieving over the death of a young man killed by police. France is supposedly a first-world country with a law and judicial system that will ensure justice will be served. 
We must ask critical questions, perhaps some that will trigger mainstream journos, of who exactly is sparking these riots. If it's organized crime gangs, migrants, or just teenagers. 
Loading...