---
US Hospitalizations Soar Almost 40% In One Week; Wisconsin Sees New COVID-19 Record: Live Updates
Summary:
Wisconsin reports another record jump in cases, deaths
Hospitalizations soar across US
Flanders closes gyms, pools
The Netherlands warns of first return to full lockdown in Europe
Switzerland running out of ICU beds
Russia begins production of a second vaccine
Arizona daily cases back above 1k
Pfizer says critical vaccine data won't be ready before election day
French officials weigh lockdown as they meet about next steps
Another German district heads into partial lockdown
Russia refuses to enter new lockdown as cases continue to climb
German economy minister warns on rising infections
Eli Lilly announces end to NIH trial for antibody treatment
London researchers make breakthrough discovery on antibodies
* * *
Update (1445ET): Wisconsin just reported another daily record in deaths and cases, according to Gov Tony Evers, who just kicked off his afternoon briefing.
Join us at 1:30 pm this afternoon for our live media briefing. I will join @DHSWI to provide the latest updates on COVID-19. We need to get back to the basics of fighting this virus, together.

Tune in here ⬇️ https://t.co/hW51zDgwUo

— Governor Tony Evers (@GovEvers) October 27, 2020
The state has been credited with provoking the surge in cases in the US.
* * *
Update (1415ET): It's just past 1400 on the East Coast, and just minutes ago headlines surfaced on twitter claiming PM Mark Rutte of the Netherlands had hinted about a return to a "full lockdown", which would make the Netherlands the first major European country to return to a full-blown nationwide lockdown akin to the spring.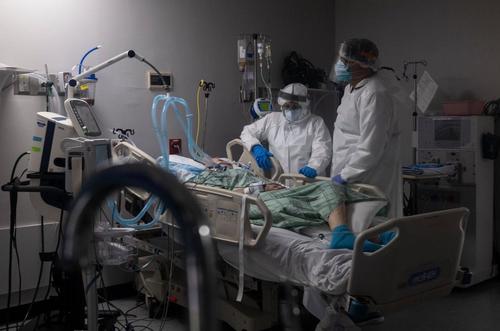 Lawmakers recently gave the PM power to assert emergency restrictions on social distancing, or even order a lockdown, if deemed necessary by the government he leads.
In nearby Flanders, local officials have decided to close gyms and swimming pools, as Brussels remains one of the worst hit countries in Europe in terms of cases.
Back in the US, COVID-19 hospitalizations have risen at least 10% in the past week in 32 states Hospitalizations soared 68% in New Mexico, 50% in Wyoming and 38% in Connecticut, among other notable increases, according to the COVID-19 Tracking Project. South Dakota, Montana and North Dakota have the most patients per capita, as the data show.
Nationwide, the US has 42,917 patients, according to Johns Hopkins. That's the most since Aug. 19, and 37% higher on the week.
Source: mSightly
Still, hospitalizations are well below their highs from the Sun Belt surge over the summer, about 28% lower, in fact.
But here's the kicker: Roughly 6% of our impatient beds are currently occupied with COVID-19 patients. However, since access to resources varies between urban areas and more rural towns that are beginning to see more infections, some states, like Utah, are beginning to feel overwhelmed.
* * *
Update (1200ET): It's noon in the US, so here's a handful of major COVID-19 headlines that have hit this morning.
In Arizona, new cases ticked back above 1,000 (1,157) on Tuesday, while deaths climbed by the largest margin in nearly a week. That's up from 801 on Monday, and 1,040 from last Tuesday.
In England, deaths due to the virus have jumped 5x in a month as the spread picks up pace once again, especially in the northern parts of the country like Greater Manchester where local governments have battled with BoJo over terms of lockdowns and other restrictions.
Switzerland has "no time to lose" and faces another national lockdown as the virus puts the Alpine Country in danger of running out of ICU beds. The head of the Swiss advisory task force, which has been recommending policy related to the virus, said the country is facing a more serious outbreak than in March, though deaths have remained subdued. The country of just 8.5 million reported 5,949 new cases on Tuesday. The Swiss governing council, which makes the ultimate decision,, will meet on Wednesday to discuss next steps.
"We have no time to lose. There are no alternatives to drastic measures," the president of the advisory Covid-19 taskforce said on Tuesday, adding that the situation is more serious than in March during the peak of the first wave of the pandemic.
Russia has begun production of a second COVID-19 vaccine that hasn't completed trials as the Kremlin rushes to develop a shield against the pandemic, with output for the vaccine, developed by former biological weapons lab Vector State Virology and Biotechnology Center in Novosibirsk, set to ramp up by the end of the year, Anna Popova, the head of Russia's public-health watchdog, said at a conference Tuesday, according to Bloomberg. Putin announced approval of the vaccine by Russian regulators earlier this month.
* * *
Update (1115ET): Pfizer's CEO Albert Bourla may no longer be President Trump's favorite, after confessing that preliminary data on the efficacy of Pfizer's vaccine candidate won't be coming later this week, like he had promised during a recent letter to investors, where he said the vaccine would be ready at "the speed of science", before explaining that the company was shooting to apply for an EUA from the FDA by late November.
And like liberals like to remind us, science doesn't conform to political priorities.
On a call with investors Tuesday, Pfizer CEO Albert Bourla said that the company doesn't expect to make any announcement on its trial until at least a week after the data and safety monitoring board conducts its review of the company's phase three vaccine trial. The board, which will assess whether its trial with German drugmaker BioNTech has been successful, has not conducted an interim efficacy analysis yet, Pfizer said.
Bourla urged "patience", but savvy investors probably understood that is initial timeline was overly optimistic, slanted to appeal to shareholders, along with the so-called "Audience of One".
"Let's all have patience," Bourla said on the call. "I know how much the stress levels are growing. I know how much the vaccine is needed for the world." The phase three trials are a critical last step needed to get the vaccines cleared for distribution. Three other U.S.-backed candidates are in phase three: Moderna, AstraZeneca and Johnson & Johnson.

Pfizer expects to apply for an emergency use authorization with the Food and Drug Administration next month. Since early September, Bourla has repeatedly said the company could have late-stage vaccine trial data as early as October. The timeline drew concerns and skepticism from infectious disease experts and scientists who also feared a vaccine authorization could be influenced by politics, not science. President Donald Trump has insisted a Covid-19 vaccine could be ready before Election Day.

Earlier in the day, Pfizer said it had enrolled more than 42,000 volunteers in its late-stage trial. It said nearly 36,000 of the volunteers have already received the second of its two-dose Covid-19 vaccine. In September, Pfizer expanded the enrollment of its phase three trial to up to 44,000 volunteers from the initial target of up to 30,000. The vaccine contains genetic material called messenger RNA, or mRNA, which scientists hope provokes the immune system to fight the virus.
Meanwhile, WSJ pointed out that coronavirus fatigue is real, and might be spreading as quickly as the virus itself.
* * *
Already Tuesday morning we are seeing some headlines out of Europe that portend more headlines that could spook markets later on in the session. For starters, a second Bavarian county has declared a partial lockdown. Rottal-Inn has recorded well over 200 new infections per 100,000 inhabitants over the past week, well above the threshold of 50  new infections per 100,000 people at which new measures are required.
On Tuesday, the Robert Koch Institute reported 11,409 new infections, bringing Germany's total to 455,829. Another 42 people died on Tuesday, bringing the country's overall virus death toll to 10,098. Hospitals and ICUs are filling up again and German Chancellor Angela Merkel has expressed grave concern, saying the current restrictions are not strong enough to slow down the spread of the virus, as the country widely expects her government to impose more nationwide rules shortly. These could include closing restaurants and stopping live events.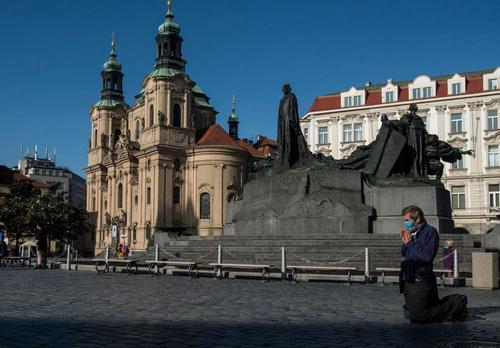 Merkel will meet with the state governors Wednesday. The German press has reported that new restrictions are expected, including taking school closures and restrictions on nonessential businesses nation-wide. It comes after Italy, Spain and a host of other European countries imposed new COVID-inspired restrictions over the weekend.
But looking ahead, all eyes are on France, where a government minister recently warned the pace of infections might be as high as 100k/day, 2x the official total. On Wednesday, President Emmanuel Macron, Prime Minister Jean Castex (Macron's virus point man) and other top officials are meeting to discuss new nationwide restrictions, possibly including another brief lockdown, something that Macron has said would be 'unavoidable' if the condition deteriorates beyond a certain point.
The Local published a handy guide to the different types of measures reportedly under consideration, which, at this point, is either localized lockdowns (Paris, Lyon and Marseille and possiby other cities and metro areas) or a nationwide closure (text below courtesy of the Local).
1. Total lockdown
The first option is a total, nationwide lockdown such as the one France imposed in March. Back then, the whole country was confined to their homes and only allowed out for short periods to run essential errands such as grocery shopping, medical appointments and walking the dog.
French political commentators say this is the least likely scenario because of the high economic and psychological costs that would entail.
"I think that Macron is desperate to avoid another complete lockdown - for economic reasons but also for reasons of public order. A second "confinement" would be resisted much more widely than the first," The Local's political commentator John Lichfield said.
Delfraissy said the main goals of the government was to protect France's elderly and vulnerable and maintain economic activity, while at the same time reducing the spread of the virus.
If the government were to impose a new lockdown, it would likely be adapted to the lessons drawn from this spring, avoiding to close down parts of society where the health gains were small compared to the economic and social costs - such as primary schools.
"It would probably allow for a certain level of educational activity and a certain number of economic activity," Delfraissy said, adding that this kind of lockdown "could be set in place for a shorter period of time if it were to be introduced now."
He also said this kind of lockdown would likely be followed by a period of curfew such as the one in place now.
2. Local lockdowns
Another option is to continue the government's strategy to adapt measures to local conditions and introduce lockdowns in the country's hardest hit areas.
This would target areas with high levels of spread and areas where hospital struggle to cope with the pressure of new Covid-19 patients, such as Paris, Marseille and Lyon.
"I'd rather have local lockdowns now than a nationwide lockdown at Christmas," Damien Abad, parliament chief for the rightwing opposition Les Republicains, told France Info radio.
3. Weekend lockdowns
The third option would be a lighter and adapted version of lockdown, which could include measures such as a weekend confinement and an earlier curfew than the 9pm curfew currently in place in roughly half of the country.
"This would be much tougher than the curfew currently in place," Delfraissy said about that option.
Such a strategy has received support from a group of doctors in Lyon, who called for a 7pm curfew and a weekend lockdown.
"The situation is serious and we cannot afford to take half-measures any longer," they said in a press statement.
This strategy could also entail closing secondary schools, high schools and universities, such as suggested by Antoine Flahault, Director of the Institute for Global Health at the University of Geneva, which monitors the development of Covid-19 in the world.
We already have taken lockdown measures, they might be sufficient," he told French media.
* * *
Meanwhile, France's small businesses are understandably anxious. On Tuesday morning, the CPME confederation of small and medium-sized businesses warned that a partial or total lockdown could risk provoking an economic collapse. Companies are "much more fragile than in March" and many, especially the smallest, would be incapable of taking on additional debt, the CPME says in statement on Tuesday "We would risk seeing a collapse in the French economy, a sort of unprecedented third wave, this time an economic one," CPME says
Here's some more COVID-19 news from overnight and Tuesday:
Russia is balking at reintroducing tough measures even as its outbreak explodes and deaths hit record highs.  Masks will be compulsory in some public places starting on Wednesday, but the authorities are avoiding action that could hurt businesses. The consumer health watchdog recommended on Tuesday to close bars and restaurants from 11 p.m. to 6 a.m. amid reports that many hospitals are at capacity. Kremlin spokesman Dmitry Peskov said earlier the authorities are confident they can handle the latest wave without a lockdown (Source: Bloomberg).
Eli Lilly said last night that it would be ending clinical trials for patients in a hospital setting after NIH researchers found that BAMLANIVIMAB, one of the antibody therapeutics the company is working on, doesn't help to improve hospitalized patients recovery from advanced stages of the virus, although Eli Lilly noted that all other studies related to its treatment are ongoing. It's the latest setback to therapeutics. The FDA recently gave remdesivir, a drug developed by Gilead originally to treat ebola, the greenlight for widespread use, even as studies show it has little to no benefit (Newswires).
The French government is reportedly mulling a localized lockdowns for the Paris, Lyon and Marseille metro areas, which would include 7pm curfew, a public transport shutdown and closing non-essential shops, while reports noted that a three-week lockdown could start from Friday evening with the details to be announced on Wednesday (Source: Bild).
Germany Economy Minister says that the number of new infections in the nation are rising exponentially and will likely have 20k daily new infections by the end of the week (Newswires).
Imperial College London/Ipsos MORI study among 365k randomly selected adults which conducted tests at home, showed that 4.4% had antibodies in September vs. 6.0% in June which suggested the antibody immunity may not last over time in some of those that were infected. (Newswires) Russia is to impose new COVID-19 restrictions (Source: RIA Novosti).