---
Fresh Missile Barrage Leaves Cities Across Ukraine Without Power Or Water In Sub-Zero Temps
"Another wave of massive Russian attacks on energy infrastructure," Ukraine's Energy Minister German Galushchenko announced Friday, describing a large Russian barrage of dozens of missiles across major cities. "There will be emergency power outages," he added.
Air raid sirens have been blaring throughout the day in this latest wave of strikes, which resulted in electricity and water outages in multiple cities and towns amid sub-zero temperatures. 
Commander of Ukraine's Armed Forces Gen. Valeriy Zaluzhnyi tallied that Russia launched 76 missiles at critical infrastructure throughout the country. He then claimed that national air defenses were able to intercept and down a whopping 60 of the missiles.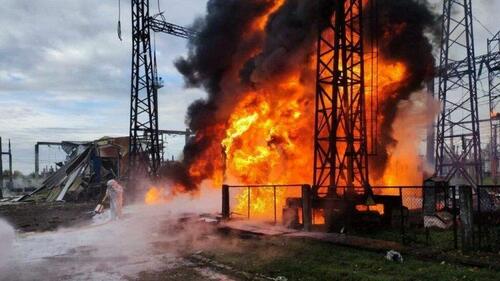 More attacks rocked the capital as well. "Due to damage to energy infrastructure, there are interruptions to water supplies in all areas of the capital," a statement by Kyiv Mayor Vitali Klitschko indicated. City authorities temporarily halted metro lines in order to provide a place for residents to take cover underground while the attacks ensued.
Ukraine's second-largest city of Kharkiv is also completely without electricity, as are the the central cities of Poltava and Kremenchuk, among others. Ukrenergo, the national electric utility, said this has forced the country into a continued rationing situation as emergency crews work around the clock.
"We ask for your understanding regarding the power outages and temporary water and heat supply interruptions," a statement from President Zelensky's office said. 
Filmed from a plane flying over Moldova.

Russian missile strikes in western Ukraine observed. pic.twitter.com/qAQC1V8eKi

— Clash Report (@clashreport) December 16, 2022
Ukrenergo further confirmed that at this point it is unable to meet the electricity consumption needs of over 50% of the country.
The grid operator said, "Considering this is already the ninth wave of missile strikes on energy facilities, the restoration of power supply may take longer than before."

"Priority will be given to critical infrastructure facilities: hospitals, water supply facilities, heat supply facilities, and sewage treatment plants," it said.
Authorities identified at least nine energy generation facilities damaged in Friday's strikes:
ℹ️ Metrics show that today's Russian missile attacks have resulted in a loss of connectivity/power in multiple regions of #Ukraine, with authorities reporting nine energy generation facilities damaged as a result of today's attack with 76 missiles counted at the last update. pic.twitter.com/czvKhBOXCQ

— NetBlocks (@netblocks) December 16, 2022
According to the AFP there were casualties from Friday's wave of aerial strikes, which "killed two people and injured several others — including children — in the southern city of Kryvyi Rih, President Volodymyr Zelensky's hometown."
The Russian military may be upping the pace of the bombardments in response to sustained Ukrainian shelling of Donetsk and Lugansk, which Moscow-installed local officials the day prior had described as the most intense going back to 2014. "In the Russian-controlled region of Lugansk in eastern Ukraine, Moscow-installed officials said shelling from Kyiv's forces had killed eight and wounded 23," AFP continues.
The lack of power in many places is making daily life for Ukrainians all the more miserable amid the ongoing grinding war, especially going deeper into the winter months. On Friday temperatures ranged between minus one and 3 degrees Celsius (or 30 to 37 degrees Fahrenheit) - just below freezing at times. 
Reports of a Ukrainian strike within Russian controlled Irmino, Luhansk region, Ukraine. pic.twitter.com/FmIvSoq9Ew

— Moshe Schwartz (@YWNReporter) December 15, 2022
Meanwhile Russia has continued warning the United States that if it sends Patriot missile batteries to Ukraine, this could "lead to unpredictable consequences". The White House is said to be finalizing plans for the transfer, leading to speculation that NATO personnel might be operating the systems, given it takes many months - possibly up to a year or more - for troops to get proper training on them.
Loading...