---
Fresh Rocket Attack Hits Iraqi Base Housing American Troops
Here we go again: on Monday a barrage of rocket fire targeted an Iraqi military base which houses American troops just north of the capital of Baghdad. 
In total seven were fired, with initial reports saying there were no casualties. "At least five rockets hit the Iraqi military air base of Balad north of Baghdad on Monday, without causing casualties, Iraqi security officials said," Reuters reports.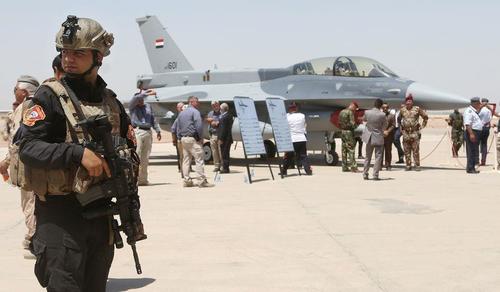 Additionally two other rockets failed to land inside the base, detonating in a rural area without causing casualties. 
Officials have named the usual suspects: "No group immediately claimed the attack, but armed groups that some Iraqi officials say are backed by Iran have claimed similar incidents in the past," Reuters reports further. 
It comes after a spate of similar attacks and tit-for-tat US responses, which notably included Biden two weeks ago ordering airstrikes on 'Iranian militia' positions in far eastern Syria. And crucially Monday's attack comes just days into a truce agreement in which Iran-backed Iraqi paramilitary forces agreed to halt all attacks on American bases.
However, the temporary ceasefire came with this key caveat:
After frantic meetings in Baghdad, Beirut and Tehran, Iranian-backed Iraqi paramilitaries have agreed to stop attacks against US forces in Iraq on the condition that Iraqi Prime Minister Mustafa al-Kadhimi formally demands an American withdrawal, officials and faction commanders told Middle East Eye.

Kadhimi must tell Washington that the pullout has to be completed within 12 months, they added. Sources said it is likely that Kadhimi will comply and make the formal request.
Why are US troops still in Iraq to have rockets launched at them? https://t.co/liIBTzhvFQ

— Jeffrey St. Clair (@JSCCounterPunch) March 15, 2021
Over much of the past year such Shia militia attacks on bases housing US troops have become somewhat "routine" - also with the US embassy in Baghdad's Green Zone often experiencing rocket fire. It appeared intended to ramp up pressure on Washington to finally and fully exit. 
Notably on Sunday Iran's ambassador to the UN Majid Takht-Ravanchi issued a vehement denial that the Islamic Republic is behind the recent rocket attacks. "The Islamic Republic of Iran has not been directly or indirectly involved in any armed attack against any US individual or body in Iraq," he wrote on Sunday, according to Press TV.
While during the last months of the Trump administration he boasted of initiating a drawdown of multiple thousands from both Afghanistan and Iraq, Biden's plan in the region has remain largely undefined and uncertain - with much of it also appearing to hinge on whether the US rejoins the 2015 nuclear deal, or JCPOA.