---
Futures Slide As First Round Of High-Level Russia/Ukraine Peace Talks Stall
After yesterday's optimism-inspired, negative-delta triggered melt up in stocks, futures have slid significantly overnight as lack of options market 'rampage' collateral (until the cash open) combined with a material lack of progress in the first high-level peace-talks between Russia and Ukraine stole the jam from the market's donut.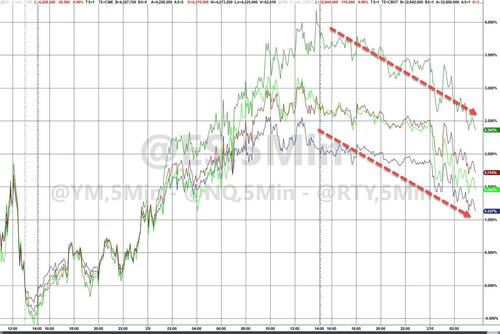 Following the meeting, which lasted around 90 minutes and was situated in Turkey, the two principles - Ukrainian Foreign Minister Dmytro Kuleba and his Russian counterpart Sergei Lavrov - had very little positive to say about the discussion, and reflected the vast chasm between their opposing views remains.
Kuleba had set out Ukraine's three key demands before the meeting with Lavrov -  a cease-fire, an improvement of the humanitarian situation in besieged cities, and the withdrawal of Russian forces from the country.  He would be disappointed...
"The broad narrative he conveyed to me is that they will continue their aggression until Ukraine meets their demands, and the least of these demands is surrender," Kuleba said.
Russia is open to serious talks between the two presidents "but those contacts must have added value," Lavrov told reporters after the meeting, reiterating that Russia is seeking the demilitarization of Ukraine.
"We want a Ukraine that's friendly and demilitarized, a Ukraine in which there isn't a risk of the creation of another Nazi state, a Ukraine where there won't be a ban on the Russian language, on Russian culture," Lavrov said.
Ukrainian President Volodymyr Zelenskiy had earlier said he's willing to consider some compromises on Russia's demand that his country abandons ambitions to join the NATO and adopt a neutral position, but made it clear that "only after the direct talks between the two presidents can we end this war," and that there's been no direct contact between him and Putin.
As Bloomberg reports, three earlier rounds of lower-level talks in Belarus between Russian and Ukrainian officials yielded few results beyond attempts to establish some humanitarian corridors for civilians caught in the fighting.
Loading...