---
G-7 Leaders Respond To China's Economic Bullying At Hiroshima Summit, Warn Of 'Consequences'
Authored by Emel Akan via The Epoch Times (emphasis ours),
Economic security was a major focus on the second day of the Group of Seven (G-7) summit in Hiroshima, with leaders outlining actions to counter Beijing's "economic coercion" and non-market practices.
The G-7 countries—the United States, the UK, Japan, Canada, Germany, France, and Italy—announced on May 20 their plan to address the "disturbing rise in incidents of economic coercion."
"We will work together to ensure that attempts to weaponize economic dependencies by forcing G7 members and our partners, including small economies to comply and conform will fail and face consequences," the G-7 leaders' statement on economic security read.

"We express serious concern over economic coercion and call on all countries to refrain from its use."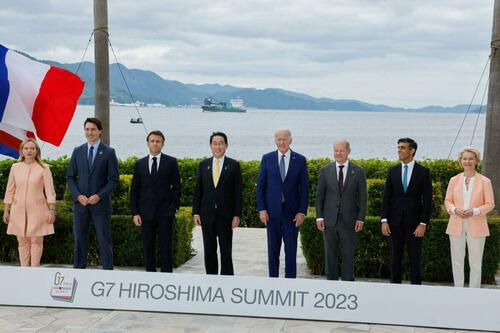 National security advisor Jake Sullivan, who briefed reporters on May 20 on the sidelines of the G-7 Summit, said the leaders agreed to deploy "a common set of tools" to confront China's economic coercion.
"These economic security tools will include steps to build resilience in our supply chains. They will also include steps to protect sensitive technology, like export controls and outbound investment measures," Sullivan said.
However, the leaders are emphasizing that their goal is to de-risk, not decouple from China.
"Our policy approaches are not designed to harm China nor do we seek to thwart China's economic progress and development," according to the G-7 Summit communique released on May 20.
"A growing China that plays by international rules would be of global interest. We are not decoupling or turning inwards. At the same time, we recognize that economic resilience requires de-risking and diversifying."
Leveraging Economic Power
In recent years, China has increased its efforts to leverage its economic might to force political change around the world.
For example, after Australia called for an independent investigation into the origins of COVID-19 in April 2020, the communist regime announced trade sanctions on select Australian products.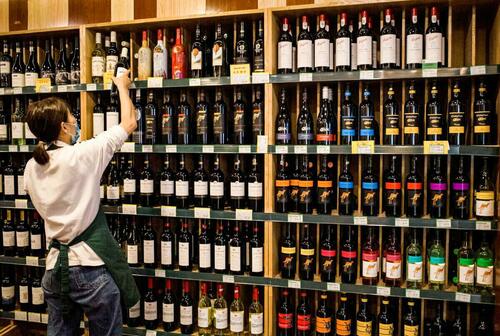 The Chinese regime's economic coercion of Australia has served as a "wake-up call" to other countries, Liz Truss, the UK's Foreign Secretary at the time, warned.
There have been other instances of Chinese coercion in the past, including with Japan, which saw Chinese shipments of rare earth metals blocked due to a territorial dispute in 2010. South Korea faced business boycotts from China in 2017 after installing a U.S. missile defense system. And recently, Beijing retaliated against Lithuania after it attempted to strengthen ties with Taiwan.
China has recently pressured U.S. companies as well. For example, in reaction to the United States placing export bans on advanced semiconductors, Beijing launched a probe into memory chip company Micron. Furthermore, in March, Chinese police stormed the Beijing office of Mintz Group, an American due diligence firm, and detained five Chinese citizens working for the company. Later, Chinese police questioned employees at the Shanghai branch of Bain & Co., an American consulting firm.
UK Prime Minister Rishi Sunak warned about China's growing economic coercion.
"We should be clear-eyed about the growing challenge we face. China is engaged in a concerted and strategic economic contest," Sunak said in his remarks before the meeting on May 20.
To address these issues, the G-7 leaders have announced the formation of a new "G7 Coordination Platform on Economic Coercion."
The new platform "will address the growing and pernicious use of coercive economic measures to interfere in the sovereign affairs of other states," Sunak said.
Read more here...
Loading...