---
Germany To Station 4,000 Troops In NATO's Baltic 'Eastern Flank' Lithuania
The slow march toward potential future direct NATO war with Russia continues, as on Monday Germany made a huge announcement which signals continued escalation, even as Ukraine's counteroffensive fails to make significant gains, and Russia witnesses rare internal "cracks" after the Wagner-Defense Ministry brief armed power struggle over the weekend.
German Defense Minister Boris Pistorius has revealed plans to station 4,000 soldiers in NATO ally Lithuania to assist in securing the alliance's eastern flank. "Germany is ready to permanently station a robust brigade in Lithuania," Pistorius said from Vilnius. Base housing will also be constructed to host the permanent deployment of troops, he described.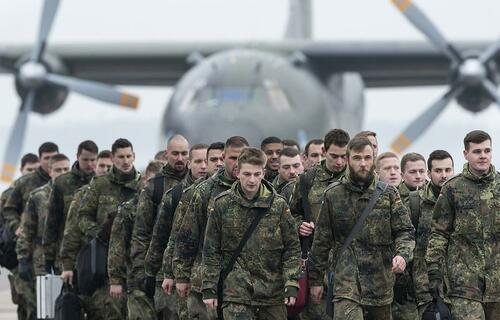 German commanders have already long led a battalion of NATO troops in Lithuania (about a 1,000-strong multinational force), but Vilnius has since the Ukraine war began consistently asked for more reinforcements of German troops in the country.
Lithuania can be considered a Baltic outpost of NATO's military presence in Russia's own backyard, given Lithuania borders the Russian exclave of Kaliningrad. 
In his remarks, Pistorius invoked the Cold War and Iron Curtain, as quoted in Deutsche Welle:
Pistorius explained the altered German stance in part by citing the country's own past, saying that until the end of the Cold War, it was the former West Germany situated on NATO's eastern border to what was then the Iron Curtain. 

"We were the ones who could always rely on NATO partners standing by our side in an emergency and stepping in and fighting with us for our freedom and security in Germany," Pistorius said.

Nowadays, Pistorius said, it was Poland and the Baltic states that were exposed as West Germany once was: "And we as the Federal Republic of Germany commit ourselves explicitly to our responsibility and our obligation, as a NATO member state and as the largest economy in Europe, to stand up for the protection of the eastern flank," he said. 
Subsequently, Lithuanian President Gitanas Nauseda pledged additional financial resources toward bolstering the NATO presence in the Baltics.
"We have a strong political willingness in Lithuania to find the necessary financial resources to be able to finance the infrastructural needs," Nauseda said. He not only met with the German defense chief, but also with NATO Secretary-General Jens Stoltenberg.
Lithuania will of course host next month's major NATO summit in its capital, where it's expected that a push for Sweden's NATO membership will take place, but Turkey is still blocking it.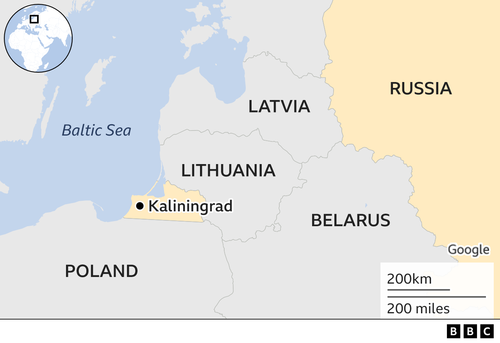 As for Stoltenberg, he said of the weekend crisis inside Russia involving Wagner that it shows Putin's invasion of Ukraine to have been a major strategic "mistake".
"We are monitoring the situation in Russia. The events over the weekend are an internal Russian matter, and yet another demonstration of the big strategic mistake that President Putin made with his illegal annexation of Crimea and the war against Ukraine," he told reporters.
Loading...