---
Texas Sees Another Record Spike As Houston Warns Hospitals Could Be Overwhelmed In 11 Days: Live Updates
Summary:
US cases climbed just 1.1% on Tuesday
Houston set to run out of hospital beds in 11 days
Houston infections should peak in mid-July, according to projections
EU leaves US off list of countries allowed to travel to the bloc
Cali reports another record jump in new cases
French contact tracing app flops
Fla Gov says there's been an escalation in transission
Dr. Fauci says he's "disturbed" by surge in COVID cases
Larry Kudlow says no chance of another lockdown
Disney to reopen Disneyland Tokyo
Arizona reports another record jump
Cases reported in US last week climbed 25% compared with prior week
Dr. Fauci testimony released
Global case total tops 9 million
Dr. Fauci prepares to testify
Tennis superstar Novak Djokovic tests positive
Arizona sees positives top 20%
Georgia sees 7-day average climb toward records
Arizona sees 20% positivity rate among all tests
* * *
Update (1700ET): Texas reports another record jump in cases as hospitalizations hit record high and the Houston area's health care system is on the verge of being overwhelmed.
FLASH: TEXAS posts new COVID spike — record *5,489* new cases, record *4,092* patients in hospital beds

— Steven Dennis (@StevenTDennis) June 23, 2020
Confirmed COVID patients in Texas hospitals went up *381* in just 1 day to 4,092, the 12th record day in a row.

Confirmed 5,489 new COVID cases shatters the previous Texas high of 4,430 cases.

— Steven Dennis (@StevenTDennis) June 23, 2020
The spike continues to be driven by young adults, a common theme across the sun belt...
The most important COVID story right now is the age shift.

In Texas: Young adults driving the spike.https://t.co/7LbB7MWBDR

In Arizona: COVID cases growing 2X faster among ages 20-44 than 65+.

In Florida: Median age of new COVID cases fell from 65 in March to 35 this week —> pic.twitter.com/UOcaeMN0fx

— Derek Thompson (@DKThomp) June 22, 2020
...from Florida to California.
* * *
Update (1600ET): The CDC's numbers released Tuesday afternoon point a more dire picture of the US outbreak, with Tuesday's spike in new cases larger than the 7-day average by a margin of ~30 basis points.
U.S. VIRUS CASES RISE 1.6%, ABOVE PAST WEEK'S 1.3% AVERAGE... nobody cares

— FxMacro (@fxmacro) June 23, 2020
Meanwhile, the outbreak in Miami-Dade is getting really out of control.
So many people are testing positive for COVID in Miami-Dade that today's share of positive test results (26%) is almost off the chart in county's daily dashboard report. pic.twitter.com/mb6adDSzdF

— Doug Hanks (@doug_hanks) June 23, 2020
* * *
Update (1500ET): JHU just reported that the US saw a 1.1% increase in COVID-19 cases over the past 24 hours, per BBG. Coronavirus cases  increased by 24,774 from the same time Sunday, bringing the nationwide total to 2.29 million. The 1.1% increase was below both yesterday's number and the average increase of 1.2% over the past seven days. Deaths, meanwhile, climbed 0.2% to 120,121.
* * *
Update (1340ET): As Spain, Greece and a handful of other European countries begin opening their borders to foreigners in an attempt to jump-start moribund tourism industries, the NYT reports that Brussels bureaucrats will likely bar travelers from the US from entering the EU even after the bloc reopens its external border on July 1.
So far, two drafts of "the list" have been prepared: One list contains 47 countries and includes only those nations with an infection rate lower than the EU average. The longer list has 54 countries and also includes those nations with slightly worse case rates than the EU. That "case rate" figure represents the average number of new infections per 100,000 people over the last 2 weeks. In the EU, the figure is currently 16. In the US, it's 107. Brazil's is 190.
Once diplomats finalize the list, it will be presented as a recommendation early next week before July 1. Although Brussels can't force members to adopt the list, EU officials have warned that any member who doesn't stick to the list could cause borders to be reintroduced throughout the bloc, since travelers who can enter the Schengen area in one place can then travel elsewhere.
Existing restrictions on nonessential travel to all 27 member states plus Switzerland, Norway, Iceland and Liechtenstein were introduced on March 16 and extended twice, with July set to see them expire.
Meanwhile, County officials have just warned that hospital ICU beds will likely reach capacity in 11 days, which could force the region to reimpose a local lockdown. As beds become scarce, the Texas Children's Hospital has confirmed it is admitting adult patients to free up hospital beds across Houston as coronavirus cases surge.
A report in the Houston Chronicle claims the city will hit its peak infections by mid-July.
A surge in COVID-19 cases since Memorial Day could set the Houston area on track for a peak of 2,000 daily hospitalizations by mid-July, according to a model from a Baylor College of Medicine epidemiologist.

The region's intensive care units would be overwhelmed by that number of patients, a nearly 50 percent increase from current levels, though thousands of general hospital beds remain available, said Dr. Chris Amos.

City of Houston Health Authority Dr. David Persse said several area hospitals already are at or over capacity and warned that shifting patients to facilities in other cities, a common practice in natural disasters, may no longer be possible.

"The difference this time is the hurricane, if you will, is infecting the entire state," Persse said.

With government restrictions on business and travel removed, the epidemiologist and hospital executives from the Texas Medical Center said the only hope for the Houston area to avoid that outcome is for residents to practice social distancing, wear masks and avoid unnecessary contact with others.

Too many residents, they said, appear to have mistaken the end of Harris County's stay-at-home order as a cue to resume normal life, while the virus poses a greater threat today than it did May 1.

"The alarming situation could be that we have rampant COVID spreading throughout our society," Houston Methodist CEO Dr. Marc Boom said. "If we don't take control, it takes control for us."

Elected officials and their public health experts are grappling with the idea that Harris County may have squandered much of this spring's success in slowing the growth of the virus during the six-week stay-home period.

The shutdown dealt severe damage to the economy, including half a million lost jobs. Since Gov. Greg Abbott began reopening the state in May, however, the Houston area has set new records for cases and hospitalizations.
Texas hospitals admitted 302 new COVID-19 patients in the past 24 hours, the biggest one-day influx since June 4, according to health department data released on Tuesday. The total number of virus-linked hospitalizations lingered at 3,711. The state's positivity rate ticked higher to 9.51%, the highest since April 20 and more than double its average rate from late May.
New cases climbed by 2.9% to 114,881, lagging the seven-day average growth of 3.5%.
Finally, as daily new cases in France continue to decline, a much-heralded new phone app for tracking coronavirus cases has only alerted 14 people that they were at risk of infection since its launch three weeks ago, the digital affairs minister said Tuesday, while roughly 500,000 have uninstalled the app.
* * *
Update (1240ET): As Gov Ron DeSantis insists that there's been an "escalation" in COVID-19 transmission, California has reported another record jump in new cases as the reopening continues. Yesterday, Gov Newsom noted that more than 35% of cases reported in the state have been reported in the past 2 weeks.
The state reported more than 6,000 cases over the past 24 hours, according to data released Tuesday. That's roughly 1,500 higher than the previous record.
Here's more from SFGate:
California shattered its single-day record for most new coronavirus cases Monday as the number of people hospitalized statewide due to the virus also reached record levels.

As of Monday evening, county health departments had reported more than 6,000 new cases, with several counties still yet to report, according to data compiled by The Chronicle. California hadn't exceeded 4,515 new cases in a single day previously, according to the state's health department.

Monday's number included some counties reporting multiple-day totals after not updating their case counts over the weekend, and state officials note that daily case counts might not represent true day-over-day change due to lags in reporting of results.

However, officials in Los Angeles County, which reported a record 2,545 new cases Monday, noted that total reflected not just testing but a higher rate of tests coming back positive.

"Today marks the third day in a week that we have reported 2,000 or more cases of COVID-19," county health director Dr. Barbara Ferrer said in a statement. "And while some of the increases are due to test reporting issues, it is clear that much of the increase represents more community transmission."

Officials said Los Angeles County's average 8.4% positive rate over the last seven days is higher than its overall 8% rate and up from a seven-day average of 5.8% just 10 days ago.

"Throughout our recovery journey, we have said that it is likely that the number of cases will increase as more people are out of their homes and around other people," the county health department wrote in a series of Twitter posts. "It is very important to watch how this increase in cases translates into hospitalizations over the next few weeks."

In California, where many counties have eased shelter-in-place orders and eased economic and social restrictions over the past few weeks, the state health department reported its four highest one-day case totals last week. The state has recorded more than one-quarter of its total confirmed cases - more than 46,000 - in the last two weeks.
* * *
Update (1155ET): After mostly reiterating comments from his last round of Congressional testimony - he voiced optimism about the possibility of a vaccine by year end, though he's "concerned" the increase in community spread - Dr. Fauci took his criticism a step further during Tuesday's testimony, and said he was concerned about the "disturbing surge" in coronavirus infections in Texas, Florida and Arizona seen in recent weeks. The situation in the US is very much a "mixed bag," he said, and and the next two weeks will be "critical" in the fight against COVID-19.
In other news, the latest numbers out of Italy just hit.
JUST IN: Italy reports 122 new cases of coronavirus and 18 new deaths.

Total of 238,833 cases and 34,675 deaths.

— Norbert Elekes (@NorbertElekes) June 23, 2020
* * *
Update (1120ET): As Dr. Fauci's testimony begins before the House Energy and Commerce Committee, President Trump is heading to Arizona where he will visit Phoenix and Yuma.
President @realDonaldTrump is heading to Arizona.

In Yuma, the President will participate in a border security roundtable and view new border wall! pic.twitter.com/tOhN7lJyqd

— The White House (@WhiteHouse) June 23, 2020
The Arizona mega-church in Phoenix where Trump is set to hold a rally on Tuesday claimed it possesses technology to clear the air of the novel coronavirus, which one local epidemiologist at ASU said was "absurd" and that no such technology exists.
Trump will stop in Yuma to visit and survey the border wall, marking the completion of the 200th mile of the border wall system before heading to Phoenix to deliver remarks at a Turning Point Action event. The event, called "An Address to Young Americans," will take place at Dream City Church in Phoenix, which is the epicenter of the outbreak in the state.
The state currently has the highest percentage of positive tests in the country, while a record high 3,591 new cases were confirmed, the largest one-day total yet.
Gov. Doug Ducey allowed individual Arizona cities to create their own policies about face-covering requirements and enforcement beginning Wednesday.
There have been 58,179 confirmed cases of coronavirus in Arizona and 1,384 coronavirus-related deaths, as of Tuesday morning.
According to a new report by NBC News, the spike in coronavirus cases in Florida, Arizona, Oregon and other Southern and Western states can be traced back to around Memorial Day, which is when officials began loosening their lockdowns, health experts said Monday. In Washington, as President Trump teases the possibility of another stimulus check, his advisor Larry Kudlow once again insisted that there wouldn't be another wave of lockdowns.
Over the last 2 weeks, Oregon has reported a 234.4% jump in infections, Oklahoma 202%, Florida's number increased by 155%, and Arizona's confirmed coronavirus cases climbed by 142%, according to an NBC News analysis of state health department figures. Texas, Utah, Arkansas, Louisiana and more than a dozen other states, as well as Guam and the Virgin Islands, had increases in the numbers of reported cases in the last two weeks.
Arizona Gov. Ducey has attributed his state's spike to a third factor: the fact that most Arizonans spend the summer inside with the air conditioning.
Finally, Disney is planning to reopen Disneyland Tokyo on July 1, making it the third part after Shanghai and Hong Kong to reopen.
* * *
Update (1050ET): The US has performed nearly 22 million tests for COVID-19, the disease caused by SARS-CoV-2, since the pandemic began, according to Admiral Brett Giroir, the assistant secretary for health at the US Department of Health and Human Services.
In other news, Florida finally saw a break, with the number of new COVID-19 cases representing a 3.3% rise, below the 7-day average of 3.8%. Florida reporting 3,289 cases since yesterday's report, logging a 10% positivity rate for the 4th time in 7 days.
Reuters reported Tuesday morning that the US saw its total COVID-19 cases climb 25% during the week ended June 21 compared to the prior seven days, with Arizona, Florida and Texas experiencing record surges in new infections, a Reuters analysis found. Some 25 US states reported more new cases last week than the previous week, including 10 states that saw weekly new infections rise more than 50%, and 12 states that posted new records, according to the analysis of data from The COVID Tracking Project.
Texas reported one of the largest rises in new cases at 24,000 for the week ended June 21, a staggering 84% increase in the number of new cases reported last week vs the previous week. The number of COVID-19 tests that came back positive in the state rose to 10%, from 7%. New cases in Florida rose 87% last week to almost 22,000, with the state's positive test rate nearly doubling to 11%. Arizona reported 17,000 new cases, an increase of 90% from the number reported the week before, with 20% of tests coming back positive, as we've reported.
Most of these states, particularly Florida, have blamed the rise on increased testing and young people being too reckless.
* * *
Update (0945ET): NIAID Director Dr Fauci said in testimony released Tuesday that "a safe and effective vaccine for SARS-CoV-2 will be essential to stopping the spread of infection, reducing rates of morbidity and mortality, and preventing future outbreaks" and that several promising trials are underway.
In his opening statement prepared for the House Energy and Commerce Committee and posted online, Fauci says NIAID is working with several partners, including Moderna and Rocky Mountain Laboratories, on the vaccine.
"The rigorous clinical testing required to establish vaccine safety and efficacy means that it might take some time for a licensed SARS-CoV-2 vaccine to be available to the general public," he says.
The NIAID is also working with companies to develop therapeutics to treat the virus.
* * *
Late on Monday, public health officials confirmed that the world has passed another grim coronavirus milestone: More than 9.1 million cases of COVID-19 have been confirmed worldwide, according to Johns Hopkins University, breaking above 9 million for the first time as the world starts reporting between 150k and 200k cases per day as outbreaks in Brazil and the American sunbelt flare.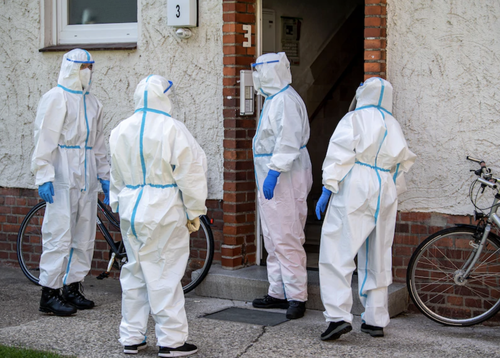 During what has become a particularly fraught moment in the US coronavirus outbreak, with cases are surging across the American sunbelt, Dr. Anthony Fauci and a handful of other senior public health officials, including the heads of the FDA and CDC, will testify before the House Commerce and Energy Committees. The good doctor has warned recently that too many young people in the US aren't wearing masks or taking proper precautions, which is one reason why cases have surged, but deaths have remained somewhat subdued. His testimony is set to begin at 11amET.
TOMORROW: White House Coronavirus Task Force Members Dr. Anthony Fauci, @CDCDirector Redfield, Dr. Stephen Hahn (@SteveFDA) & ADM Brett Giroir (@hhsgov) testify before @HouseCommerce @energycommerce - LIVE at 11am ET on C-SPAN, @cspanRadio & online here: https://t.co/hyeFjLtxiH pic.twitter.com/n9O5h1H0r0

— CSPAN (@cspan) June 23, 2020
As Dr. Fauci prepares to reiterate his warnings about the risks of the second wave, a new study suggests that while as many as 8.7 million Americans may have been infected with the coronavirus in March, more than 80% of them likely were never diagnosed. A team of researchers looked at the number of people who went to doctors or clinics with influenza-like illnesses that were never diagnosed as coronavirus, influenza or any of the other viruses that usually circulate during the winter months. It's just the latest in a growing body of research suggesting that the outbreak began earlier, or was more virulent, than expected.
Over in Germany, the district of Gütersloh in Germany's North Rhine-Westphalia state now says that 1,553 workers at the giant Tönnies meat processing plant have contracted the coronavirus. The outbreak at the meat processing plant has hopelessly skewed Germany's most critical metrics, and on Tuesday, officials in the area agreed to impose a brief lockdown on the district surrounding the plant, which they announced during a press conference earlier on Tuesday. The move marks the first imposition of a locally limited lockdown in the country, according to Al Jazeera.
The outbreak has prompted the closure of daycare centers and schools in the region and the Robert Koch Institute, a public health body, linked a spike in Germany's overall coronavirus reproduction rate directly to the meat-processing plant. As numbers spike around the world, south and north America are leading the way with Brazil, currently posting between 30k and 50k cases per day, and the US, which is cranking out roughly 20k to 30k.
The global total on Tuesday passed 9.1 million, while the death toll topped 472k.
Numbers are spiraling around the world as countries work to contain the virus. After wrestling its outbreak under control, Saudi Arabia said Tuesday that this year's hajj, the annual Muslim pilgrimage to the city of Mecca that normally attracts about 2 million people, will be restricted to "very limited numbers" of people to try and contain the spread of the virus, according to the Washington Post.
Finally, in sports news, tennis superstar Novak Djokovic has tested positive for the coronavirus after world No 1 and fellow players ignored social distancing by partying and playing soccer and basketball during two events organized as part of his Adria Tour tennis project. Many critics stepped up to criticize the suffering player and his insistence in holding the events despite the coronavirus risk, which they're now describing as "boneheaded."
Starting Tuesday, some travelers at LAX will be asked to undergo a new experimental screening process long before they get to security checkpoints, with the new screening involving walking past cameras that can flag travelers with a fever, one of several new technologies being tested to try and root out potentially ill individuals who can spread the virus.
In other news, as confirmed cases of the coronavirus in Pakistan have nearly tripled over the past month, forcing aid groups to warn about the increasingly dire situation that is forcing hospitals to turn patients away, Pakistan is pushing ahead with its reopening after its lockdown attempts resulted in mass starvation, in some cases, while cases in India continue to climb at a near-record clip.
Another test showed that universities hoping to bring students back to campus in the fall will need to build out extensive programs to accommodate them like supplies of masks, hand sanitizer and other gear.
Meanwhile, as hospitalizations in the Houston area remain at record levels, and Florida sees its case count surge north of 100k with between 3k and 4k new cases being added per day, Georgia, infectious-disease specialists are warning that residents and state officials have not done nearly enough to curb a concerning uptick in infections.
A rolling seven-day average of cases has been trending upward since the beginning of June, reaching its highest total yet on Monday. In the past week, 1,073 Georgia residents were confirmed to have contracted the virus, bringing the total to almost 66,000 Georgians, while more than 2,600 people have died statewide. Hospitalizations have risen since the start of the month, too.
"What we're seeing is that people are going out and just basically not realizing the virus is still there," Carlos del Rio, a professor at Emory University, told reporters Monday, according to the Associated Press.
But that's not all: In Arizona, more than 20% of those tested across the state came back positive for COVID-19 during the 24 hour period before Monday, officials reported.