---
Dr. Fauci Confirms "No Reason We Can't Have In-Person Voting": Live Updates
Summary:
Dr. Fauci: No reason we can't have in-person voting
Novartis CEO: Covid may never go away
Houston metro area sees rate of transmission fall
Florida cases continue to moderate
Arizona reports latest infections
China finds 2 more cases of "rare" COVID recurrence
Germany sees new cases hit 3-month high
6% of England has been infected
Rural Indians grow weary of wearing masks as domestic outbreak passes 2MN
Philippines joins Brazil, UAE etc in planning Russian vaccine trials
South Korea sees cases hit 1-month high
Oxford-Astrazeneca vaccine produces "immune response" in test subjects
* * *
Updates (1520ET): In another win for Trump's critics, Florida Governor Ron DeSantis, who has generally resisted more stringent restrictions against the virus, warned of a surge of deaths in a nursing home and assisted-living facility.
Georgia Governor Brian Kemp has abandoned his lawsuit against Atlanta over its mandatory mask ruling enacted by Mayor Keisha Bottoms. Instead, Kemp threatened to rectify the issue in the next executive order.
"Unfortunately, the mayor has made it clear that she will not agree to a settlement that safeguards the rights of private property owners in Georgia," Kemp was quoted as saying. "Given this stalemate in negotiations, we will address this issue in the next executive order. We will continue to protect the lives and livelihoods of all Georgians."
Meanwhile, Texas has announced plans to investigate why the state's positivity rate is climbing to record levels, while other metrics, like hospitalizations, indicate a slowdown.
A special "data team" has been assigned to examine state health department data analysis and calculations, Governor Greg Abbott said. One factor in the jump in the positivity rate may be that fewer Texans are seeking testing, he said.
* * *
Update (1340ET): It's been an interesting afternoon for commentary on the US coronavirus outbreak. Novartis CEO Vas Narasimhan said during an interview Thursday that while a combination of the vaccine and drugs should be able to treat the virus, it's still possible it might never go away, instead becoming a seasonal virus like the flu. "We just don't know," he said.
But the biggest headlines come courtesy of Dr. Fauci, who unequivocally backed President Trump's demands for in-person voting ("there is no reason we can't have in-person voting") while also whining about his pessimistic outlook for the virus, while grumbling about irresponsible young people and subtly attacking President Trump's handling of the crisis.
FAUCI: YOUNG PEOPLE HAVE OBLIGATION TO HELP CONTROL VIRUS
FAUCI: CAN'T PREDICT HOW LONG MASK WEARING WILL BE REQUIRED
FAUCI: HEALTH IS PRIMARY CONSIDERATION FOR SCHOOLS REOPENING
FAUCI: VOTING AT POLLING STATIONS OK IF GUIDELINES OBSERVED
FAUCI: COULD BE IN GOOD PLACE IN A YEAR WITH VACCINE, LOW RATES
FAUCI: NO REASON FOR NOT BEING ABLE TO VOTE IN PERSON
The Houston metro area's rate of transmission has fallen below 1, and stayed below that threshold for 3 straight days, as the rate of spread of the virus has slowed by 22%, according to the Texas Medical Center. The 9-county region recorded 1,558 new cases on Wednesday, down from almost 2,000 a day last week,.The positive-test rate was down by almost half to 10.2%, compared with 20.3% last month.
Meanwhile, BoJo promised to be "absolutely ruthless" while deciding whether to impose quarantine restrictions on French travelers, with a decision expected later.
* * *
Update (1310ET): Florida reported results late on Thursday, presumably due to the same issues that have led to a drop in tests run over the past couple of weeks (though, to be fair, Hurricane Isaias probably had something to do with it). That brought the total to 557,137 cases on Thursday, up 1.1% from a day earlier, compared with an average increase of 1.3% in the previous seven days.
Deaths reported among Florida residents on Thursday pushed the state death toll to 8,913, up by 148, or 1.7%.
Like California did earlier this week, Florida said Wednesday that the day's case numbers were inflated by a dump of data dating back seven weeks. That also affects the day-over-day percentage change for Thursday's numbers, the sate added.
* * *
Update (1150ET): Remember when the NYT insisted that cases of COVID-19 recurrence are extremely rare, and those worried about the possibility of chronic infection, and/or the level of protection afforded by an eventual vaccine were simply fear-mongerers?
Two patients in China that recovered from COVID-19 months ago tested positive again, raising concern about the virus's ability to linger and reappear in people whom it previously infected. A 68-year-old woman in the central Chinese province of Hubei, where the virus first surfaced in December, tested positive on Sunday - six months after she supposedly was diagnosed and recovered. 
Another man found to have contracted the disease in April after returning to China tested positive in Shanghai earlier this week. Some fear that these tests could simply be triggered by errant pieces of viral DNA.
A few hours later, around mid-day on Thursday in the US, the WHO added that the possibility of reinfection is still "not confirmed"
It's just the latest reminder that nobody knows for certain what this means - not even the New York Times.
Which is probably why this story was couched as "opinion", and not news, or even the hybrid "news analysis".
In other news, India has topped several European rivals to become the country with the 4th-largest death toll globally - behind the US, Brazil and the UK. 
France is pushing more local governments to revive virus "containment measures" as case numbers start to climb.
Back in the states, Arizona has reported 1,351 new cases and 36 new deaths, bringing its total to 190,794 and its death toll to 4,383.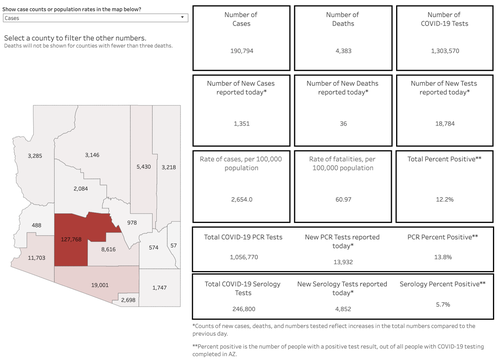 ICU capacity has hit 80%.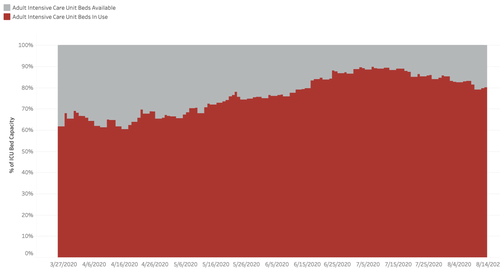 Meanwhile, here are New York's numbers.
Today's update on the numbers:

Of the 87,900 tests reported yesterday, 737 were positive (0.84% of total).

Total hospitalizations fell to 555.

Sadly, there were 10 COVID fatalities yesterday. pic.twitter.com/9yguFFFPWi

— Andrew Cuomo (@NYGovCuomo) August 13, 2020
* * *
As schools reopen in Berlin and elsewhere, Germany has reported another day of 1,000+ COVID-19 cases and the biggest single-day reading in three months, with the health minister warning of outbreaks across the country, blaming the spread on partiers and holiday travelers.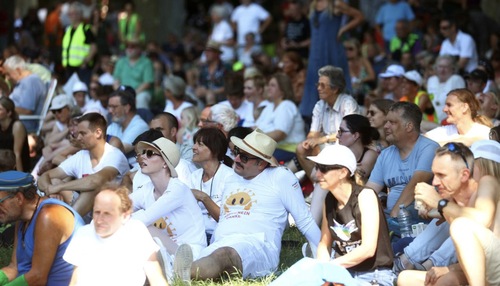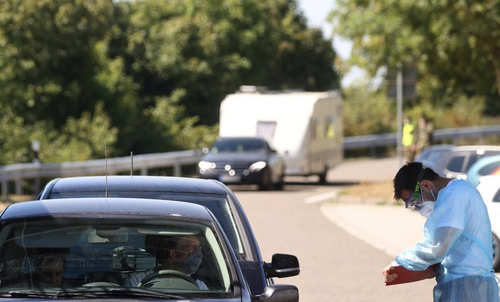 In the country of 83 million, the number of confirmed coronavirus cases climbed by 1,226 to 218,519, according to data from the Robert Koch Institute. That's the biggest daily increase since May 9. Meanwhile, the number of deaths remained relatively low, increasing by six to a total of 9,207.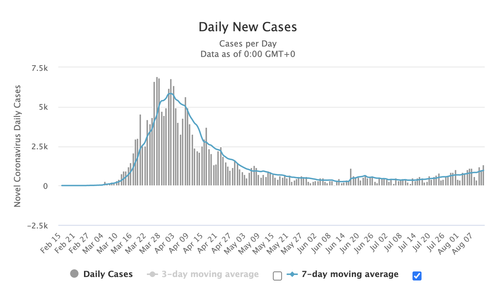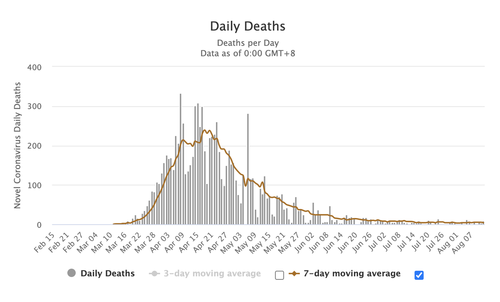 Chancellor Angela Merkel and the 16 state governments decided in May to start gradually easing coronavirus restrictions, a balancing act to allow public life and business activity to recover while trying to keep the infection rate low. Though the rate remains low relative to the US and other countries struggling with raging outbreaks, keeping cases at a manageable level requires a careful balancing act.
"This is, no doubt, very worrying," said Health Minister Jens Spahn during an interview with Deutschlandfunk radio. He added that Germans must remain "very cautious" to avoid spread of the virus.
The fate of the European economy could very well hinge on a V-shaped rebound that economists say might be possible if another round of damaging lockdowns can be avoided. In Spain and the UK, local measures have been favored, like 'partial lockdowns' in parts of Manchester and in Catalonia, efforts that the WHO has applauded.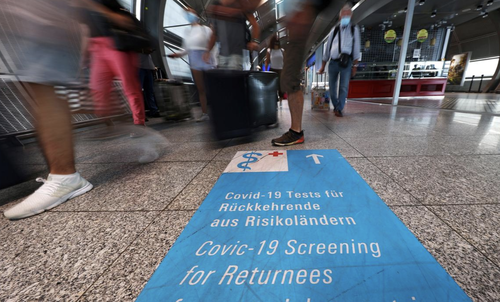 In other news out of Europe, the FT reports that roughly 6% of people in England have been infected already, which is roughly 1/10th of the minimum level of penetration experts believe would be necessary for 'herd immunity' to slow the virus.
About 6% of people in England had the virus by the end of June, equating to roughly 3.4 million, a study by Imperial College London found. London was found to have the highest rate of infection in the UK, at 13%, while the South West had the lowest, at 3%. The findings were part of the REACT study, commissioned by the Department of Health and Social Care.
That study incorporated antibody test results from more than 100,000 Britons. The data was roughly in line with surveillance data published by the ONS, which showed that 6.8% of people in England received antibody tests. In Black, Asian and minority ethnic people were 2-3x as likely to have had the virus than white people.
Early data from trials of three potential vaccines showed promise of fighting COVID-19 without serious side effects, while leaders in the United States and European Union pushed for massive stimulus to cushion the economic blow from the pandemic. Coronavirus cases in Spain have risen three-fold over the last three weeks as authorities struggle to contain a rash of fresh clusters. Sweden is changing its contact tracing guidelines to make more of the information gathered self-reported by the infected.
In India, where antibody testing run in the slums has, in at least a few instances, turned up positivity levels north of 50%, many in rural areas, where the virus has largely died out, are growing weary of social distancing requirements like wearing masks, creating a parallel to the mask debate in the US.
In two dozen small towns and villages visited by Reuters reporters in recent weeks, people have largely given up on social distancing and masks after months of sticking to the rules, believing the virus is not such a serious threat.
Here's more from Reuters:
Harmahan Deka doesn't wear a mask anymore to avoid the novel coronavirus nor does he try to keep a safe distance from others.

For the 25 men and women he works with in his construction materials business near the small town of Baihata Chariali in India's Assam state, life is more or less as it used to be, Deka says.

"The virus can't attack me, it's weakened," the 50-year-old diabetic said. "I often hang out at a busy neighbourhood grocery store - without masks, nothing. Both the store owner and I are fine. Maybe we've had it already without symptoms."

In two dozen small towns and villages visited by Reuters reporters in recent weeks, people have largely given up on social distancing and masks after months of sticking to the rules, believing the virus is not such a serious threat.
Though incidence rates are low, the virus remains a threat, and the poor health infrastructure in the countryside makes following social distancing rules all the more critical, the public health officials said.
The change in behaviour in rural India - where two-thirds of its 1.3 billion people live, often with only the most basic health facilities - has come as infections in the countryside have surged.

Health officials are exasperated.

"Sometimes people take it too lightly, as if nothing will happen to them just because they're breathing fresh air and eating fresh vegetables," said Rajni Kant, a member of a rapid response team of the state-run Indian Council of Medical Research (ICMR) set up to fight the pandemic.

"Health infrastructure is poor in rural areas, that's why they have to strictly follow social distancing norms, wear masks, avoid crowded areas and keep washing hands. Otherwise they'll suffer."
As we reported earlier, the Philippines has joined a growing list of countries preparing to hold clinical trials for the Russia-approved COVID-19 vaccine developed by the world-renowned Gameleya Institute. As news about the Russian vaccine dominated headlines this week, the usual patter of updates from Western companies working on their own candidates has continued. Here's a rundown of some recent vax news courtesy of Reuters:
An experimental vaccine being developed by AstraZeneca and Oxford University against the new coronavirus produced an immune response in early-stage clinical trials.
German biotech BioNTech and U.S. drugmaker Pfizer Inc said data from an early-stage trial of their experimental coronavirus vaccine showed that it prompted an immune response and was well-tolerated.
A vaccine developed by CanSino Biologics Inc and China's military research unit has shown to be safe and induced immune responses in most of the recipients who got one shot.
Finally, moving east, China and Hong Kong have seen infection numbers continue to decline following flareups earlier this month, but in South Korea, health officials reported 47 new locally transmitted cases, a one-month high amid concerns about a new batch of potential clusters.