---
US Coronavirus Death Toll Tops 80k As Cuomo Says Central New York Will Reopen Friday: Live Updates
Summary:
Germany's "R" rate remains stuck above "1"
White House pledges $11 billion for state aid
US deaths pass 80k
Western states request $1 trillion in aid
NY Fed study shows 'PPP' money mostly went to most-banked regions
Trump spars with PA gov
US just below 80k deaths
Wuhan to test entire city after latest outbreak
Cuomo says central NY on track to reopen Friday
South Carolina reopens restaurants for 'limited service'
Iowa Gov says she will do limited quarantine
WHO says 500k could die from AIDS thanks to disruptions in antiviral distribution
South Korea's latest cluster swells to 80+; school reopenings delayed
Wuhan reports first new cases since reopening
Germany hits another reopening 'speed bump
Iran sees spike in infections, reimposes lockdown in one hot spot
Disneyland Shanghai reopens
UK officially switches from 'Stay at Home' to 'Stay Alert'
Russia reports another record jump
Tokyo accused of excluding 100 cases from official count
Spain sees new cases drop to 2 month low
Dozens of US states take more dramatic steps toward reopening
*          *          *
Update (1830ET): Notably, President Trump's latest press briefing on testing (held in the Rose Garden) is already riling up the press, as Trump continues to boast about the nation's testing capabilities, while reporters pester him with questions about why more tests weren't rolled out sooner. It's a never-ending dance of idiocy.
But as more states start to reopen in the US, the NYT has maintained its stance that the reopening isn't just dangerous, they lay the blame solely at the feet of President Trump. The liberal 'economists' who run the NYT editorial board apparently see no problem with just letting the printing press run until a vaccine is discovered, something that UK PM Boris Johnson just admitted "may never happen."
And now, it seems, the NYT has grasped how the virus will in all probability play out: Not as a series of "waves", but more like a crisis that just keeps "rolling and rolling".
In the interest of managing our expectations and governing ourselves accordingly, it might be helpful, for our pandemic state of mind, to envision this predicament - existentially, at least - as a soliton wave: a wave that just keeps rolling and rolling, carrying on under its own power for a great distance.

The Scottish engineer and naval architect John Scott Russell first spotted a soliton in 1834 as it traveled along the Union Canal. He followed on horseback and, as he wrote in his "Report on Waves," overtook it rolling along at about eight miles an hour, at thirty feet long and a foot or so in height. "Its height gradually diminished, and after a chase of one or two miles I lost it in the windings of the channel."
America's paper of record also fretted that an "initial period of calm" following the lifting of restrictions might cause Americans to drop their guard.
*          *          *
Update (1817ET): For the first time in eight weeks, the French may leave home without filling out release forms just to go grocery shopping. Just over half of Spaniards can meet in groups of up to 10 and sit at outdoor restaurants. In Germany's most populous state, North-Rhine Westphalia, Gyms were allowed to reopen.
As the NYT reported, Monday marked the beginning of an accelerated economic reopening. Though to be sure, life remains far from normal.
In Asia, hotspots like Singapore continued to struggle, with government orders currently calling for lockdown conditions to remain in effect until June. Singapore reports 486 new cases of coronavirus, bringing its total to 23,822 cases. 484 of them are foreigners.
Even as Germany, aka Western Europe's shining beacon of security and order amid chaos, continued its reopening, officials warned that its "R" variable - aka the rate at which the infection is spread - remained at 1.07, stubbornly stuck above the critical "1" threshold. Chancellor Merkel has warned that a rate as low as 1.1 for R could - if unchecked - overwhelm the country's hospital system by October, officials have warned (as to whether that October scenario is truly still on the table, a lot will depend on the second round of the outbreak, which appears to have begun in certain spots around Asia, including in Mainland China).
*          *          *
Update (1540ET): In response to Gavin Newsom's request for $1 trillion in federal aid to a group of western states mostly to aid in ramping up testing and test and trace, the White House has responded by claiming it will allot just $11 billion - only a tiny fraction of the ask - to be issued to states based on population.
WHITE HOUSE TO GIVE STATES $11B FOR TESTING, OFFICIALS SAY
$11B TO BE ISSUED BASED ON POPULATION, VIRUS CASES: OFFICIALS
Now, is it possible that a group of Democratic governors got together and decided to ask for an astronomical number way beyond what they'll actually need just to try and embarrass the administration?
*          *          *
Update (1515ET): The number of coronavirus-linked deaths in the US has surpassed 80k, according to Reuters. The milestone comes as more states are reopening their economies. Earlier, Andrew Cuomo said some counties in Central New York were preparing to reopen May 15.
U.S. coronavirus deaths topped 80,000 on Monday, according to a Reuters tally, as nearly all states have taken steps to relax lockdown measures.

Deaths in the United States, the epicenter of the global pandemic, have averaged 2,000 a day since mid-April despite efforts to slow the outbreak.

The death toll is higher than any fatalities from the seasonal flu going back to 1967 and represents more U.S. deaths than during the first 11 years of the AIDS epidemic, from 1981 to 1992.

Total coronavirus cases in the United States have exceeded 1.3 million with infections rising in such states as Mississippi, Minnesota and Nebraska, highlighting the risk of a new wave of COVID-19 outbreaks.

Cases are falling in New Jersey and New York at the epicenter of the pandemic in the United States, accounting for nearly half of the American deaths from COVID-19, according to the Reuters tally, and the two states have among the strictest lockdown rules still in place.
Of course, the total number of deaths likely far exceeds that benchmark already, as Reuters reported earlier, because - as the CDC just pointed out - the number of "excess deaths" in NYC exceeds the number of confirmed coronavirus deaths by a considerable margin.
Notably, 80k is more than double the next-most deadliest country, the UK.
Meanwhile, California Gov. Gavin Newsom said during Monday's press briefing that Cali and a group of Western states will request $1 trillion in federal aid. Newsom added that Tesla's plant in Fremont might be allowed to reopen as soon as next week.
*          *          *
Update (1420ET): A new study by economists at the New York Federal Reserve adds to evidence that emergency small business loans have not gone to areas hit hardest by the coronavirus, but instead have been concentrated with companies that have pre-existing relationships with banks that process loan applications.
Find more on that here.
*          *          *
Update (1344ET): As the US death toll teeters just below 80k (at roughly 79,500 as of 2pmET), President Trump clashed with the Governor of Pennsylvania on Twitter Monday in yet another example of Trump butting in to try and influence a state' reopening plan contrary to the decision to delegate to the states. Trump accused Democratic Gov. Tom Wolfe of "playing politics" by trying to delay the reopening of his state.
"Don't play politics," Mr. Trump said on Twitter. "The great people of Pennsylvania want their freedom now, and they are fully aware of what that entails...be safe, move quickly!"
To which governor Wolf responded during a virtual press conference...
"I don't know how you stay safe and move quickly. The irresponsible thing to do is just willy-nilly go off and pretend that we can wave a magic wand and go back into business and suspend the reality of this virus that is surrounding us." - @GovernorTomWolf responds to this tweet. https://t.co/VdZ5TNjdN2

— Cody Carlson (@CodyCarlsonNews) May 11, 2020
While Trump's urges might seem callous and are certainly politically inept - as we've repeatedly explained, every time Trump buts in it gives Democrats the opportunity to try and blame him for the inevitable recession plus all of the virus deaths - even the NYT acknowledges that PA falls in the category of states that have notably flattened the curve.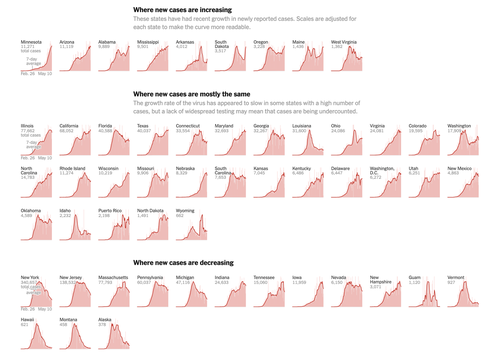 As one local TV station reported on Monday, a growing number of PA Counties have decided to move ahead with reopening their economies without an 'OK' from the governor.
Lebanon County elected officials say they plan to move the county into the yellow phase of reopening without waiting for an OK from the governor. Now Dauphin, Perry, Juniata, Adams, and Mifflin have released similar statements urging the governor to reopen or yellow phase the counties, many stating they will open without the governor's approval.

Cumberland County Sheriff is also stating he will no longer enforce the closures and the Lancaster County District Attorney will not prosecute stay-at-home violator. Some Lancaster County officials penned a letter to the government, but the city mayor says she the city will not to reopen early.

Lancaster County from the "red designation" to the "yellow designation" of his COVID-19 Phased Reopening Plan immediately.

Lancaster County elected officials say "We as a county, are prepared to do so on Friday, May 15, 2020. We prefer to act with your cooperation, but we intend to move forward with a plan to restore Lancaster County."

The Lancaster County District Attorney's Office will not prosecute citations pursuant to the Disease Prevention and Control Law regarding violations of state-mandated stay-at-home orders and closure orders of "non-essential businesses."

The Pennsylvania Governor's administration on May 8 issued the latest extension of its order that non-life sustaining businesses remain closed. The Governor also granted waivers to numerous businesses, allowing those businesses to open while others of their kind remain under closure order.
Source: WGAL
Read more on that here.
*          *          *
Update (1155ET): The big takeaway from Cuomo's press briefing on Monday is that parts of Central New York State are only one metric away from reopening (and for the record, that metric isn't 'mass produce a successful vaccine').
Today we enter a new phase in the battle against COVID-19.

We have established criteria for reopening based on 7 metrics: pic.twitter.com/Ar1QzxLUyl

— Andrew Cuomo (@NYGovCuomo) May 11, 2020
That region will move ahead with the reopening of 'low risk' businesses, which Cuomo said will include landscaping, tennis and drive in theaters.
N.Y.REPORTS 161 NEW VIRUS-DEATHS, LOWEST SINCE MAR 26
CUOMO: CENTRAL NEW YORK HAS ONE MORE METRIC TO MEET
CUOMO: LOW RISK BUSINESSES INCLUDE LANDSCAPING, GARDENING
CUOMO: WILL OPEN LOW RISK BUSINESSES MAY 15
CUOMO: ALL RETAIL WILL BE AUTHORIZED FOR CURBSIDE PICKUP
Meanwhile, Florida officials reported that state's latest number.
FLORIDA COVID-19 CASES RISE 1% TO 40,982
Is this a bid to seem 'vice presidential'? Iowa's Republican Gov Kim Reynolds said Monday that she would follow a "modified" quarantine schedule after visiting the White House...though she didn't have any contact with any of the White House aides who have tested positive.
IOWA GOVERNOR SAYS SHE WILL FOLLOW A MODIFIED SELF-QUARANTINE
IOWA GOV. SAYS SHE WAS EXPOSED TO COVID-19 AT WHITE HOUSE
IOWA GOV. REYNOLDS IN NEWS CONFERENCE SAYS SHE FEELS HEALTHY
IOWA GOV.: HAD NO DIRECT CONTACT WITH WHITE HOUSE AIDE W/ VIRUS
In other news outside the US, Wuhan is planning to adopt a mass testing program over a 10-day period. All districts in the city have been told to submit a testing plan by Tuesday, Reuters said.
*          *          *
Update (1110ET): As the New York Times has mentioned in virtually all of its coronavirus coverage over the past week, the story of the coropnavirus in the US is rapidly becoming the story of two outbreaks. There's New York and the surrounding northeastern states, who responded aggressively to contain some of the largest outbreaks in the US.
And then there's the rest of the country, which is seeing the number of new cases and deaths climb, even if the data belies the number of counties where the number of confirmed cases is negligible.
A team of analysts at Goldman Sachs has distilled these patterns into a helpful chart: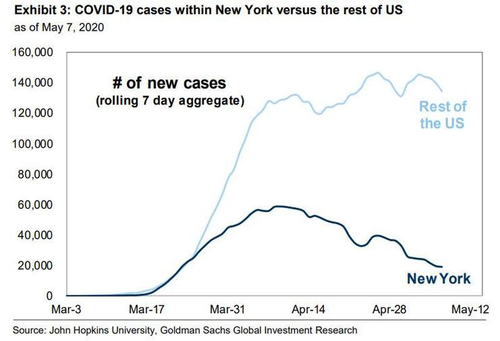 Now, North Carolina on Monday is the big story in the US. The state began reopening retail shops on Friday, and as of Monday, neighboring South Carolina has reopened restaurants for limited dine-in service, though many remained closed. Retail shops reopened Friday evening in North Carolina as the state began phase 1 of its 3-phase reopening plan. Stores operated under strict safety guidelines requiring no more than 50% capacity. Lines were long at places, but people were willing to wait and shop safely, six feet apart, as many bought mother's day presents.
Statewide, DHHS reported 281 new cases Monday, for a total of 15,045 across 99 counties, and 3 more deaths, for a total of 550 across the state.
In South Carolina, the state confirmed another 113 infecitons on Monday and the death of an older person in Marion County on Sunday, pushing the totals above 7,600 and its death toll to 331. On Saturday, dozens of employees at the Veterans Affairs hospital in Columbia protested that they are not getting enough protective gear and not enough employees are being allowed to work from home.
But in New York, the number of deaths reported was just 161, the lowest single-day count since March, a threshold that has been repeatedly broken as the number of cases, hospitalizations and deaths across the state has trended down.
Holding a briefing with updates on #Coronavirus. Watch Live: https://t.co/dr8SP4VbL3

— Andrew Cuomo (@NYGovCuomo) May 11, 2020
Earlier, Mayor de Blasio said New York City wouldn't start reopening until June at the earliest, while other counties in less badly-hit areas are already beginning the process of reopening.
Citywide hospital admissions have declined, along with intensive-care admissions, BBG noted. This shows progress slowing the spread, but state and city measures of virus incidence show it's "clearly not ready yet," de Blasio said. "The likelihood right now, is that we're going into June."
The lockdown means the city's pools and beaches will not be available on Memorial Day, which is when they traditionally open.
*          *          *
Update (1010ET): In the latest example of how the interruption of supposedly "non-emergency" medical care due to the virus might lead to more deaths overall, the WHO has just announced that it now expects the "disruptions" in distribution of antivirals could lead to the deaths of 500,000 Africans from HIV.
COVID-19-LINKED ANTIVIRAL DISRUPTIONS COULD KILL 500,000: WHO
SHORTAGES MAY CAUSE 500,000 MORE DEATHS FROM HIV IN AFRICA: WHO
Of course, the Gates Foundation is one of the biggest charities involved in spreading access to AIDS medication in Africa. We wouldn't be surprised to see the WHO, China - and don't forget the mainstream American press - try to blame these deaths on President Trump.
*          *          *
Last night, we reported that national health officials in Beijing had confirmed the first coronavirus case in Wuhan on Monday morning since April 3, meaning this was the first case discovered in the city since the reopening began.
And just like with cockroaches, when we find one case of the virus, it's reasonable to suspect there are more.
All of this might be besides the point - remember, it's China we're talking about here: Officials have been assiduously following the CCP's propaganda protocols, even as the few foreign reporters left in the country often still manage to get word out to the international press about incidents of viral recurrence.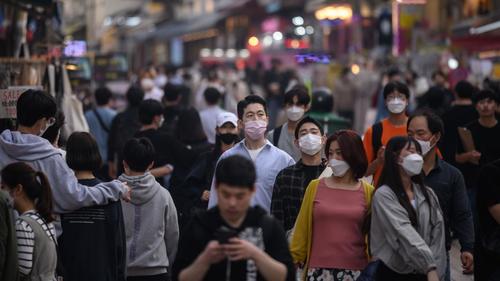 As Nikkei Asian Review reported on Monday morning Tokyo Time, citing Chinese authorities, that a city in northeast China has been re-classified as "high risk", the most serious level in a new three-tiered zoning system adopted by the Chinese government. That tier should mandate a return to lock down conditions, more or less. City officials in Jilin raised the risk level of the city of Shulan to 'high' from 'medium,' having raised it from 'low' to 'medium' just a day earlier when a local woman tested positive. 11 new cases have since been detected in Shulan as of Saturday, all of them relatives or close contacts of the woman who was originally infected.
Global Times Executive Editor Hu Xijin boasted on Twitter Monday that 'all Chinese' had been made aware of these latest developments.
China reported 20+ new infection cases in the past two days. They came from two chains of infection in Wuhan and a county. The two new chains are made known to nearly all Chinese. The US also needs such rigorous prevention/control, otherwise it's very risky to reopen the economy.

— Hu Xijin 胡锡进 (@HuXijin_GT) May 11, 2020
Here's more from the Nikkei report:
Shulan has increased virus-control measures, including a lockdown of residential compounds, a ban on non-essential transportation and school closures, the Jilin government said.

The new cases pushed the overall number of new confirmed cases in mainland China on May 9 to 14, according to the National Health Commission on Sunday, the highest number since April 28.

Among them was the first case for more than a month in the city of Wuhan in central Hubei province where the outbreak was first detected late last year.
North Korea hasn't confirmed even a single infection, though it's widely suspected the virus has deeply penetrated North Korean society.
Then on Monday, city officials in Wuhan said five new cases had been confirmed in the city, all of which were infected domestically, officials said.
Meanwhile, as we reported earlier, Disneyland Shanghai reopened on Monday to great fanfare, even as the park could only fill the park to 20% of capacity, a level at which it might be impossible to operate the park profitably.
#Update As of May 10, 17 new confirmed #COVID_19 cases were reported in Chinese mainland, according to National Health Commission. #coronavirus pic.twitter.com/Xv9D5msrY8

— China Daily (@ChinaDaily) May 11, 2020
In other news, a cluster of new cases discovered in a glitzy nightlife district of Seoul that prompted the city to order bars and nightlife businesses to close has grown to 86 cases - qualifying it as a 'super-spreader' event. Those infections purportedly started with one infected clubgoer. Jung Eun-kyeong, head of the Korean CDC, said the total number of cases linked to nightclubs in Itaewon in Seoul increased to 86 as of noon Monday after the first case was confirmed on May 6. Among 86, 63 visited the clubs and 23 are family members and colleagues at work of infected people. 51 cases were reported in Seoul, 21 in Gyeonggi, 7 in Incheon, 5 in North Chungcheong, 1 in Busan and 1 in Jeju. The cases involved 78 men, and 8 women. Notably, officials said they're expecting more cases linked to the clubs this week, given the virus's sometimes-lengthy incubation period.
South Korean President Moon Jae-in said Sunday that the outbreak "isn't over until it's over."
In response to this latest cluster, South Korea has opted to delay reopening schools, which it had planned to do this week, because of the Itaewon cluster.
Fortunately, they added, this latest outbreak isn't comparable to the outbreak at the Shincheonji Church in Daegu which helped kick-start SK's outbreak.
Elsewhere, the Tokyo Metropolitan Government confirmed 22 new cases on Sunday, the city's lowest single-day total since March 30. However, Japanese media organization Yomiuri has reportedly found 100 cases in Tokyo that have allegedly omitted from the total.
Japan has also been accused of slacking with its coronavirus response, though its resurgence has avoided the severity of Singapore's which went from fewer than 2k cases in early April to more than 23,000 confirmed as of Monday morning in the US.
As a result, Singapore is ramping up contact tracing, restrictions on movement, and even deploying robot dogs to encourage social distancing as it tries to get its outbreak under control. Meanwhile, Hong Kong has gone 21 days without a locally transmitted case, prompting whispers about the autonomous territory of China being declared "virus free".
In Europe, Switzerland became the first western European nation to reopen restaurants, cafes, shops and museums across the country as it relaxes all but the most stringent of its lockdown restrictions. Swiss health authorities reported just 39 new coronavirus infections on Monday, bringing the country's total to 30,344. So far, 1,543 patients have died in Switzerland.
Austria will follow later this week with restaurants and cafes allowed to reopen beginning on Friday.
Spain's daily coronavirus death toll slowed to a 2-month low on Monday as the country eased much of the lockdown restrictions in roughly 51% of the country (excluding many of its largest cities, including Madrid). 
The ministry of health said on Monday that 123 people died during the prior day, the lowest death toll since March 18, which was barely three days after the lockdown was imposed. Data from a Spanish health institute have shown that 'excess deaths' in the country have receded, eliminating the margin between the historical average deaths and the deaths reported weekly in Spain.
In Britain, Britons are starting life under the new lockdown conditions unveiled by PM Boris Johnson last night. Scotland and Wales have insisted on retaining the 'Stay At Home' slogan - instead of switching - over what seems like a petty disagreement over semantics though leaders of both constituent republics of the UK have argued the new guidance puts lives in jeopardy.
Yet as dozens of US states start to take more dramatic steps to reopen their economies this week, some of the most closely-watched reopenings are hitting speed bumps. As we reported yesterday, Germany's R number has risen to about 1.1, past the threshold of '1' - which means the body of infected patients is growing, rather than shrinking - at which the German government has said it would halt, or even reverse, its reopening.
Iran reported 45 new deaths on Monday, taking total fatalities to 6,685. The total number of infections reached 109,286 with 1,683 new cases reported overnight, up from 1,383 the previous day. The spike comes as officials reimposed the lockdown in large swaths of the southern Khuzestan Province last week. The rate of infections  also remains alarmingly high in the capital of Tehran.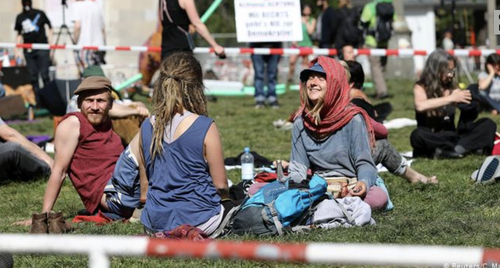 Finally, in Russia, officials reported another record jump in new infections, while the countrywide death toll topped 2k on Monday, highlighting Russia's worsening outbreak and the reality that the government in Moscow seems mostly powerless to curb the spread. 
These latest numbers pushed Russia past Italy as the country with the third-largest outbreak in the world (excluding China, of course).
After confirming another 11,656 cases on Monday, the total case number in Russia passed 220k, while 94 people died, bringing the death toll to 2,009.
Russia now has the world's second-fastest rate of new infections after the US, according to the Moscow Times.
On Monday. President Vladimir Putin is due to meet with senior officials to discuss yet another extension of Russia's national lockdown, which is due to end on Tuesday, while many Russian officials have whispered that the economy might not reopen until late June.