---
Ohio Governor Mike DeWine Tests Negative For COVID-19 Hours After Testing Positive: Live Updates
Summary:
Ohio Gov. Mike DeWine tests negative for COVID-19 after testing positive earlier in the day
California, Florida see cases decline
Goldman's daily tracker: decline in case totals continues across US
Illinois reports most cases since May
France repots 1,600+ new cases for 2 days straight; first time since April
US lifts global travel advisory; stocks climb
Ohio Gov tests positive for COVID before greeting Trump
Latest Florida, NY, Arizona numbers hit
Global cases near 19 million
Deaths top 700k
Germany reports more than 1,000 new cases for first time since May
Philippines now worst outbreak in Southeast Asia
Victoria reports another 471 new cases
* * *
Update (1920ET): Ohio Governor Mike DeWine has tested negative for COVID-19, just hours after testing positive before he was set to meet with President Trump in Cleveland.
His wife, Fran DeWine, also tested negative along with several staff members - after they all underwent a more accurate testing method in Columbus, vs. the rapid-result test which showed DeWine to be positive earlier in the day, according to AP.
DeWine, an early advocate among Republicans of wearing masks and other pandemic precautions, said he took a test arranged by the White House in Cleveland as part of standard protocol before he was to meet Trump at an airport. He had planned to join the president on a visit to the Whirlpool Corp. plant in northwest Ohio.

Instead, he received the news he was positive, called his wife, Fran DeWine, and returned to central Ohio where he took the other test that showed him to be negative.

"A big surprise to me and certainly a big surprise to our family," DeWine said at a late afternoon news conference broadcast from his porch on his farm in Cedarville in southwestern Ohio, where he planned to quarantine for 14 days. -AP
The 73-year-old DeWine said he didn't know how he could have contracted the virus, as he's been spending most of his time on his farm.
* * *
Update (1730ET): A developing trend of declining daily case numbers out of the US took a breather on Thursday as BBG and JHU reported a 1.3% preliminary daily increase to  4.85 million, slightly larger than the 1.2% 7-day average.
However, that headline number masked some promising details. California's new cases stayed below the 14-day average, and Florida's rate of positive tests fell to the lowest level since June 21. Florida reported 510,389 cases, up 1.5% from a day earlier, compared with an average increase of 1.6% in the previous seven days. Deaths reached 7,747, an increase of 120, or 2.4%.
The most notably daily increase in the US comes out of Illinois, where the state reported its biggest single-day case tally since May 24, with an 11% bump over the previous day, or 1,953 new cases. The seven-day rate of positive tests rose to 4% from 3.9%. Though the state reported 21 deaths, down from 30 a day earlier.
However, California reported 166 new deaths on Thursday, exceeding the 14-day average of 132, and bringing the Golden State's total to 9,869. Across Cali, there were 5,258 new cases, below the 14-day average of 7,455 and extending a decline that started more than 2 weeks ago when cases peaked north of 12,000.
Even outside the US, Thursday afternoon was big for COVID-19-related news. France reported 1,604 new cases, marking the first time since April that the country has reported more than 1,600 cases for 2 days straight. 
Another seven deaths were also reported, bringing France's total to 30,312, according to the French Health Ministry.
Iowa's Republican Gov Kim Reynolds warned she'd overrule any local officials who impose requirements on mask-wearing outdoors.
"We don't believe during a public health emergency that the local governments have the authority to supersede what is in place at the statewide level by the governor," Reynolds said.
Texas reported 306 new deaths statewide, with some of the new deaths dating back as far as June 4. Now, there are 7,803 total. The state also reported 7,598 new cases, bringing Texas's total to 467,485.
Meanwhile, here's Goldman's latest daily COVID-19 tracker, which after the data reported in the US this afternoon, as most states continue to see a decline in new cases.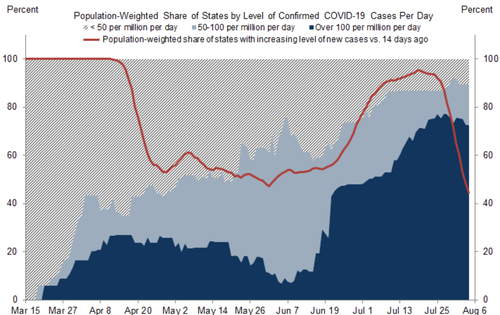 Over the past several days, a majority of states have seen new confirmed coronavirus cases decline on a 14-day basis, suggesting cases are now on a sustained downward trajectory in much of the country. Encouragingly, nearly all states also have cases declining on a 7-day basis and the widespread decline in symptom prevalence is continuing, indicating this downward trajectory may continue at least in the near term.
Despite the downward trajectory, the level of new cases remains high in most states. States representing 90% of the population have daily new case levels above 50 per million population, and states representing 70% of the population have levels above 100 per million. Even with further sustained improvement, states may wait for daily new cases to fall to more acceptable levels before loosening reopening policies.
However, focusing on the decline in new cases overlooks a few important recent factors. Positive test rates remain very high in some states, and testing volumes have declined over the past two weeks in part due to disruptions from Hurricane Isaias. California also recently announced that a technical issue led to understatement in case counts. Estimates of the effective reproductive number Rt, which account for testing volumes, remain very close to 1.0 nationally.
* * *
Update (1500ET): News that the State Department had lifted a global travel advisory established 4 months ago reportedly helped propel US indexes higher in afternoon trading, according to analysts and media reports.
The department issued the Level 4: Do Not Travel advisory, the highest level of travel advisory, on March 19. The advisory urges US citizens not to travel overseas due to the burgeoning SARS-CoV-2 pandemic. 
Instead, the State Department plans to issue individual ratings for different countries. It's widely seen as the first step toward easing international travel restrictions, with the US leading by example.
Here's a statement from the State Department via CNN:
However, "(w)ith health and safety conditions improving in some countries and potentially deteriorating in others, the Department is returning to our previous system of country-specific levels of travel advice (with Levels from 1-4 depending on country-specific conditions), in order to give travelers detailed and actionable information to make informed travel decisions," a Thursday note from the State Department said.

"This will also provide U.S. citizens more detailed information about the current status in each country," the note said. "We continue to recommend U.S. citizens exercise caution when traveling abroad due to the unpredictable nature of the pandemic."

The Level 4: Do Not Travel advisory put into effect in March advised "U.S. citizens to avoid all international travel due to the global impact of COVID-19" and urged Americans "in countries where commercial departure options remain available" to "arrange for immediate return to the United States, unless they are prepared to remain abroad for an indefinite period."

As commercial flight options disappeared and borders were shuttered to combat the spread of the virus, the department undertook an unprecedented repatriation effort to get Americans back home. Between January 27 and June 10, they coordinated the repatriation of 101,386 Americans on 1,140 flights from 136 countries and territories.
Of course, US citizens still face travel restrictions imposed by the EU and the UK. The advisory is being lifted as the Trump Administration reportedly considers a travel ban on Communist Party members, which was reported a few weeks back.
* * *
Update (1240ET): Ohio Gov. Mike DeWine has tested positive for COVID-19, according to a statement from his office.
Governor DeWine has tested positive for #COVID19. He has no symptoms at this time. Full statement below. pic.twitter.com/WnkmoGxR2m

— Governor Mike DeWine (@GovMikeDeWine) August 6, 2020
DeWine, 73, took the test as part of the "standard protocol" for greeting President Trump at the tarmac at Burke Lakefront Airport.
The governor is returning to Columbus, where he and First Lady Fran DeWine will both be tested. DeWine plans to quarantine at his home in Cedarville for the next 14 days. Lt. Governor Jon Husted also took the test, but tested negative.
He's at least the second governor to test positive, after Okla. Gov. Kevin Stitt
* * *
The number of new coronavirus cases slowed on Thursday, but the global tally of cases neared 19 million, with the outbreak on track to surpass that number by the end of the week.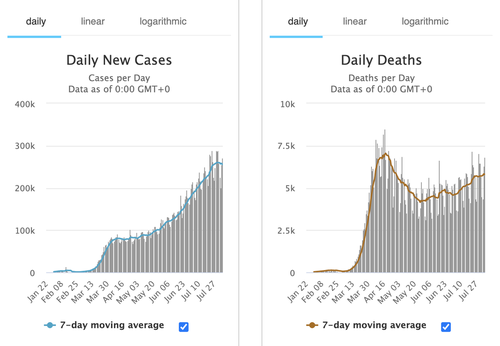 The biggest news overnight comes out of Europe, where Germany just suffered its largest jump in new cases since May, with more than 1000 new cases reported in a day.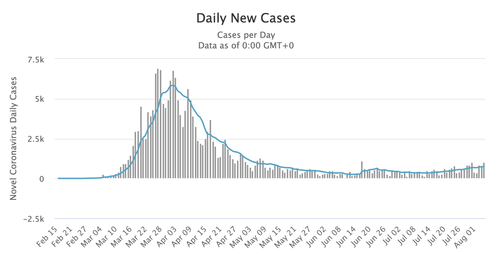 The Robert Koch Institute reported 1,045 new cases on Thursday, bringing Germany's total to 213,067. Its death toll is 9,175. This comes as the RKI warns that any figure above 1,000 a day would make it much more difficult for local health authorities to carry out effective tracking and tracing, and to keep the virus under control, Reuters reports.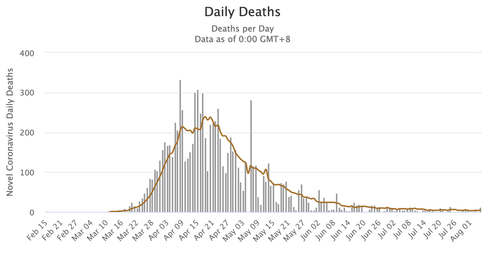 German schools have begun to reopen in some parts of the country, which has been widely blamed for the uptick in new cases.
Surging case numbers are reviving fears of a return to economically damaging lockdown in Germany.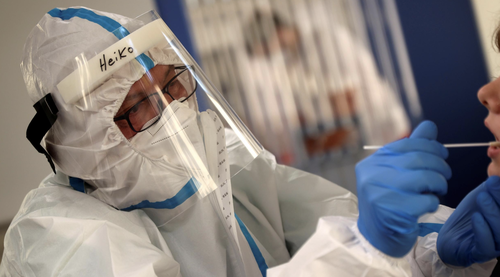 Health Minister Jens Spahn said on Thursday free compulsory testing would be offered beginning Saturday, although a big factor in the increase on Thursday was a surge in tests being run.
In neighboring Poland, officials will introduce new containment measures against the virus in some of the most badly affected counties after fresh infections set new records in the past weeks. The country will impose limits on restaurants, sport events, mass transportation and weddings in 19 of its 380 counties starting Saturday, said Health Minister Lukasz Szumowski.
Typically quiet Southeast Asia is also seeing some alarming new developments as the Philippines surpasses Indonesia for the biggest outbreak in the region, despite imposing the longest, and most strict, lockdown in the entire region earlier this year.The country reported 3,381 new cases on Thursday (these numbers are reported with a 24 hour delay).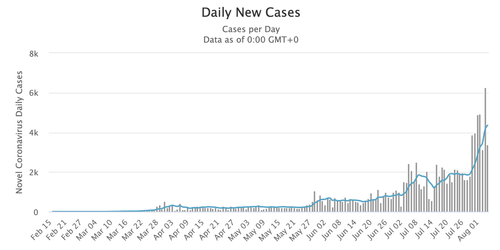 coronavirus cases in the Philippines have now surged to almost 120,000 (119,460 according to Worldometer), eclipsing Indonesia to become the region's biggest outbreak. The country re-imposed this week a second lockdown on its capital and nearby areas to curb infection spread, even as the economy suffered its deepest contraction on record, shrinking 16.5% in the second quarter from a year ago.
This comes as Q2 GDP data shows Philippines economy shrank 16.5% in the quarter, descending into a deep recession.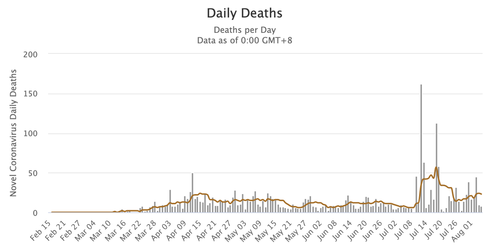 FInally, Australia's Victoria state reported 471 new cases as Premier Daniel Andrews dismissed a report by the Australian newspaper that government modeling showed average daily infections would peak at 1,100 by the end of next week. The state reported a record 725 new cases on Wednesday. Additionally, Aussie PM Scott Morrison warned Thursday that the lockdowns in Victoria (including especially restrictive measures in Melbourne) would shave 2.5% off quarterly growth.