---
Germany Unveils €2.7BN Ukraine Arms Package As Zelensky Tours Europe
Over the weekend Germany unveiled a a new weapons package worth 2.7 billion euros ($2.95 billion) for Ukraine, at a moment President Volodymyr Zelensky is meeting with Western leaders in Europe.
"An important visit for approaching victory of Ukraine!" Zelensky tweeted after arriving in EU and NATO member Italy on Saturday. He met with Prime Minister Giorgia Meloni for 70 minutes, thanking her for "for helping to save lives", after which he met with Pope Francis in the Vatican, reportedly lobbying the pontiff to back Kiev's own peace plan.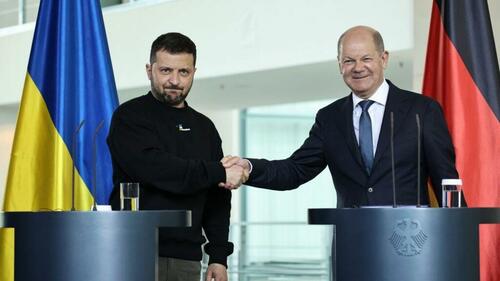 Zelensky then traveled to Germany on Sunday, the day after Berlin confirmed the massive new defense aid package.
Naturally, the Ukrainian leader is already pressing for more - as The New York Times writes of the trip to meeting with Scholz: "Speaking to journalists side by side at the chancellery on Sunday morning, Mr. Zelensky and Chancellor Olaf Scholz traded remarks of gratitude and praise. But their responses to some questions — namely on fighter jets — reflected that Kyiv is still struggling to gain traction with Berlin and other Western allies on some of its key demands."
Apparently German could only roll out the red carpet for Zelensky in a guilt-free way only after pledging the billions in new arms:
Mr. Zelensky was escorted to Berlin by German fighter jets for his first trip to Germany since Russia's full-scale invasion of Ukraine began more than a year ago. He met first with President Frank-Walter Steinmeier at Berlin's Bellevue Palace and was then received with military honors by Mr. Scholz at the chancellery.

The grand reception came a day after Germany had announced its largest package of military aid yet for Kyiv and as the two nations seek to turn the page on months of rocky relations.
Zelensky wrote on Twitter in conjunction with his Berlin visit Sunday: "German air defense systems, artillery, tanks and infantry fighting vehicles are saving Ukrainian lives and bringing us closer to victory," and stressed: "Germany is a reliable ally!"
All of this is a huge about-face for Germany, which has been hesitant since the start of the conflict to jump headlong into a proxy war situation which may eventually escalate into a direct Russia-NATO clash. But Berlin grew bolder with the supply of Leopard II battle tanks. Zelensky attempted to address German concerns Sunday:
Ukraine has no plans to hit targets in Russia, President Volodymyr Zelensky has said in Germany, where Kyiv secured a big new defence aid package.

"We are not attacking Russian territory," he said after talks in Berlin with Chancellor Olaf Scholz.

"We are preparing a counterattack to de-occupy the illegitimately conquered territories," Mr Zelensky added.
But the past couple months of increasing drone attacks from Ukraine, particularly on Russian oil facilities, show differently.
Pentagon leaks examined by The Washington Post also reveal that Zelensky has secretly greenlighted attacks inside Russian territory:
The leaked documents confirm Zelensky favors occupying Russian villages to gain leverage over Moscow, bombing a pipeline that transfers Russian oil to Hungary, a NATO member, and privately pining for long-range missiles to hit targets inside Russia. https://t.co/f7yFPD4Vqx

— Max Abrahms (@MaxAbrahms) May 14, 2023
On Saturday there were multiple Russian aircraft downed in the same border region near Ukraine, with many observers saying this may have been a cross-border shoot-down situation which would mark a huge advance in Ukraine's capabilities. 
Loading...